Tour of Antalya cancelled after earthquakes hit Turkey and Syria
More than 1,700 people have died following the quakes on Monday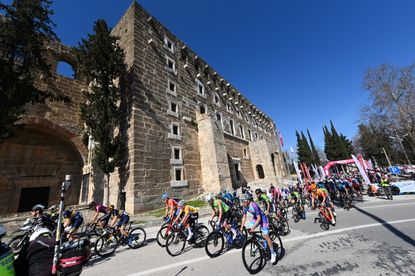 (Image credit: Tour of Antalya)
The Tour of Antalya, a four-stage race scheduled to take place this week in Turkey, has been called off following two catastrophic earthquakes in the country.
In a statement shared on Twitter (opens in new tab), the race organisers said: "TOUR OF ANTALYA powered by AKRA, the international cycling race planned to be held between 9-12 February 2023, has been cancelled.
In the early hours of Monday morning, a 7.8 magnitude quake struck near the southern Turkish city of Gaziantep, 450 miles east of Antalya. A second earthquake, similar in magnitude, then occurred at around 10:30am GMT.
The statement from the Tour of Antalya continued: "The aftershocks of the earthquake, which was felt in many cities are unfortunately ongoing. After the earthquake, a state of emergency was declared in the country and it was determined as level 4."
"We wish God's mercy to our citizens who lost their lives, condolences to their relatives, urgent healing to the injured and thank you for your understanding."
At the time of writing, the death toll in both Turkey and neighbouring Syria has surpassed 1,700 people. Rescue operations are currently taking place across both countries, with many still trapped beneath the rubble of collapsed buildings.
The Tour of Antalya, a 2.1-level race, was first added to the cycling calendar in 2018, and has missed just one edition since, when it was cancelled in 2021 due to Covid-19. Previous winners of the race include British rider Max Stedman, who won in 2020 while representing Canyon dhb p/b Soreen, and Uno-X's Jacob Hindsgaul, the race's most recent champion from last February.
American team Human Powered Health, who were down to compete in Antalya later this week, responded to the event's cancellation on Twitter, writing: "A beautiful race, a beautiful country. We send our thoughts to the people of Turkey at this time of national tragedy."
Italian ProTeam Eolo-Kometa also voiced their condolences, wishing all families affected by the earthquake "the greatest of strength".
It is uncertain if the race will be rescheduled for later this year, or whether it will be postponed until 2024.
ÇOK ÜZGÜNÜZ!9-12 Şubat tarihleri arasında düzenlenmesi planlanmış olan TOUR OF ANTALYA powered by AKRA organizasyonu iptal edilmiştir.WE ARE VERY SAD! TOUR OF ANTALYA powered by AKRA, the international cycling race planned to be held between 9-12February, has been cancelled. pic.twitter.com/6Xokq1CYeVFebruary 6, 2023
See more
Thank you for reading 10 articles this month* Join now for unlimited access
Enjoy your first month for just £1 / $1 / €1
*Read 5 free articles per month without a subscription
Join now for unlimited access
Try first month for just £1 / $1 / €1
Tom is one of Cycling Weekly's news and features writers. In 2020, he started The TT Podcast, covering both the men's and women's pelotons and featuring a number of British riders.
An enthusiastic cyclist himself, Tom likes it most when the road goes uphill and actively seeks out double-figure gradients on his rides.
He's also fluent in French and Spanish and holds a master's degree in International Journalism.