Tour of Flanders: waiting for Tommo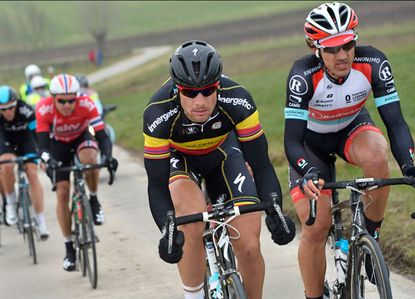 Tom Boonen may not be in the same form as when he won the Tour of Flanders last year, but he is still the central figure in the build-up to the race
Words by Richard Moore
Friday March 29, 2013
Waiting for Tommo was the theme and could have been the title of the Omega Pharma-Quick Step pre-Tour of Flanders press conference. Tom Boonen was running late.
"Tom is stuck in a field," said the team's press officer. He went on to explain that the defending champion had been delayed by a car accident. "Tom hasn't been in a car accident," he added.
It was all as clear as the mud in the field in which Boonen was stuck, if in fact the field wasn't just a metaphor. Which it might have been. Boonen's lateness seemed apt. He has had a miserable winter and is waiting, forlornly, for his form of last year to return.
Sunday will probably come too soon, as even his manager, Patrick Lefevere, filling time while we all waited for Boonen, appeared to concede. "We hope Tom will be 100 per cent on Sunday," said Lefevere with the kind of shrug that told you he isn't too optimistic. "But the situation is totally different to last year."
Rather than have the outstanding favourite, as he did in 2012, Lefevere is counting on strength in numbers to counter the invidual firepower of Fabian Cancellara and Peter Sagan. "Six of them should be able to be there in the final," said Lefevere of his own squad. "There are two teams who are very strong, Sky and us."
Finally Boonen appeared: over an hour late. He seemed unfazed by the delay. He admitted he's "not the same as last year," then added, more brightly: "But it's not looking that bad, either. I've made a lot of progress the last few weeks. We'll see on Sunday if it's enough..."
The knee injury he suffered in Ghent-Wevelgem? "The knee is fine."
The elbow inury he suffered in late January? "Also fine."
"I've won races with less condition than this," he said. Which sounded ominous, until he added: "I'm very happy that I'm here right now, doing this press conference. In January it looked like it might not be possible." (To start the Tour of Flanders: not to do a press conference.)
Boonen spoke about his troubled winter, which included being hospitalised with a stomach infection in November, then almost losing his arm after catching an infection in his elbow in late January, when Cycle Sport met him in Calpe at the Omega Pharma-Quick-step training camp.
The full interview is in the current edition, but there follows an extract, in which he reveals his preparation for last year's Tour of Flanders:
**
Cycle Sport May, featuring our interview with Tom Boonen, is available in shops now
...Because Boonen is affable, some might assume that he isn't serious. Don't be fooled by the boyish grin. True, he has had a reputation in the past as a party animal (witness his problems with the party drug, cocaine), and even for enjoying a beer or two on training camps. Famously, he would still be the strongest rider on the road the next day. He got away with it, they said, because of his constitution, but he returns again to his age, pointing out that these days it doesn't come so easily.
His seriousness manifests itself in other ways, too. Consider his preparation for the Tour of Flanders last year. It was a new course, so Boonen recce'd it, of course. But he went further: he rode the entire route, all 255km of it, and at close to race pace in the slipstream of a motorbike piloted by the retired sprinter, now team coach, Tom Steels.
Steels, who turned his back on a burgeoning career in politics (he was elected as a local councillor after retiring in 2008) might be another reason for the revitalised Omega Pharma-Quick Step team. Quietly spoken and thoughtful, he isn't your stereotypical sprinter, but he is, says Boonen, absolutely fanatical about the sport, and his enthusiasm rubs off.
"I do a lot of training with Tom, really training," says Boonen. "He doesn't live near me but he comes to wherever I want. For example ten days before the worlds he came to a little hotel and we did the entire course of the world championships, 10 laps, me and him on the scooter.
"And the week before the Tour of Flanders I did the complete course behind Tom on the scooter. He's just really into cycling and he knows how it works. He knows how to train. He's not just a coach who gives you schedules; he goes with you. I love that. Nobody has to tell me: 'Tom, you have to go three minutes in that zone, then rest for three minutes.' I don't like that. I like to train hard and I like somebody who's [willing to] put energy into this."
Boonen is serious about diet, too. He began experimenting with microbiotic food in 2007, and still sticks to a serious regime at home -- it isn't so easy on the road. Yet he dispels another myth, that he was leaner and lighter last year: "I was the same weight: 82.5kg. I was lower in 2007 and 2008: 79.5 for the Classics, but it didn't work out. I lost too much power. My" -- he clicks his fingers -- "snap had gone."
In the past, the partying might have had much to do with the pressures and stresses of being such a huge star at home -- arguably the biggest name in Belgian cycling since Eddy Merckx. He says his drinking days are behind him: "Those times are gone. I almost never go out now, because I suffer so much. I was fine when I was younger. I have a strong engine. But now if I go out I'm tired for two days.
"You get older," he continues, "everything changes." And the adulation is not so intense; Belgium is not as oppressive as it was after 2005, when he won Flanders, Roubaix and the world title. He doesn't get flagged down on training rides -- or not every day. "The craziness is over, more or less," he says. "Sometimes you have annoying situations. You have people who are the big fans, who are sometimes a bit crazy. But right now it's fine. I wouldn't change it. Sometimes when you're training they honk at you and stop you, but it's pretty rare. And sometimes I understand; it's people with a little kid in the back, who stop you and say, 'The kid's been a big fan for five years, and he tries to see you at the races and it never works out...' So okay, you understand, it's only a picture they want."
Cycle Sport May, featuring our interview with Tom Boonen, is available in shops now
Thank you for reading 10 articles this month* Join now for unlimited access
Enjoy your first month for just £1 / $1 / €1
*Read 5 free articles per month without a subscription
Join now for unlimited access
Try first month for just £1 / $1 / €1
Founded in 1891, Cycling Weekly and its team of expert journalists brings cyclists in-depth reviews, extensive coverage of both professional and domestic racing, as well as fitness advice and 'brew a cuppa and put your feet up' features. Cycling Weekly serves its audience across a range of platforms, from good old-fashioned print to online journalism, and video.