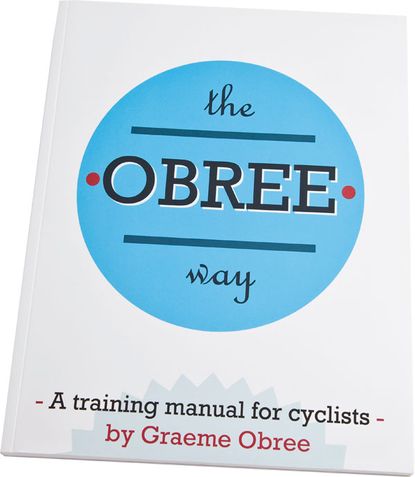 While many of us are enthusiastic and even dedicated cyclists few of us have the raw talent, opportunities and determination to make it to the top level but it doesn't stop the fantasies and the desire to be the best bike riders we can be so we buy the lightest kit and most expensive gadgets.
We invest money in the best gels, powders and bars. And we fuel our belief that if we just trained properly we too could be super heroes by buying the latest training plans, manuals and guides.
Such is the demand of wanting to be the best the health and fitness market is now saturated with products, advice and latest research from sport scientists to ex professionals to help us reach the top.
So when Graeme Obree's coaching manual The Obree Way arrived for review our interest was piqued. One of the many things contributing to Obree's almost cult status amongst cycling fans is his willingness to do things differently and his training manual is no exception. We spoke with the flying Scotsman about his book and the reasons for wanting to write it.
The message is simple: just ride
"I've spent 25 years innovating and finding my own way of cycling without having a coach," says Obree. "So I thought I would pass on what I know. The majority of people have jobs, families and a social life. "If you follow most training schedules, books and plans, you end up having to give most of that up, and dedicate your life to training, sleeping and work.
"So I was thinking, 'well hold on. How about making a training manual for people who have all of those commitments and how to make the most of their cycling with the lives they have got.' I wrote it for those types of people. "However, if you read the whole book and take everything on board, it's all what I incorporated to get to the level I got. So you can take it to whatever level you want."
Are training manuals really needed?
"In cycling, yes I think so. Half the people, who cycle have come to the sport in the last five years. Some of these guys don't have a clue what to do. You usually get your apprenticeship from a cycling club. But that's not the case anymore.
In the modern system, if you join a club and ride a 40mile ride, there's nobody there now to tell you what to do. Half of them are newcomers themselves. They need advice. Even in my club there are guys who don't even know that you don't use your smallest sprocket and your smallest chain ring at the same time. Or even how to ride in a straight line properly - the kind of basic information that nobody transfers to them. These people are starting at a base level but want to be real cyclists."
Most training manuals put a lot of emphasis on latest research, science and facts but Obree takes the elements of training right back to basics. "My idea was to simplify things. Those who are new to cycling will pick up a magazine and it will bombard them with 'you need this, you need that, you need gels, bars, weights etc,' you end up totally confusing people.
Obree believes in balancing priorities
"There is so much thrown at people, many for commercial reasons, and let's face it, you're doing your sport because you want to be as good as you can be, but it's not the number one priority in life. "You may make small changes in life for it, but most guys on a Saturday night are likely to want to get a curry in. This book helps those who want to get better and are prepared to make small changes, but it's not interfering with your life. That's where I'm coming from."
Sceptical of sport science?
"I agree with sport science in terms that it's justified. A lot of sport science and the way it's applied are for the full time pro cyclist and who has all the resources on hand but most people don't. Life instead, is full of compromises. "A lot of sport science is used to sell or enhance products that people don't really need. I'm not going to support a product I don't believe in. People will go out and spend 60 quid on a tyre that isn't going to change your cycling. But if you can take something out of this book, then it's 30 quid well spent.
"I also wanted to focus on the emotional side of things, because that's kind of neglected in most training manuals. The actual motivation of wanting to ride."
Do you think people focus too much on gadgets and gizmos rather than actually going out and enjoying themselves? "Totally. When you're out riding, these gadgets aren't relevant. The art and love of cycling is sometimes lost in the science. Grit your teeth and turn those pedals and give it some grunt is lost among the gadgets that lie on the front of your handlebars. If you're riding your bike and all you're focussing on is the figures in front of you, then you're not looking at the scenery and world around you. "Cycling is for enjoyment. The buzz of whizzing through the atmosphere is what cycling is all about. If you do want to measure your improvement, do it on the static bike. But when you're out riding, ride."
The Obree Way
Obree on specificity
I am happy to admit that doing 'Swiss Ball' will improve cycling performance to some degree, just as digging the garden or stripping wall paper will improve cycling ability - when compared with doing nothing at all. If I was a tennis player and wanted to improve by playing snooker then there would be marginal benefit through hand/eye coordination but then, doing Swiss ball would be better, but then again doing tennis would be the best for improved ability.
Training with others is invaluable
Obree on the club run
The positive aspect of group training is the sociability and enthusiasm, that these groups have, especially at club level. I have always been a member of an amateur club and found effective ways of maximizing my training without losing touch with ordinary members, even when competing at world level. It has to be said that although there is a lot that can be done to dovetail a personal and specific training need into a group ride, there are times when a choice has to be made between optimum training ride and the camaraderie of the club ride.
Obree on the turbo trainer
The first and most important piece of advice I give to anyone who wishes to improve in the field of cycling is to get set up with a proper static trainer. It does not matter if you are a tri-athlete, road racer, time trialist or general sportive rider. ....... In my professional days it would have been the first piece of equipment I would have saved from a fire so please take this mission very seriously. Reaching your full potential will be almost impossible without it.
Turbo-trainer: Obree's favourite training aid
Obree on making the most of your time
If you are dividing your time between work, family and friends then no riding opportunity can be ignored. An example of this is when you need to turn your legs over gently to loosen tired muscles in recovery. I would never miss a chance to just ride easy but with other commitments this means setting valuable time aside to achieve just this one task unless you can use your bike to multi-task to do things like getting the shopping in. This, of course depends on having luggage capacity on at least one of your machines, preferably the main training bike. Most of my cycling friends do not possess such a machine, get the shopping and other run about jobs in the car and then complain that they don't have enough time to ride!
Obree on pedal choice
A major point in regard to buying a bike that is not only a training device but a means of getting the shopping in is the choice of pedals. You will often see cyclists walking in cycling shoes doing their best imitation of Bambi on ice. The only pedal system that helps you avoid looking like a Disney character when wearing the shoes that go with them is those that allow recessed clips. My favoured types is Shimano's SPD.
Obree on gears
There is a question of gearing in a performance machine and now it is possible to have 30 or more gears. Personally I dislike so many gears since it quite often takes several clicks to get the gear I actually want and the more cogs there are on the rear cassette the more clicking you need to do. Also, the chains for 10 and 11 speed cassettes wear out more quickly than 8 or 9 speed and the adjustment is very sensitive to the slightest knock. Let me pose a question to help you over come commercial pressure. How many cogs are too many? 15? 40? And how many would you pare it back to? For me it's eight or nine.
If you must go along with fashion then the important things is the highest and lowest gears are sufficient for the event you plan to do. I also have to say that as far as time-trial bikes are concerned it is a real benefit in efficiency to have a larger than usual front ring. A lot of research was done in the nineties into chain drive efficiency and it was found that riding on the 11 and 12 tooth cog was less efficient than having a larger ring and using a larger cog on the rear. This also improves the chain-line to cogs that are nearer the middle of the cassette. The largest off the shelf chain ring is 58 teeth from T.A but you can buy them any size from specialists although they are quite expensive.
Gears: less is more, thinks Obree
Photographer's view
Phil O' Connor is one of Britain's leading sports photographers who has been present at all of Obree's hour record attempts. Phil has shot Obree throughout his entire career and gives us an insight into the world of Obree, the way he trains, prepares and races.
"Graeme Obree clearly viewed the word in a different way to most of us, the way he designed his bikes and the way he trained to break the hour record were not achieved via any instruction books or traditional training methods.
Obree had a unique ability to shut out the voices, assess the challenge ahead of him and think in a clear way.
With this ability came total self belief as well. The one time I saw him come unstuck was in Oslo when he tried to break the hour record. He bought with him a brand new frame that was similar to Old Faithful, it was a carbon fibre imitation created for him, crucially Graeme had not made this bike with his heart and his soul. When he went for the record he was to find as the hour went into it's second half that the handlebars were not quite in the same position as they were on his bike and he had to endure excruciating pain in his wrists, this coupled with the bike just not being quite the same unsettled him. The following day he came out and rode his original bike and broke the record. For those of us lucky enough to be there it was something we will never forget.
Obree was individual pursuit champion
When questioned about the intricacies of his bike he could explain in tremendous detail the thought processes that had led him to make the decisions he made. If you asked him why he was eating a jam sandwich he could tell you why. He completely deconstructed the traditional riding position, he closed his eyes and opened his mind to see a way forward that embraced aerodynamics and physical performance at the same time.
When it came to training Graeme's understanding of his body and what it required to break the hour record were instrumental in his success. He had careful thought out the physiological challenge involved in riding for an hour and then sat down and methodically devised methods to prepare himself to achieve this aim. Graeme did not listen to anyone but himself, he knew exactly what he was trying to achieve and crucially also how to do it.
One of his biggest strengths was to listen to his body and react to its condition, he knew when to rest and when to push and also how hard to push when it was receptive to training. Graeme did not train when tired, he knew the value of rest and did not panic if he did not feel right, he knew why he felt the way he did and would remain patient in the knowledge that whilst resting his body was repairing ready for the next physical onslaught."
The Book
Buy The Obree Way, A training manual for Cyclists by Graeme Obree. £30.00
www.obree.com
This article was first published in the January 26 issue of Cycling Weekly.
Thank you for reading 10 articles this month* Join now for unlimited access
Enjoy your first month for just £1 / $1 / €1
*Read 5 free articles per month without a subscription
Join now for unlimited access
Try first month for just £1 / $1 / €1
Founded in 1891, Cycling Weekly and its team of expert journalists brings cyclists in-depth reviews, extensive coverage of both professional and domestic racing, as well as fitness advice and 'brew a cuppa and put your feet up' features. Cycling Weekly serves its audience across a range of platforms, from good old-fashioned print to online journalism, and video.