Tweets of the Week: Giro d'Italia special featuring Alex Dowsett, UCI saddle rules, and Kermit the Frog
Here are our favourite tweets from the last seven days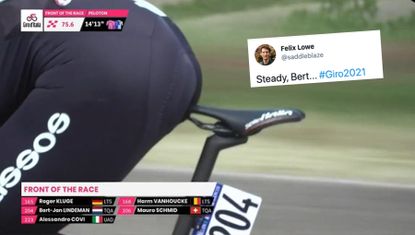 (Image credit: GCN/Eurosport/@saddleblaze )
While riders may be exhausted from the stresses and strains of the Giro d'Italia, they're still treating us to some outstanding insights on social media.
This week's edition of Tweets of the Week is a Giro special, with Trek-Segafredo, Alex Dowsett and more, but we also have some tweets from beyond the Italian Grand Tour, including from Kermit the Frog,
Here are a few of our favourite tweets from the last week in cycling:
1. The concussion protocol looks pretty intensive
Concussion protocol performed by Rüdiger Selig #Tourdehongrie pic.twitter.com/q9WuPfjtM9May 14, 2021
See more
2. An insight into the professionalism on show at the Giro
Sound engineer at the finish line here running around desperately trying to locate the source of the audio from a porn film which is inexplicably being played through various Giro sound channels. This is the source of considerable hilarity. #Giro2021 #RAIMay 16, 2021
See more
3. Anyone else feeling old right now?
Asked who his cycling hero was when he was growing up, Attila Valter's answer was Peter Sagan. I don't think I've ever felt older.May 16, 2021
See more
4. Breaking news: Grand Tour star has AWFUL music taste
I don't think any of us have ever doubted Froome's ability to suffer, but some of this is next level. pic.twitter.com/keOyqrDBL6May 16, 2021
See more
5. It's been a bad week for Ireland
Dan Martin distanced the day after Ireland's failure to make it to the Eurovision final. Dark times.May 19, 2021
See more
6. Bert-Jan Lindeman living life on the edge...quite literally
Steady, Bert... #Giro2021 pic.twitter.com/JcD5MjWXg0May 19, 2021
See more
7. The Ineos train taking inspiration from nature, according to Dowsett
Visual representation of Bernal following Ganna's slipstream. pic.twitter.com/plDVL6oifSMay 19, 2021
See more
8. No stereotypes here, nope, not one
Italians 🤌🤌@vincenzonibali @giuliocicco1 @giroditalia #Giro #Giro104 pic.twitter.com/eWvKw41rmvMay 20, 2021
See more
9. Kermit knows the score
There's so much to see out in this big, beautiful world of ours! Why not hop on a bike and see the sights? pic.twitter.com/mQKrKE1LhGMay 20, 2021
See more
10. Is this haunting anyone else's dreams?
We'll be back in seven days with more tweets of the week
Thank you for reading 20 articles this month* Join now for unlimited access
Enjoy your first month for just £1 / $1 / €1
*Read 5 free articles per month without a subscription
Join now for unlimited access
Try first month for just £1 / $1 / €1