Tweets of the week: Urška Žigart's boyfriend, Tadej Pogačar's chair and Opi Omi returns
It's all the latest in the wild world of cycling social media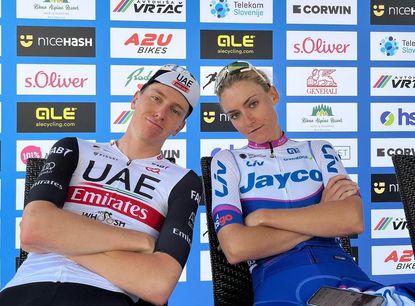 (Image credit: Jayco AlUla)
It has been a rollercoaster week for Urška Žigart of Jayco-AlUla. First, the Slovenian rider came close to winning stage three of the Tour de Suisse, what would have been her debut Women's WorldTour win, but she was caught just 100m from the line by a rampaging peloton, crushing her attempt.
To add to the ignominy, Belgian newspaper Het Nieuwsblad's headline described the action as "Girlfriend of Pogačar stranded 75 (!) meters from the finish in Switzerland", which is rather taking away Žigart's agency. Yes, the 26-year-old dates Tadej Pogačar, the best male bike rider in the world, but this does not really matter when she is racing and competing in her own right.
Žigart's week did get better, however, as she triumphed in the elite women's time trial at the Slovenian National Road Championships for a third time, and a second year in a row. Funnily enough, the rider who won the men's race was her boyfriend - oh yeah, Tadej Pogačar.
It is not the first time a Belgian newspaper has got into hot water over how it deals with female cyclists this year - in March, Het Laatste Nieuws misidentified Ceratizit-WNT's Marta Lach - standing in the background of an image of Wout van Aert on the Koppenberg - as a 'cyclotourist'.
It's not the first, and it won't be the last instance of casual sexism in our sport, but perhaps one that could be solved with women's cycling taken seriously. At least I hope.
Elsewhere on the internet this week, Chris Hoy tells all about his Spanish woes, Ned Boulting has a clever suggestion for a new Tour of Britain climb, and Mark Cavendish has a mini-me.
1. Alison Jackson is continuing to live our best life and we're just here for it. Does she ever take the EF bucket hat off?
2. With Mark Cavendish due to retire at the end of the season, perhaps his son is ready to step up into the pro ranks? He certainly looks the part
3. Tim Hayter is just showing off here really, his two sons - Leo and Ethan - are pretty good at bikes. Must be those genese
Looking forward to seeing how 🇬🇧 TTs go today, and stress-free for me as a neutral observer. First time this decade that the men's titles won't be won by my kids 😀June 21, 2023
See more
4. All the Glasgow Worlds wanted was Primož Roglič, and they can't have him. Sad.
You're breaking our hearts over here Primož 💔#GlasgowScotland2023 https://t.co/RWTFpPWRGD pic.twitter.com/hlPhWwxmxVJune 21, 2023
See more
5. Chris Hoy, eternally stuck in a Spanish episode of 'Allo 'Allo
Always feels like I'm in an 80's comedy show when checking into Spanish hotels.."Can I have your name pleez?""Hoy""Yes, yes, but can I have your name?"🤦🏼‍♂️😂June 21, 2023
See more
6. Anna Henderson decked it at the nationals, leaving her helmet with a couple of scrapes - fortunately being a pro rider, we reckon she'll get a new one before the TDFF TT
7. I suppose there's less damage you can do with a sign during an individual time trial?
8. Come on Tour of Britain, your move
Col du Pont de la Tour. Cat 3. 150 metres @ 75% gradient average pic.twitter.com/REsNRCS0KTJune 22, 2023
See more
9. Isn't it cute that Urška Žigart's boyfriend made the effort to dress up too
NGL couples outfits often make me cringe. Yet some how, these guys pull it off pic.twitter.com/qDSlYk5HzuJune 22, 2023
See more
10. Speaking of, here's the pair looking impressed after their dual triumphs at the Slovenian nationals
Congratulations to @urskazigart and her boyfriend on winning the Slovenian time trial championships 🇸🇮👏🥇 pic.twitter.com/2JVD34eGlsJune 22, 2023
See more
11. Ok, "Pogi's Corner" is really cute, wherever this is. I'm err glad? Borat is still relevant.
12. Finally, Jai Hindley is looking fierce in black and white here, letting everyone know how much effort he has put into training for the Tour de France. Didn't he realise he could use a static trainer inside?
Thank you for reading 20 articles this month* Join now for unlimited access
Enjoy your first month for just £1 / $1 / €1
*Read 5 free articles per month without a subscription
Join now for unlimited access
Try first month for just £1 / $1 / €1