UCI masterplan to save women's racing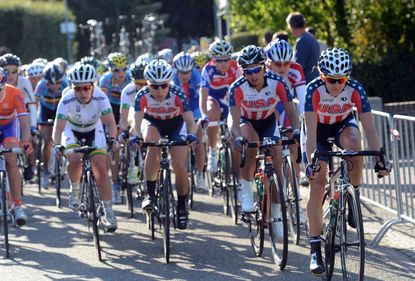 Cycling's governing body, the Union Cycliste Internationale (UCI), has made a strong commitment to improve international women's cycling.
"One of the things we agreed at the UCI Management Committee a couple of weeks ago was that we needed to do something about it," UCI Road Commission president Brian Cookson said. "As a matter of principle and policy, we agreed to try to work towards making women's cycling more equitable in every aspect with the men's.
"Cycling is quite a male chauvinist sport, culturally it has been for years, but it's taken a long time to change."
Since starting his new role last September, one of Cookson's tasks has been looking at how to develop the women's cycling scene.
"What I asked the senior management team to do was look at short, medium and long-term actions we can put in place," he explained. "I'm not clear that we've actually got that process right; we've got a lot of work to do.
"I was quite disappointed that the short-term things were about more studies and expressions of concern, which is all well and good, but I want to try and accelerate the process and bring medium-term things into the short term."
Another agreement from the UCI Management Committee meetings in late September was to appoint one woman to each of the UCI's 18 committees. As part of her role as UCI project coordinator, Brazilian Andrea Marcellini will be aiming to develop women's sport.
The UCI also agreed to equalise the track team pursuit - making it a race of four women over 4,000 metres - from the 2014 World Track Championships onwards.
Cookson admitted "concern about the economics and viability" of the UCI plans. Alongside more effort from the governing body to address the imbalance between men and women's professional cycling, a flush of money from sponsors and TV revenue is what will spark change. That comes down to marketing, first and foremost, and making the backing of an international women's team attractive.
"I think there are sponsors out there that would be interested in women's sport that wouldn't be interested in men's sport," Cookson said. "You're missing a trick if you just insist that women's sport is always going to be an adjunct to men's."
While desiring greater parity, Cookson added that there was no quick fix. "I don't think there's a magic wand or a lever to pull that makes everything OK; you've got to help it evolve," he said.
Cookson on...
Men's ProTeams having women's teams
"We could look at encouraging ProTeams when they renew their UCI registration, but not necessarily in a compulsory way.
"A lot of the men's teams are financially challenged anyway. Putting more load on them is not necessarily going to help in this situation. They'd probably say it's the simplest thing to cut off."
Men's races having accompanying women's races
"I think some go for the men's event and regard the women's as a bit of a sideshow. We can do more of that association with those races, but I think we've got to have more events not linked to men's."
Lack of televised live women's events
"Is it the broadcasters' fault or is it the public who are not that interested in watching it? That's the whole conundrum of women's sport, it's the same with women's football: if the public wanted to watch it, there would be more on."
Changing the women's World Cup
"I think the World Cup for women as it stands is quite a sensible entity. I'd like to see more events and stage races too. Making that happen is much more difficult."
A minimum wage for women cyclists
"If you passed a rule tomorrow saying that a women's pro team had to have a minimum wage, the first result would be you'd lose half the teams, because they couldn't afford it."
Sponsors entering women's sport
"Money comes into sport because people want to watch it or follow it, and companies come to see some value to being associated with that sport, because of the profile it gives them and the gain they can get out of it."
How the media can help
"Maybe be bold from time to time and have the confidence as a publisher or media organisation to put a woman on the front cover. Increasing the proportion of women's coverage would be good. But I don't think women want tokenism: they want interesting stories about interesting people and events in their own right."
The original version of this article appeared in the October 11 2012 issue of Cycling Weekly magazine
Related links
British Cycling women's academy in the pipeline
Thank you for reading 20 articles this month* Join now for unlimited access
Enjoy your first month for just £1 / $1 / €1
*Read 5 free articles per month without a subscription
Join now for unlimited access
Try first month for just £1 / $1 / €1