UK style gurus go cycling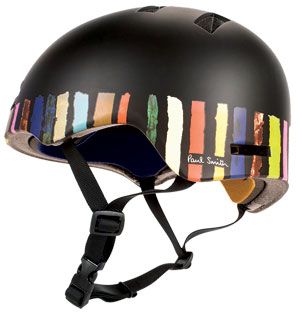 16th January 2011 Words: Matt Lamy
Some of the top designers and artists in the UK have taken to cycling in a big way, and the results are very wearable indeed.
Fancy a little bit of style? Not content with lending his considerable design talents and cycling passion to clothing kings Rapha (opens in new tab), Paul Smith has recently been working with the helmet makers at Giro to create a trio of special edition models.
Based on the Giro Section helmet, which is rather uncouthly referred to as a 'pisspot' style lid, Smith has come up with three new colourful designs, each costing £60 and available online at www.paulsmith.co.uk (opens in new tab).
Meanwhile, if that's not exclusive enough for you, London-based and cycling-obsessed artist James Straffon has recently taken a pair of traditional Quoc Pham Fixed cycling shoes and given them a full bike-inspired decoration.
To see how James marries the hitherto incongruous worlds of high-speed pedalling and high art, visit his amazing website: www.james-straffon.co.uk (opens in new tab).
This article first appeared in the January 2011 issue of Cycling Active magazine
Thank you for reading 10 articles this month* Join now for unlimited access
Enjoy your first month for just £1 / $1 / €1
*Read 5 free articles per month without a subscription
Join now for unlimited access
Try first month for just £1 / $1 / €1