UK Youth's Tour Series domination continues in Aylsham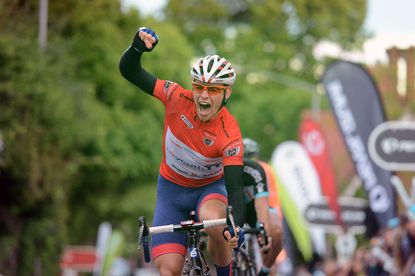 UK Youth all-but sealed their first ever Pearl Izumi Tour Series title by taking their seventh win in 10 rounds in the small Norfolk town of Aylsham.
Chris Opie led the way, sprinting to the individual victory from a five-man group which formed halfway through the race.
Yanto Barker and Niklas Gustavsson finished sixth and seventh for Dave Povall's team, which ensured they equalled the record number of victories achieved in one Tour Series set by Endura Racing in 2012.
They now have a 15-point advantage going into Friday's Grand Final in Ipswich, with a maximum of 20 points on offer in the Suffolk town.
Opie's win was not easy by any stretch; breakaway companions Tom Scully (Raleigh), Roman Van Uden (Node4-Giordana) and five-time race winner Dean Downing (Madison Genesis) fought hard to drop both the UK Youth rider and Kristian House (Rapha-Condor-JLT).
The duo managed to rejoin the leaders in the closing laps, before Opie made light of the slight drag up to the finish line to record his second individual round victory in three races.
While the men's race was played out in dry conditions, the final round of the women's Johnson Health Tech GP Series took place in heavy rain.
Gabby Day (Matrix Fitness) sprinted to take the honours, beating round one winner Natalie Creswick (MuleBar Girl-Sigma Sport) in the sprint after the pair had escaped early on.
Hannah Barnes (MG-Maxifuel) sealed the overall victory in the inclement weather, finishing safely in the peloton in 16th place to take her first series win.
Barnes raced with a number of bandages following a heavy fall in Tuesday's round in Woking, and also still had stitches in her chin following the accident.
Results

Pearl Izumi Tour Series 2013 round 10: Aylsham

1. UK Youth 10pts
2. Madison Genesis 9pts
3. Raleigh 8pts
4. Rapha-Condor-JLT 7pts
5. Metaltek-Knights Of Old 6pts
6. Node4-Giordana 5pts
7. Hope Factory Racing 4pts
8. MG-Maxifuel 3pts
9. IG-Sigma Sport 2pts
10. Spin Rotor-Primal C-Originals 1pt
Individual result

1. Chris Opie (UK Youth)
2. Tom Scully (Raleigh)
3. Dean Downing (Madison Genesis)
4. Roman Van Uden (Node4-Giordana)
5. Kristian House (Rapha-Condor-JLT)
6. Yanto Barker (UK Youth)
7. Niklas Gustavsson (UK Youth)
8. Liam Holohan (Madison Genesis)
9. Alex Peters (Madison Genesis)
10. Marcin Bialoblocki (UK Youth)
Costa Express Fastest Lap Competition

1. Chris Opie (UK Youth)
Pearl Izumi Tour Series 2013 standings after round 10

1. UK Youth 93pts
2. Raleigh 78pts
3. Madison Genesis 76pts
4. Rapha-Condor-JLT 72pts
5. Node4-Giordana 67pts
6. Metaltek-Knights of Old 57pts
7. MG-Maxifuel 42pts
8. Hope Factory Racing 27pts
9. IG-Sigma Sport 25pts
10. Spin Rotor-Primal-C-Originals 32pts
IG Sprint Competition

1. Tom Scully (Raleigh) 87pts
Johnson Health Tech GP Series 2013 round five:Aylsham

Individual result

1. Gabby Day (Matrix Fitness)
2. Natalie Creswick (MuleBar Girl-Sigma Sport)
3. Roxanne Fournier (Big Mat Auber)
4. Coryn Rivera (Breast Cancer Care)
5. Hannah Walker (Matrix Fitness)
6. Charline Joiner (MG-Maxifuel)
7. Helen Wyman (Kona Factory Racing)
8. Louise Mahe (MuleBar Girl-Sigma Sport)
9. Harriet Owen (Matrix Fitness)
10. Jessie Walker (Matrix Fitness)
Round four team winner: Matrix Fitness
Round four combativity winner: Natalie Creswick (Mule Bar Girl-Sigma Sport)
Johnson Health Tech GP Series 2013 final standings

1. Hannah Barnes (MG-Maxifuel) 84pts
2. Natalie Creswick (MuleBar Girl-Sigma Sport) 73pts
3. Gabby Day (Matrix Fitness) 72pts
4. Louise Mahe (MuleBar Girl-Sigma Sport) 72pts
5. Charline Joiner (MG-Maxifuel) 70pts
Team standings

1. MG-Maxifuel 204pts
2. MuleBar Girl-Sigma Sport 192pts
3. Matrix Fitness 187pts
4. Breast Cancer Care Cycling Team 101pts
5. Hope Factory Racing 74pts
Sprints competition

1. Hannah Barnes (MG-Maxifuel)
Gabby Day
Gabby Day wins from Natalie Creswick
Team winners MG Maxifuel
Men's team managers and TV presenter Ned Boulting
Dean Downing tucks in
Tom Scully heads break
Chris Opie wins
Nigel Mansell congratulates Yanto Barker
UK Youth on the podium
Related links
Pearl Izumi Tour Series 2013: Coverage Index
Thank you for reading 20 articles this month* Join now for unlimited access
Enjoy your first month for just £1 / $1 / €1
*Read 5 free articles per month without a subscription
Join now for unlimited access
Try first month for just £1 / $1 / €1