Vittoria Bussi makes history with new UCI Hour Record
Italian becomes first woman ever to surpass 50km in her effort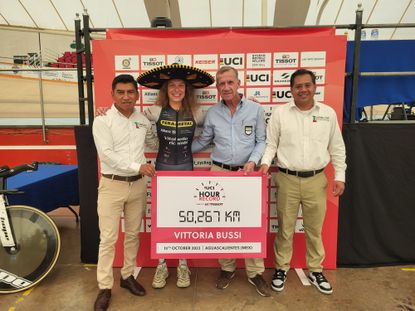 (Image credit: Tania Marquez / UCI)
Italian cyclist Vittoria Bussi reclaimed the women's UCI Hour Record on Friday, becoming the first woman in history to go beyond the 50-kilometre mark.
The 36-year-old managed a distance of 50.267km at altitude on the Velodromo Bicentenario in Aguascalientes, Mexico.
With her achievement, Bussi bettered the benchmark set by former time trial world champion Ellen van Dijk last May, 49.254km, by more than a kilometre.
Bussi previously held the record in 2018, when she covered 48.007km, before she was surpassed by British time trial specialist Joss Lowden in 2021.
Speaking after her successful attempt on Friday, Bussi said: "I'm thrilled to have beaten the UCI Hour Record timed by Tissot for the second time in my career, covering the distance of 50.267 kilometres on the same velodrome where I previously broke it in 2018.
"I owe this to all those who supported me throughout the years, believing in me and my project. This achievement is the result of an outstanding teamwork, and I want to thank everyone who contributed to make it happen."
The 36-year-old had originally organised her bid for Wednesday, but rescheduled due to unfavourable atmospheric conditions.
"It looked like Christmas," she wrote on Instagram. "The temperature had suddenly dropped sharply. That's why we've decided to delay the record attempt by 48 hours."
A PhD level mathematician, Bussi meticulously planned her attempt under the moniker 'Road2Record'. She launched a crowdfunding campaign to make it reality, exceeding her €10,000 donations target by over €2,000.
"As a mathematician, I contribute to aerodynamic and technological studies, aiming to break the 50km mark in the next attempt at the women's UCI Hour Record," she wrote on her GoFundMe page.
On her 'Road2Record' website, she described the attempt as a "challenge and a redemption", a shot at reclaiming the crown that was hers for three years.
Bussi's achievement is the latest in a time of renewed interest in the UCI Hour Record.
Last October, Ineos Grenadiers rider Filippo Ganna broke the all-time record, covering 56.792km at the Tissot Velodrome in Grenchen, Switzerland.
The Italian's successful bid was masterminded by aerodynamics expert Dan Bigham, who set the previous record of 55.548km himself in August 2022.
Thank you for reading 20 articles this month* Join now for unlimited access
Enjoy your first month for just £1 / $1 / €1
*Read 5 free articles per month without a subscription
Join now for unlimited access
Try first month for just £1 / $1 / €1