Vittoria Bussi breaks Hour Record in second attempt within 48-hours
The Italian cyclist's third effort saw her break through the 48km mark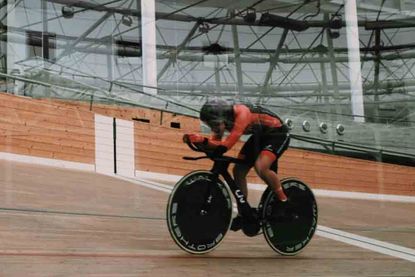 Italian cyclist Vittoria Bussi has broken the women's Hour Record, covering 48.007km in 60 minutes at Aguascalientes veldrome, Mexico.
The Doctor in Pure Mathematics takes the mantle from Evelyn Stevens, who covered 47.980km in an hour, in February 2016.
Bussi has been a cyclist for just five years - she was a track and field athlete in her youth and took up triathlon whilst studying for her PhD at Oxford University.
"When people told me about The Hour; it's was just like falling in love with someone - you don't rationalise anymore, and just say 'I want to do that,'" she said in advance of her effort.
Delving deeper into her motivation, she added: "In 2012, I lost my father. I wanted to do something. Basically, live for two people: me and my father."
"Training for The Hour record is quite different - you have to teach your body and your mind to be prepared to suffer," she said, in a video produced by her nutrition sponsor HVMN.
Bussi made an attempt at the historic record on Wednesday, but climbed off her bike at 44-minutes.
A spokesperson told Cycling Weekly that Wednesday's failure was a "bit of a fire-drill," she climbed off her bike due to a pain in her side.
The successful attempt was the 31-year-old's third in total. Her first was in October 2017, when she fell short by 404 metres - struggling with pain in her diaphragm from the 48 minute mark.
Former record holder, Molly Shaffer Van Houweling was at the velodrome, live tweeting Bussi's progress.
At the half-way point, Bussi was 0.6 seconds ahead of schedule, this decreased to 0.4s at 40 minutes, but come 45 minutes - around the point where the Italian cyclist has struggled before - she picked up the pace to fire at 2.3s up on her plan.
By the 50 minute point, Bussi was 4s up.
Bussi completed her effort on a Liv bike, and used an Endura skinsuit.
Speaking to Cycling Weekly ahead of her assault on the record, she said she had worked on her conditioning, nutrition and position in preparation.
"I've made changes in my aero position, as I did a wind tunnel test in last November," she said.
"We found a big improvement in terms of watts-saving and comfort. Training is harder than last year, and I have improved my conditioning since last October."
Bussi has also used HVMN Ketone drinks in the run up to her effort and on the day.
Bussi may well be the first cyclist to succeed one day after an initial attempt since Graeme Obree's famed 1993 effort.
Obree failed his July 1993 attempt at the Vikingskipet velodrome in Norway, by almost a kilometre.
He booked the track the next day - preventing his body from seizing up by drinking a pint of water every few hours over the night. He succeeded, breaking the record by 445m.
Thank you for reading 20 articles this month* Join now for unlimited access
Enjoy your first month for just £1 / $1 / €1
*Read 5 free articles per month without a subscription
Join now for unlimited access
Try first month for just £1 / $1 / €1