Italian cyclist will re-attempt Hour Record one day later after stopping at 44-minutes
A spokesperson has called the first effort "a fire-drill"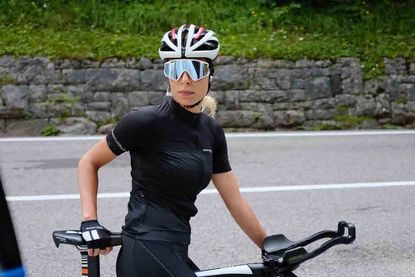 Vittoria Bussi abandoned her Hour Record attempt after 44-minutes on Wednesday, but will take to the boards again around 24-hours later.
>>> UPDATE: Vittoria Bussi breaks Hour Record in second attempt over 48-hours
The attempt was the Italian rider's second assault on the record, an effort just one day later will mark her third.
A spokesperson told Cycling Weekly: "[It was] a bit of a fire-drill yesterday," she stopped the effort due to a pain in her side.
>>> Vittoria Bussi: It has been a personal goal in my life to do something big
In October 2017, Bussi covered 47.576 kilometres - 404m short of the 47.980km distance achieved by Evelyn Stevens in February 2016.
Ahead of her attempt on Wednesday September 13, the 31-year-old said she had worked on her position, conditioning and nutrition strategy.
During the first 15 minutes at the velodrome in Aguascalientes, Mexico, the Doctor in Pure Mathematics averaged 47.850kph.
This increased to 47.915kph at the halfway point, but then dropped to 47.910kph at 40 minutes. Four minutes later, Bussi climbed off her bike.
>>> View timeline of the Hour record
During her 2017 effort, Bussi was above record pace until the 48-minute mark. She lost time after this, and said later that she was hit by a pain in her diaphragm.
In July 1993, Graeme Obree failed his attempt at the Vikingskipet velodrome in Norway, by almost a kilometre. He booked the track the next day - preventing his body from seizing up by drinking a pint of water every few hours over the night. He succeeded, breaking the record by 445m.
Bussi's 2018 attempt has was not streamed on the UCI's YouTube channel, as Dion Beukeboom's was in August last year. Beukeboom's attempt was also a failure yet has attracted over 87k views.
Thank you for reading 20 articles this month* Join now for unlimited access
Enjoy your first month for just £1 / $1 / €1
*Read 5 free articles per month without a subscription
Join now for unlimited access
Try first month for just £1 / $1 / €1