'It has been a personal goal in my life to do something big': Hour Record Attempt set for this week
Italian rider who fell short one year ago takes to the starting gate again this week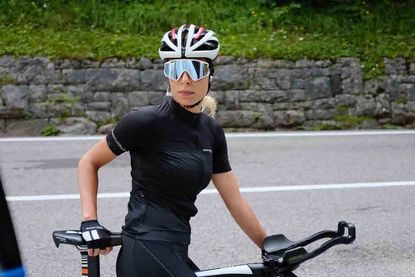 Italian Vittoria Bussi will attempt to break the women's Hour Record this week.
>>> UPDATE: Vittoria Bussi breaks Hour Record in second attempt over 48-hours
>>> UPDATE: Italian cyclist re-attempts Hour Record one day later after stopping at 44-minutes
It's not her first go on the black-line merry-go-round: the 31-year-old travelled to Aguascalientes Velodrome, Mexico, in October 2017 and rode a grueling sixty minutes.
She fell short of the record set by Evelyn Stevens, which still stands at 47.980km, by 404 metres.
Up until the forty-eight minute mark, self-funded Bussi had ridden above the pace needed to break the record. However, pain in her diaphragm hit suddenly - and she lost time from then onwards.
>>> View timeline of the Hour record
Now she returns to the same velodrome, with her attempt set for Wednesday or Thursday this week - depending upon when the conditions are most favourable.
"It has been a personal goal in my life to do something big," Bussi told Cycling Weekly, speaking of her motivation behind the effort.
"Many people in the sport suggested [attempting the Hour Record] to me while I was still racing on the road, based on my skills," she added.
"When I heard about it, I made a very concrete plan. I analysed data and economical resources and I organised my plan."
Working with numbers is far from alien to Bussi. The Doctor of Pure Mathematics completed her degree in Rome, moving to the UK to study for her PhD at Oxford.
It was when studying in the UK that she transferred the athletic ability she had enjoyed as a young track and field rider, taking up triathlon in 2013 before joining an Italian pro cycling team.
Hour Record attempts made a entry to popular cycling in 2014, after the UCI opted to relax what had become a multifaceted title.
The 1997 decision to divide attempts into the 'UCI Hour Record' (where riders had to use equipment that dated back to Eddy Merckx's era) and 'Best Human Effort' (modern equipment permitted) was reverted - creating one target once again.
After this date, Molly Shaffer Van Houweling was the first woman to succeed - riding 46.273 in September 2015. Bridie O'Donnell bettered her with 46.882 in January 2016 before Stevens' February 2016 attempt went still further.
Bussi doesn't look upon her initial failure negatively.
"I actually felt disappointed at the beginning as I was dreaming about the world record," she admits, "then I felt proud of my performance as it was my best in that moment."
She says the last 20 minutes will be the hardest - logical judging by the way they unravelled in her initial test. A lot has changed, though.
"I've made changes in my aero position, as I did a wind tunnel test in last November," she says.
"We found a big improvement in terms of watts-saving and comfort. Training is harder than last year, and I have improved my conditioning since last October."
Bussi has also used HVMN Ketone drinks in the run up to her effort and will use them on the day.
"Obviously using HVMN Ketone has helped my performance in training and I expect it will also on the day of the Hour," she says.
Ketones occur naturally in the body when it breaks down fat - they're understood to preserve glucose stores, encouraging the burning of fat - whilst preserving muscle during exercise. They effectively give the body an alternative source of energy and have reportedly been used in professional cycling to "considerable success."
Thank you for reading 20 articles this month* Join now for unlimited access
Enjoy your first month for just £1 / $1 / €1
*Read 5 free articles per month without a subscription
Join now for unlimited access
Try first month for just £1 / $1 / €1