Ketone drinks used among WorldTour teams to boost performance
Rumours have circulated in the last five years but a provider confirms use in the WorldTour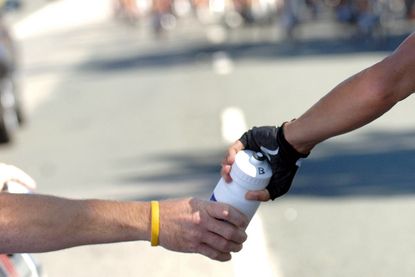 Ketone drinks have been surreptitiously passed around the pro peloton for several years, but now one brand has teamed up with the initial inventors and says it has collected customers amongst WorldTour teams.
Ketones are produced naturally by the liver. They're understood to provide the body with an energy source that is more efficient than carbohydrate, encouraging the burning of fat and preservation of skeletal muscle during exercise.
"Ketone esters have been subject of rumours in the peloton for the last four to five years. This year, ketone esters were finally openly available as 'HVMN Ketone' and a number of WorldTour teams were our customers this year," says Geoffrey Woo, co-founder and CEO of HVMN.
Where did ketone drinks come from?
The initial ketone drink was created to fuel soldiers in the US army.
Scientists - Dr. Kieran Clarke of Oxford and Dr. Richard Veech of the National Institute of Health/Defense Advanced Research Projects Agency (DARPA) - were challenged to produce a foodstuff that would provide soldiers with a fuel tailored to success on the battleground.
>>> Supplements for cyclists: legal performance boosts
The formula has since been adopted in sport, with WorldTour cyclists apparently buying into the drinks: which cost as much as $99 (£76) for three 25g bottles and $1149 (£884) for just under a litre.
There are various ketone products around. HVMN's ketone ester drink was created alongside the initial Oxford University researchers, and the brand has exclusive access to the same organic compound created by the scientists.
How are ketone drinks meant to work?
Ketone drinks elevate the same molecules that are higher in people on a ketogenic - low carb, high fat – diet.
In very simple terms, adopting a ketogenic diet means training the body to burn fat for fuel, as opposed to carbohydrates.
It's not a quick fix. The body needs to adapt to the process and the approach divides opinions amongst sports nutritionists quite dramatically.
"Ketones help the body more efficiently partition fuel by preserving glycogen for longer events and reducing lactic acid production. After exercise, ketone ester boosts muscle protein recovery when taken with carbohydrates and protein," Woo says.
"Ketone esters have the biggest potential benefit in endurance events where fuelling becomes increasingly important. We expect less physical benefit for short burst events," says Woo.
Sports nutritionist at Elite Sports Nutrition Coaching, Joseph Agu, is less convinced.
"The way it's supposed to work involves fuel utilisation. By adding a new substrate into the mix, raising blood ketone levels will increase the contribution of ketones to fuel use during exercise. As this would supposedly reduce muscle glycogen use, it would therefore allow an athlete to work as hard for longer.
"Adopting a ketogenic diet would take a week or so to achieve similar contributions of ketones to fuel during exercise. It would also require less than around 50-100g of carbs per day for an elite athlete to get into this level of ketosis, which would no doubt harm performance.
"In my opinion, carbs are still king, and the best way to spare muscle glycogen to improve performance is to ingest carbohydrate during a race," he says.
Does evidence support ketone use?
A study published in Cell Metabolism in 2016 showed that British Cyclists went two to three per cent further in a 30 minute time trial, with consistent improvements present without the need for athletes to adapt to a ketogenic diet to yield results.
In 2015, Dr David Holdsworth, who led research into the drinks, told Cycling Weekly: "There are professional cycling teams and world famous professional cyclists in those teams, or in that team, who have used ketones for significant internationally famous events, which they've won."
"It has been used with considerable success," he said.
However, the results have been questioned. A 2017 study carried out by an Australian research group showed that performance was impaired in trained athletes completing a time trial.
Researchers stated: "Impairment in TT performance that was associated with gut discomfort and higher perception of effort."
Commenting on the second study, Woo says that the researchers used "acetoacetate (AcAc) diester" - which he calls "a very different chemical than the ketone ester in HVMN Ketone which is beta-hydroxybutyrate (BHB) monoester."
"BHB monoester has been studied extensively in humans, especially in an athletic and soldiering performance context. The literature shows that the BHB monoester has a consistent, beneficial effect."
Are ketones UCI legal?
As part of a 2015 investigation, the World Anti-Doping Agency (WADA) confirmed to Cycling Weekly that ketones were not currently on its prohibited substance or monitoring list.
UK Anti-Doping (UKAD) head of science and medicine Nick Wojek added in a statement: "Athletes are advised to assess the risks associated with using any supplements, including those where synthetic ketones are listed as an ingredient."
"Ketones are simply a macronutrient calorie source," says Woo, "just like how fats, proteins, and carbohydrates have their role in fuelling the brain and body, ketones have a role in fuelling the brain and body."
Thank you for reading 20 articles this month* Join now for unlimited access
Enjoy your first month for just £1 / $1 / €1
*Read 5 free articles per month without a subscription
Join now for unlimited access
Try first month for just £1 / $1 / €1