Which is best to use: a Boris bike or your own?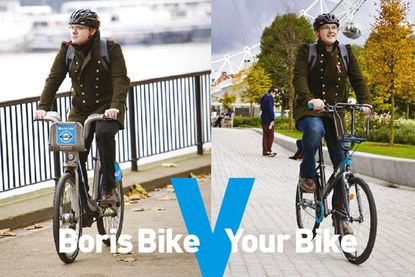 Get The Leadout Newsletter
The latest race content, interviews, features, reviews and expert buying guides, direct to your inbox!
Thank you for signing up to The Pick. You will receive a verification email shortly.
There was a problem. Please refresh the page and try again.
The Greater London Authority last week reported a 27 per cent drop in year-on-year usage of London's Barclays Cycle Hire Scheme.



Could this be because more cyclists are riding their own machines in the capital? Matt Lamy weighs up the options of using a Boris bike against keeping your own bike permanently locked up somewhere in London, ready and waiting for you.
Initial convenience
Getting your own bike to London in the first place is the opening hurdle. You won't be able to do that on a train at rush hour, so it'll take planning. Also, once it's in London, you will only be able to pick it up from the same spot each time. But if trains from home always come in to the same central station, that's not much of a problem.
Barclays hire bikes are available throughout the city at hundreds of docking stations, so it should always be easy to find one. However, in less popular areas, there's always the chance there won't be any available, or in busy zones you'll have to go on a bit of a hunt for a free docking station when you want to return the bike.
Then there are extreme cases. On particularly disruptive days - when tube lines have been closed, for example - empirical evidence has shown it has been tricky to find an available bike. Still, on our first visit to London for this feature, the system wouldn't accept our credit or debit cards, so we couldn't hire a bike at all!
Your bike = 9/10

Boris bike = 8/10
Ease of use
With your own bike this is pretty straightforward. Unlock, hop on, ride for as long as you like, and lock it up again anywhere, when you're done.
With Barclays hire bikes, it's a little more time consuming. Anyone planning to use a Boris bike more than a few times will want to register an account with TfL. They will provide a key that will release the bike and debit any costs from your account. For the more casual user, you'll have to go to a docking station terminal, read through the conditions, put in your credit or debit card, take out the printed release code, input the code (which isn't as intuitive as it sounds because the docking station buttons don't provide feedback) and finally take the bike.
Via either method you have half an hour of free use before you start being charged. Returning is easy - just roll the bike firmly into a docking station. Also, you can mix and match using hire bikes with other modes of transport. So you could cycle to an appointment, take the tube to another, and never have to worry about where your bike is.
Your bike = 10/10
Boris bike = 8/10
Cost
With your own bike the cost could be anything, but let's say a £50 to £100 spend to get an old bike roadworthy, and then another £50 on some decent locks. It'll cost nothing to use, though.
However, this is still where the London hire cycle system starts to come into its own. A single day's bike access is £2, seven days' bike access is £10, or you can register for year-round access for £90. These will all provide you with unlimited free use of hire cycles, so long as you return them to any docking station within 30 minutes.
After 30 minutes you start being charged: £1 for 30 minutes to one hour, then increments up to £50 for 24 hours, £150 for more than a day, and £300 if you don't return the bike. In reality, you'll probably keep to the 30-minute rule, judiciously swapping bikes at docking stations if you need to go further.
Your bike = 9/10

Boris bike = 10/10
Security and safety
While it's been out of your sight, there's always the worry your bike has been stolen, damaged or tampered with, so you'll probably have to take a tool kit, pump and spare inner tube with you whenever you visit. However, we left our bike for three weeks outside Waterloo station and it was in exactly the same condition when we returned.
With Boris Bikes it's far less of a worry - if the bike you're riding is faulty, return it to any docking station, flag up it has a problem (press the maintenance button and turn around the saddle), and take a new one. Also Boris Bikes seem a lot more robust than the typical consumer bike.
Your bike = 8/10

Boris bike = 10/10
Conclusion
The Barclays London Cycle Hire system is hugely convenient but, as we soon discovered, it's not perfect. Being unable to hire one on our first visit was a significant frustration. That said, if you were to have a key, either on pay-as-you-go or year-round access, and can abide by the 30-minute journey limit, they're an almost perfect method of transport.
However, having your own bike waiting for you in London is a very possible luxury. Yes, there are some extra worries, but these can easily be addressed with a bit of common sense. 'Having your very own flat in Chelsea' just took on a whole new meaning.


Keep it safe, keep it locked
If we made any error with our approach to keeping a bike in London it was with our choice of machine. While the B'Twin B'Coool Automatic is practical and sturdy, and resembles an official Boris bike, our mistake was that it was in shop-fresh, pristine condition.
To prevent your bike from being stolen you want to make it as unattractive as possible to potential thieves. So a bike that looks tired and tattered is ideal, as long as it's in perfect working order. Also, remove any quick releases and replace with bolted versions instead. (Don't forget to always take a spanner with you, too.)
The second stage is to decide where to lock it. The temptation is to find some quiet side street. Don't. That will allow any thief plenty of time to work on it. We suggest using the excellent purpose-designed bike parking racks outside most central railway stations.
The final consideration is how to lock the bike. Use two different types of lock, so a thief will have to think twice. We had an old cable lock, which isn't ideal, but teamed that with a far more suitable new Knog Bouncer (£37.99).
Feed your first lock through the front wheel, through the main triangle of the bike frame, and then around the bike parking rack. Use your second lock through the rear wheel and smaller rear triangle of the bike frame, then put that through the rack too. Make sure your locks are as tightly wrapped around your bike as possible.
This article was first published in the December 12 issue of Cycling Weekly. Read Cycling Weekly magazine on the day of release where ever you are in the world International digital edition, UK digital edition. And if you like us, rate us!
Thank you for reading 20 articles this month* Join now for unlimited access
Enjoy your first month for just £1 / $1 / €1
*Read 5 free articles per month without a subscription
Join now for unlimited access
Try first month for just £1 / $1 / €1
Get The Leadout Newsletter
The latest race content, interviews, features, reviews and expert buying guides, direct to your inbox!