Why is Cycle Alert causing alarm?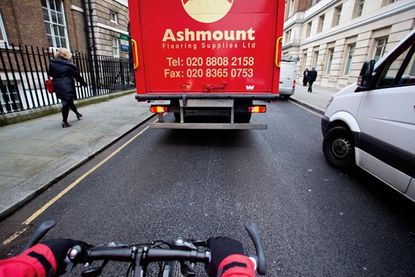 Cycle Alert, York University, York City Council and Transdev bus company have defended their on-road trial of a cycle sensor fitted to cyclists and local university buses despite concerns from cycle safety groups and the police, and a similar product being withdrawn from the market.
Cycle Alert features a small tag fitted to cyclists' bikes or helmets, which at proximity triggers an alarm in the cab of a vehicle carrying Cycle Alert sensors. According to the company's website, the system, aimed at HGVs where blind spot accidents are most common, was designed to "make cyclists more visible on the roads and help in reduce serious injury and fatalities [sic]".
However, York Cycle Campaign, London Cycling Campaign and Metropolitan Police Cycle Taskforce officer Simon Castle say drivers may become reliant on a system which leaves untagged cyclists unprotected.
"How many cyclists must be tagged with sensors, before a large vehicle's driver will be confident of not being in conflict with a cyclist?" said Paul Hepworth, of York Cycle Campaign.
"If the system notifies the presence of one cyclist, how will a driver know of any untagged bikes in the immediate vicinity? Is the kit failsafe? The driver will not know whether the battery in a bike tag has "died"; the cyclist will not know whether the lorry's system is switched on and working."
In response to separate questions by Cycling Weekly, the University, the City Council and Transdev bus operator issued a joint statement via Cycle Alert: "The University of York, Transdev and City of York Council have given their support to the trial of Cycle Alert.
"We are all committed to improving cycling safety in York and our primary concern is saving lives, preventing injury and making roads safer for all. We shall continue to trial and implement innovative ideas that can enhance cycling safety."
Cycle Alert's co-founder, Peter Le Masurier, said: "We recently conducted an independent survey of 4,000 people and 87 per cent of respondents said they would consider buying Cycle Alert and 91 per cent said they would consider buying it for a friend. We ask the question: how can it be detrimental if it has the potential to save a person's life?
"Drivers and driver trainers are consistent in their opinion that a device that tells them 'there is a cyclist' will make them more aware of cyclists not less. To suggest otherwise is unfair on HGV drivers who are on the whole very well trained professionals."
Concerns and reservations
Although the trial is currently only taking place in York, the London Cycling Campaign expressed reservations about Cycle Alert and similar systems. Campaigns officer Charlie Lloyd said: "We are concerned about inherent problems with the type of system that was being developed by Cycle Alert, Cycle Safety Shield and at least one other company.
"We published these concerns with a series of questions about how they might increase risk for cyclists (see tinyurl.com/kdy3npf).
"Cycle Safety Shield agreed with some of our analysis. They abandoned their product and began to develop a different technology using image recognition software."
Lloyd confirmed that Cycle Safety Shield will now pay the LCC a consultancy fee for time spent carrying out an independent assessment of the product they are redeveloping.
He added that: "Cycle Alert dismissed the LCC analysis and continued their product development, as did another company with a similar product."
Le Masurier disagrees with the LCC's take on the matter: "Innovation is needed for safety to improve, products simply cannot be cancelled because one person has doubts about the product - why would you not ask the question: although the LCC have raised concerns we would be interested to know who else Cycle Alert are working with that endorses the product...?'"
Among a number of high profile partners listed on the Cycle Alert website are the Metropolitan Police.
Real world research
However, Simon Castle of the Metropolitan Police Cycle Task Force has been involved in recent 'real world' assessments of cycle detection systems, including Cycle Alert, at the Transport Research Laboratory.
He said: "The seven points LCC put up were spot on, and the concerns were among those I would raise: would it put people more at risk, like the cyclist that doesn't have a tag? Would it put pedestrians more at risk, because pedestrians feature in more [lorry] collisions than cyclists do?
"I have got concerns about all the systems and that is why they are going through proper scientific testing at the TRL," he added.
Le Masurier said: "We are not saying this is the only system drivers will use, but it is the only system that will detect a cyclist who has the Cycle Alert Tag.
"Currently HGV drivers have a number of safety equipment devices at their disposal, but none that detects just cyclists. Cycle Alert complements the other safety equipment a driver has available without overloading them with information. The way Cycle Alert communicates is quick and non-distracting, enabling the driver to keep their eyes on the road and their mirrors."
He added: "You asked about effectiveness. How do we define effective? If it saves one person's life
we believe it is effective."
The original version of this article appeared in the October 17 2013 issue of Cycling Weekly magazine
Thank you for reading 20 articles this month* Join now for unlimited access
Enjoy your first month for just £1 / $1 / €1
*Read 5 free articles per month without a subscription
Join now for unlimited access
Try first month for just £1 / $1 / €1