Wiggins and Sky react to Armstrong doping case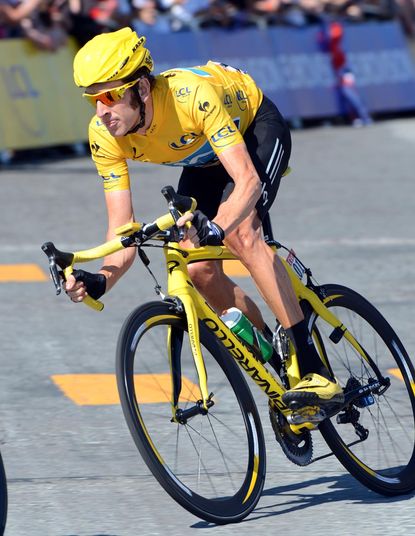 Bradley Wiggins and team Sky have responded to the "damning" evidence in the Lance Armstrong doping case.
The US Anti-Doping Agency (USADA) released the details of its guilty decision, which should see Armstrong officially stripped of his seven Tour de France wins.
"It's pretty damning," Wiggins told Sky News. "There's a lot of it and I think the evidence is now overwhelming. In a way this brings an end to the investigation, which has been going on for quite a few years. Maybe now, as a sport, we can move forward. My main concern is now I'm standing here as the winner of the Tour de France having to now pick up the pieces for other people's misdemeanours."
The US agency found Armstrong doped through most of his career and stripped him of his results from 1998, including his seven Tour wins. After Armstrong refused a hearing - which the agency said "speaks volumes" - it announced its decision on August 24 and made the details public two days ago.
The Union Cycliste International (UCI) has 21 days, until October 31, to respond. It may accept or appeal the agency's decision.
Wiggins said that he had not read the 202-page Reasoned Decision that the agency made public, but has seen the newspapers. The decision includes sworn testimony from 26 people, including 15 riders.
"It is certainly not a one-sided hatchet job, it is pretty damning. It is pretty jaw-dropping the amount of people who have testified against him. I am shocked at the scale of the evidence," Wiggins said.
Wiggins joined Sky in 2010 and won the Tour with them this year. It came after years racing on the track with British Cycling, including three Olympic gold medals.
"I was very fortunate that I was in a system in British Cycling that, regardless of what team I was in, they supported me with the right way to deal with it. They probably saved me otherwise it might have been me, who knows. The peer pressure was huge."
Sky cyclist Michael Barry testified against Armstrong and admitted he used drugs. "I used EPO and testosterone off and on from 2003 until 2006," he said in his testimony. "I also used cortisone on one occasion in 2003 and experimented with hGH on one occasion in 2004. I obtained the doping products from the US Postal Service doctors and staff and from fellow athletes."
Team manager David Brailsford told the Telegraph that he asked Barry if he had a doping past at the Giro d'Italia in 2010 and Barry responded there was no problem. "Clearly there was, and I'm disappointed that I asked him the question and he told me a lie. But we have no doubt that he was clean when he rode for us. I am not sure what more we could have done."
Barry, after three years with Sky, retired on September 5.
Sky's Michael Rogers trained under banned doctor Michele Ferrari. Levi Leipheimer said in his testimony that he saw the Australian, Yaroslav Popovych, Andrey Kashechkin and Alexander Vinokourov at a Ferrari training camp in Tenerife in May 2005. And that he saw him at Ferrari camp with Paolo Savoldelli, Popovych and Eddy Mazzoleni in St. Moritz in June 2005.
Rogers admitted in 2006 to working with Ferrari since 2005 but cut ties with him after that year's Tour due to pressure from his T-Mobile team.
"I was very transparent. We came forward to the press and told them my position. Since then I have had absolutely no contact with Ferrari whatsoever," Rogers told the Sydney Morning Herald overnight.
Asked if Ferrari suggested drug use, Rogers said, ''No ... absolutely not. The agreement I had with him was very, very ... We didn't have much communication. I didn't really get that much out of it. ... It was an error to go to him. He didn't have the best name in the industry, but that was the mistake I made ... I certainly regret [it]."
Sky's Sean Yates rode with Armstrong in team Motorola from 1992 to 1996 and helped direct the Discovery Channel team when Armstrong won the Tour in 2005.
He told BBC Radio he was shocked by "the depth of the whole system, as it's been called. I worked with Lance but never had any inclination that this type of practice was going on. ... I was with Lance in 2005, for his last Tour win. ... I never ever saw an indication of anything dodgy going on. I used to jump out in the morning, get out on my bike, come back, drive the car, and call the tactics now and then, but I never saw anything that was untoward."
Related links
USADA's Armstrong doping report in brief
Thank you for reading 20 articles this month* Join now for unlimited access
Enjoy your first month for just £1 / $1 / €1
*Read 5 free articles per month without a subscription
Join now for unlimited access
Try first month for just £1 / $1 / €1