Wiggins's record is achievable says Dutchman ahead of Hour Record attempt
Dutchman says Wiggins did not ride his record under ideal conditions and that bettering it is achievable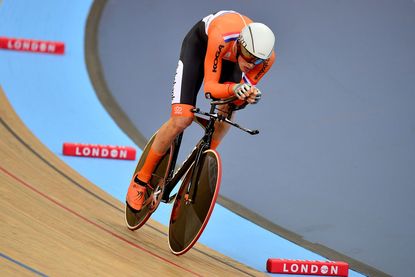 Bradley Wiggins's hour record of 54.526km can be bettered, says the coach of Dutchman Dion Beukeboom who will ride to beat the record today in Mexico.
At 14:00 local time, 20:00 British time, the 29-year-old will try to break the record on the Velodromo Bicentenario in Aguascalientes.
"I understand that the outside world looks at us and thinks: who do these guys think they are? A continental team rider aiming to beat the record of a world and Olympic champion time trialist like Wiggins," Beukeboom's Coach Van den Berg told NOS.
"But if you look closely at Wiggins's record, you can see that it was mainly a commercial party saying goodbye to his professional career, and we, as well as the Wiggins team, know that this record can be even better."
Wiggins, then 35, set the record on June 7, 2015, at the Lee Valley VeloPark in London . He was aiming for above 55 kilometres.
>>> The Hour Record: an interactive timeline
On beating Alex Dowsett's distance, Wiggins said, "Obviously, that's raised the bar a fair bit to what the existing record was. For sure it will deter people or make them think twice about it because it's been a bit of a rush up until now for people to have a go at it. It's the first big marker now."
Beukeboom is riding for the Dutch Vlasman track and road continental cycling team. In June, he finished fourth in the national time trial championships.
Van den Berg believes it is possible for his rider to beat Wiggins' record, though.
"Because he rides at 1800 meters altitude in Mexico, because the material is better than three years ago and because Dion is the ideal rider for a record attempt," added Van den Berg
"The hour record rider has to be big and strong, have a lot of mass, be able to kick a high power, sit on his bike extremely aerodynamically and have experience. He also has to invest a year in this effort, which is why all WorldTour and many pro continental riders don't - due to other sponsor interests."
The six-foot-six cyclist, who has won individual pursuit titles at national level, feels mentally ready.
"Of course you have to be physically strong," said Beukeboom. "But mentally it also becomes difficult. The physical-mental ratio is 50-50. This is different from a time trial on the road, there is less variation, which is why we have developed a mental strategy.
"I do not have the illusion that I am a better rider than Wiggins, but Jim van den Berg made me realise that Wiggins did not ride his record under ideal conditions, his record is achievable, and if I am honest, such an attempt is something I'm good at: an hour chunk hard."
Thank you for reading 20 articles this month* Join now for unlimited access
Enjoy your first month for just £1 / $1 / €1
*Read 5 free articles per month without a subscription
Join now for unlimited access
Try first month for just £1 / $1 / €1