You vote Old Faithful greatest bike of all time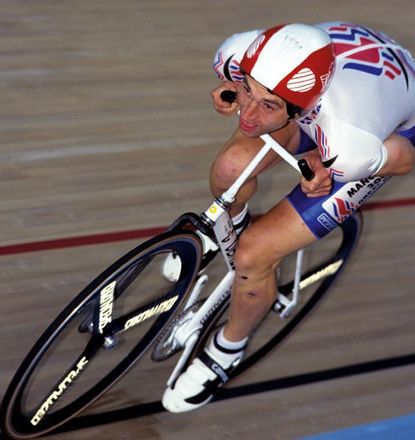 Get The Leadout Newsletter
The latest race content, interviews, features, reviews and expert buying guides, direct to your inbox!
Thank you for signing up to The Pick. You will receive a verification email shortly.
There was a problem. Please refresh the page and try again.
Graeme Obree's Old Faithful has been voted our readers' favourite bike following Cycling Weekly's feature on the 'Greatest bikes of all time'.
Responding to a follow-up survey on our website, Obree's bike clearly took the top spot ahead of the Lotus Sport that Chris Boardman rode to gold in the Barcelona Olympics and Giuseppe Saronni's Colnago Mexico in third.
The three make for a truly inspired podium: a bike from a maverick genius, one that represents cutting-edge technology, and a true thing of beauty. It's almost
the story of the bicycle told in three parts.
The feature we published in the March 22 issue of this magazine profiled the 50 greatest bikes we've seen in 121 years of publishing Cycling Weekly.
Although our selection was made on an entirely subjective basis, they were presented in no particular order. Instead we asked you to rank them. Participants in our online survey were also invited to comment on each bike featured.
Of almost 500 respondents, a quarter rated Obree's home-made World Hour record-breaking machine as their favourite, while half of all respondents had it in their top five.
"No one before or since has gone so far outside the box then jumped on their personal creation and done world-beating rides," commented one respondent.
"Obree, what a guy," they added.
"If there is any justice he will win hands down."
Obree himself was visiting a collection of his machines at the Riverside Museum of Transport in Glasgow when we phoned him to let him know how favourably his creation lives on in our readers' memories.
"Oh good on you! That's amazing. Well done British public," he replied. "Considering the amount of time since she was made, it's touching how people have remembered her."
Asked if he had any idea of what an iconic bike he was making when he knocked up Old Faithful out of spare parts and household bits lying around his shed, Obree replied: "I really didn't. You've seen the state of the paint job. I just sprayed it white to stop the rust.
Aesthetics played such a little part, but I was just thinking purely of the functionality. That it became so iconic is quite incredible really."
As well as its DIY background, Obree suggested that naming his bike Old Faithful had also given it some additional appeal. "I can't remember anyone really naming their bike before that," he reasoned. "Naming it gave it some personality and I think that helped catch people's imagination as well.
"I think the British like that homemade touch too. That have-a-go attitude is part of the British spirit."
Man and machine
Further down the list, the Eddy Merckx Molteni was also very popular, although from reading your comments it was clearly as much a vote for Merckx as the bike. The person who said that the Brompton is a life-changer got it dead right. It looks like the nearest thing to an integrated transport system most of our cities will see for a while.
The Specialized Venge got your vote for its 21st-century 'Darth Vader' looks, as much as the races it has won, while the Raleigh Chopper brought a flood of reminiscences - some probably painful because a lot of you pointed out how dangerous you thought it was. The Peugeot PX10 struck an expected nostalgic chord, and the Cervélo P3 was judged a classic of its genre.
Of the other bikes, the TI-Raleigh got the most positive comments. Those who voted for it were united about how well it performed, and about how cool it looked in its day. A bit of sneaking admiration for Peter Post's band of Dutch and Belgian hard-case racers got itself into the mix there too.
One person expressed surprise that "Coppi got up anything on that," when commenting on the Bianchi. However, you loved the simplicity of Ray Booty's Raleigh Record Ace and the 'Everything Bike' from a similar era. It did indeed "Give the countryside to everyone".
One of you thought that Moser's 1984 Hour record bike was "melting". The Shorter TT bike was further down the list than we expected, but it was one of the most commented on, or rather its rider Alf Engers was. The Hetchins was popular too; a number of you said it was very good looking. One person described it as "a steel Pinarello [modern-day]."
A few of you would like see tandem racing come back to the track, but none of you miss the stayers or the noise of the big motors. One of you thought land speed biking was "cheating".
The person who thought the BMC Teammachine looks a bit like a bike by a British company, Thanet, has a point. Those bikes were supposed to be the future - there was an exhibit in the Science Museum in London many years ago that said so. Seems they were right.
It was a great response from our readers and we thank you for it. Only one bike left you speechless - Steve Bauer's long-wheelbase Eddy Merckx bike, which provoked a stunned silence, although it didn't end up last.
What you said about Old Faithful
■ "Cycling can be a lonely discipline. One man with his guile and ingenuity took on the world with an idea and determination. Graeme Obree encapsulates the spirit that galvanises the British people and his bike is physical manifestation of that. He took on the world from his shed, and won."
■ "Obree's achievements both on the bike and creating this self-engineered machine was a real inspiration to me as a young cyclist."
■ "The victory of the 'little guy' - Obree achieved the impossible on a home-built bike and by ignoring everybody else's opinions about riding position."
■ "Brilliant bike from a brilliant 'underdog'."
■ "Refreshingly non-diamond frame."
■ "Pure speed with a utilitarian design. Nothing to do with being pretty - just damned effective."
■ "An old washing machine and a mad Scotsman: brilliant!"
■ "The biker's bike. Who could not love the legend and the populist press perception that it was made from a washing machine!"
■ "Absolutely ingenious and all for three and six!"
■ "Only one that stands from the rest."
■ "Genius."
How you voted
Rating points
1 Graeme Obree's Old Faithful (1994) 864
2 Chris Boardman's Lotus Sport (1992) 763
3 Giuseppe Saronni's Colnago Mexico (1982) 697
4 Eddy Merckx's Molteni team bike (1974) 613
5 Andrew Ritchie's Brompton (1979) 588
6 Mark Cavendish's Specialized Venge (2011) 588
7 Seventies kids' Raleigh Chopper (1970s) 551
8 Tom Simpson's Peugeot PX10 (1965) 549
9 Fabian Cancellara's Cervélo P3 time trial bike (2007) 545
10 Eddy Merckx's Hour record bike (1972) 531
11 Miguel Indurain's Pinarello Espada (1994) 527
12 Lance Armstrong's Trek OCLV (1999-2010) 525
13 Roger De Vlaeminck's Gios Torino (1974) 515
14 Team GB's track bike (2003-present) 515
15 Joop Zoetemelk's TI-Raleigh pro team bike (1980) 473
16 Fausto Coppi's Bianchi (1952) 463
17 Gewiss Ballan's De Rosa Titanio (1994) 463
18 Cadel Evans' BMC Teammachine SLR01 (2012) 463
19 Sean Kelly's Vitus 979 (1987) 450
20 Alex Moulton's Moulton (1962) 448
21 Clubman's Hetchins (1940) 446
22 Francesco Moser's Hour record bike (1984) 444
23 Laurent Jalabert's Giant TCR (1999) 430
24 Ray Booty's Raleigh Record Ace (1956) 427
25 Greg LeMond's Bottecchia time trial bike (1989) 425
26 La Vie Claire's Look KG86 Tour de France (1986) 419
27 Mario Cipollini's Cannondale CAAD3 (1997) 412
28 Street kids' Raleigh Burner (1982) 400
29 Alex Zülle's Look KG 196 (1996) 399
30 Danny de Bie's Alan Cyclo cross (1985) 390
31 Alf Engers's Shorter TT bike (1973) 389
32 Eugène Christophe's Peugeot (1912) 384
33 John Tomac's Yeti mountain bike (1990) 377
34 The British clubman's everything bike 369
35 John Aslin's Condor (1966) 366
36 Jacques Anquetil's Gitane (1966) 364
37 Beryl Burton's Jacques Anquetil (1970) 362
38 Reg Harris's Raleigh track bike (1954) 354
39 Castorama's Raleigh time trial bike (1991) 346
40 Track sprinter's tandem 342
41 Hugh Porter's Carlton Flyer (1966) 341
42 Gilbert Duclos-Lassalle's suspension LeMond (1993) 328
43 Martin Pyne's TJ Flying Gate (1980) 322
44 Beat Breu's unbranded climbing bike (1982) 312
45 Luis Ocaña's Speedwell Titalite (1973) 311
46 Ian Cammish's Brian Rourke TT bike (1983) 306
47 Steve Poulter's Kirk Precision (1987) 305
48 Steve Bauer's long-wheelbase Eddy Merckx (1993) 305
49 Fred Rompelberg's land speed record bike (1995) 288
50 Herne Hill stayer bike (1946) 279
Thank you for reading 20 articles this month* Join now for unlimited access
Enjoy your first month for just £1 / $1 / €1
*Read 5 free articles per month without a subscription
Join now for unlimited access
Try first month for just £1 / $1 / €1
Get The Leadout Newsletter
The latest race content, interviews, features, reviews and expert buying guides, direct to your inbox!
Founded in 1891, Cycling Weekly and its team of expert journalists brings cyclists in-depth reviews, extensive coverage of both professional and domestic racing, as well as fitness advice and 'brew a cuppa and put your feet up' features. Cycling Weekly serves its audience across a range of platforms, from good old-fashioned print to online journalism, and video.