Corima launches first hookless and tubeless compatible road wheels
A total of eight new race wheelsets have been launched, all hand made in France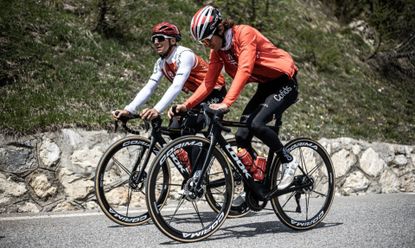 (Image credit: CORIMA)
Corima has released two brand new wheelsets ahead of this year's Tour de France in the shape of the MCC EVO and WS EVO. Both wheelsets are handmade in France and feature a brand-new ratchet design with quicker engagement.
A total of eight wheelsets are being released, with both wheelsets being available as tubeless (hookless) or tubular, and with a 32mm or 47mm depth - but no sign of rim brake options. Corima has also launched a new lifetime warranty on rims, alongside a three year crash replacement program.
The MCC EVO also boasts a '100% carbon design' which stands out, even among the best race wheels on the market.
Corima new ratchet design
Corima has developed an all-new D2T technology ratchet system which can be seen in both new wheelsets. Designed in-house, the hub design features 36 teeth and a 10-degree angle of engagement, which decreases the amount of pedal turn before the hub engages. This sits in line with DT Swiss' 240 road hubs, the internals of which can be found on competitors such as the Roval Rapide CLX 50 II wheelset.
Corima says the MCC's star-shaped double torque technology gives the new hub a 17% increase in transmission engagement, which should make for a more responsive feeling hub, as well as increased reliability.
Corima MCC EVO
Corima describes the MCC EVO wheelset as the pinnacle of the range and says it has been developed closely with Team Cofidis this year. The MCC EVO wheelset, which retails at $4,200/£3,590 boasts a 100% carbon design, utilizing Corima's patented carbon spokes, and a new D2T technology hub.
The French brand has used a high modulus 3k carbon weave which provides the highest strength-to-weight ratio. The complete carbon design, Corima says, gives the MCC EVO around a 15% increase in stiffness versus market competitors. While we can't comment on the stiffness-to-weight ratio, the carbon spokes certainly retain the distinctive 12-spoke design of previous Corima wheelsets.
Carbon construction also allows for some relatively lightweight weight claims too. Corima claims 1,445 grams for the tubeless hookless 32mm and 1,480 grams for the 47mm depth rims. While tubular wheelsets come in at 1,280 grams and 1,330 grams for the 32m and 47mm rims respectively. Once again this compares well to the competition, with the Roval Rapide CLX II wheelset weighing in at 1,520 grams. That said though, at that weight, you get 13mm more depth on the rear and save over $1,000/£1,000 - however Corima is marketing ride feel and stiffness over weight figures alone.
As for rim widths, the new MCC EVO has a 21mm internal rim width and a 26mm external rim width. This isn't as wide as a lot of new wheels on the market, so potentially not quite as optimized for aerodynamics - but it does mean you won't have to worry about ETRTO tyre recommendations with a slightly narrower rim. Corima suggests tyre compatibility between 25mm and 32mm.
Corima WS EVO
The WS EVO wheelset, on the other hand, sits at a much more palatable $2,300/£1,890 and is arguably the better value wheelset from the range. Corima says the wheelset has been developed to deliver "responsiveness alongside precise handling and superb versatility."
The cheaper wheelset still boasts a handmade in France construction as well as the same 3k carbon fiber structure, but has a more traditional 20-spoke lace pattern with internal nipples.
Corima S EVO hubs are used in the WS EVO which does void the wheelset of a 100% carbon fiber label, but the hoops weigh only a few percent more than the more expensive MCC EVOs. Tubeless hookless versions come in at 1,505 grams (32mm) and 1,540 grams (47mm) while tubular versions weigh a claimed 1,390 grams (32mm) and 1,490 grams (47mm).
The WS EVO also shares the same rim profile, with a 21mm internal rim width alongside a 26mm external rim width.
CORIMA warranty and crash replacement
The aforementioned warranty and crash replacement scheme is also new for Corima. Customers who register their wheels within 30 days of purchase can claim a lifetime warranty on the new carbon rims, as well as a two-year warranty on all other components.
Crash replacement is also available within three years of purchase. For full details of the new customer care, visit the Corima website.
Thank you for reading 20 articles this month* Join now for unlimited access
Enjoy your first month for just £1 / $1 / €1
*Read 5 free articles per month without a subscription
Join now for unlimited access
Try first month for just £1 / $1 / €1