True Grit: Inside the gravel national championships
Cycling Weekly meets the muddy mavericks pushing the envelope of Britain's burgeoning gravel scene.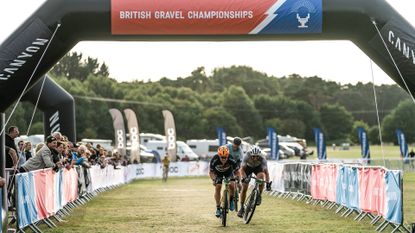 (Image credit: Joe Cotteril/King's Cup)
Get The Leadout Newsletter
The latest race content, interviews, features, reviews and expert buying guides, direct to your inbox!
Thank you for signing up to The Pick. You will receive a verification email shortly.
There was a problem. Please refresh the page and try again.
If you were asked off the top of your head to connect the dots between Emporia, Kansas, USA and the sleepy village of West Stow in Suffolk, you might struggle. And not unreasonably.
Thousands of miles apart, one is surrounded by the vast horizons of the American Midwest, while the other is all quintessential English thatched roofs and found bordering thick forest.
There is a connection though – gravel riding. The two locations host what are arguably the most important gravel appointments each country has to offer, with Emporia home to Unbound (formerly Dirty Kanza) and West Stow hosting the King's Cup, which was held recently and incorporates the British Gravel Championships.
Admittedly, there is a vast gulf between the two events, with Unbound's pedigree, prestige and 200-mile length making it the gravel equivalent to one of road racing's Monuments; while the King's Cup, named after the King's Forest in which it is held, is still a young event in a sport with a limited following in the UK and is a more manageable 48 miles. It's catching on fast though, with gravel bikes becoming more and more popular – partly for off-road riding but also as an efficient and comfortable means of negotiating Britain's neglected road surfaces.
The King's Cup bills itself as the Ultimate Gravel Festival, and this year's event was held over what turned out to be a sunny but rather chilly three-day weekend at the end of September. The title races took place on the Saturday, with Jacob Vaughan and Danni Shrosbree running out the senior men's and women's winners. 'Gravel Fondos' over two distances took place on the Sunday. There was also camping, food, drink and live music.
It may not be the behemoth that Unbound is, but this lends the King's Cup a certain charm, with the 'open' title races exactly that – open to all. There is no requirement to be in a certain category and for a certain 'last three seasons' time (the women's race was won in 2.40, the men's in 2.15), you can enter and compete for your own tricolour jersey. Of course, if you're out of shape you can expect to be spanked by the top riders, but even so, you'll likely find a group of similarly able riders to compete with. We set about finding what it was all about.
"The nature of gravel is you just go as hard as you can," says Helen Ralston-Smith, who rides for Paceline RT and was sixth in the women's title race. "It's a bit like
a sportive really – a lot of small groups form," she explains. "So it's not like, 'Oh, I'm dropped, everyone is ahead of me' – you should just be able to find someone to ride with and make it work."
It's rough, but not cross
The straightforward nature of the course also means that owning a 'proper' gravel bike is not a prerequisite for the King's Cup, and Ralston-Smith rode a cyclo- cross bike with a borrowed larger chainring, while her husband Tom, who rode the open/senior men's race, used his road bike with fatter tyres.
"Just because he's got disc wheels and enough clearance, and he also used road shoes, because he was like, 'I'm just gonna get dropped. I just want to stick with them as long as I can,'" she explained.
One argument from the cynics is that gravel is simply cyclo-cross by a different name, but a fast course like the King's Cup is more like an off-road road race, with riders moving fast in packs and few technical challenges to speak of.
"I think it's very different," Ralston-Smith said. "It's not like there was anything technical, and there was no mud to contend with. It's very flat as well. Most cyclo- cross races they put ramps in, but there was nothing like that."
Milo Purvis, who also rides for Paceline RT and rode the men's open race, said that the field was very strong, but that had benefits for everyone.
"It attracts such a strong field that it's just good for racing," said Purvis, who finished 45th. "It's good for people who are younger to dip their toe in, or people who are getting into it at a later stage in life, and kind of just getting cracking and seeing how they stack up and how they can improve."
"It had a good atmosphere," he added. "There were a number of different tents around the place. It was almost a triangle shape in that one edge of the triangle was basically the finish straight. And you could either get food or beers, and Canyon had a spot there. And then in the middle of that were a number of different seating areas, for picnics and stuff like that."
Friendly atmosphere
The majority of the people there were fairly closely involved with the actual racing he said, but added: "I don't feel like it's going to be long – a few years down the line – before it could feel like quite a big festival."
LDN-Brother UK rider Ione Johnson, who was 14th in the senior women's race, described the event as friendly and less intense than road racing, all helped by the festival set-up.
"Before the race, everyone was rolling around and warming up together," she said. "I think with most of the competitors camping, that kind of just brings everyone down to a level where they're a bit more chilled out. All of that was quite nice and I think having that kind of set-up just makes for a nice environment."
Like everyone we spoke to, Johnson said she was planning to ride more gravel in 2023. But if races like the King's Cup were to compete with the world's best gravel events, there were a few tweaks needed, she added.
"With the course the way it is, I thought the distance was quite good. But if it wants to be comparable to some of those other races, it would need to be longer," said Johnson, who also went to the Gravel Worlds in Italy as a spectator, and so had the opportunity to compare the two.
"For the Worlds there was a fair bit of tarmac. It's just when you're doing that, then you have to factor in STMS [traffic management], and all that kind of stuff, which is a whole other issue," she added.
At the King's Cup, the traffic was all of the four-legged variety. Animals on the course were a recurrent theme that cropped up in conversation, with the men's race having to negotiate a startled horse, and the women having to navigate their way around a dog which ran into the group.
Despite the hurdles it might need to overcome, new champion Vaughan is convinced that big- event gravel racing is here to stay.
"Yeah, I really think so. I hope so. I think there's definitely a market for it," he said. "A lot of friends I've got from the road have started doing a bit of gravel now. It's almost like a newfound motivation. Certainly for myself as well. It's like this whole new discipline you're learning and it excites you to go and do it."
Thank you for reading 20 articles this month* Join now for unlimited access
Enjoy your first month for just £1 / $1 / €1
*Read 5 free articles per month without a subscription
Join now for unlimited access
Try first month for just £1 / $1 / €1
Get The Leadout Newsletter
The latest race content, interviews, features, reviews and expert buying guides, direct to your inbox!
After cutting his teeth on local and national newspapers, James began at Cycling Weekly as a sub-editor in 2000 when the current office was literally all fields.
Eventually becoming chief sub-editor, in 2016 he switched to the job of full-time writer, and covers news, racing and features.
A lifelong cyclist and cycling fan, James's racing days (and most of his fitness) are now behind him. But he still rides regularly, both on the road and on the gravelly stuff.