'It's a matter of time before we do even better' - Uno-X kicks off historic 2023 with stage win at Saudi Tour
Norwegian team is heading to the Tour de France, but first Søren Wærenskjold won its first race of the year on Wednesday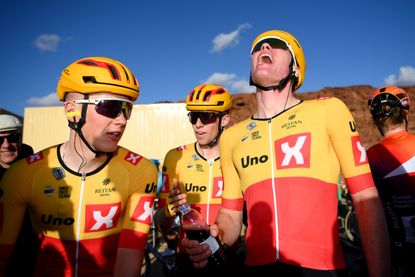 (Image credit: Getty Images)
Get The Leadout Newsletter
The latest race content, interviews, features, reviews and expert buying guides, direct to your inbox!
Thank you for signing up to The Pick. You will receive a verification email shortly.
There was a problem. Please refresh the page and try again.
Søren Wærenskjold might have just won his first professional victory, and his Uno-X team's tenth at elite level, but he is in no mood to bask in his moment of glory. Instead, he wishes to look forwards, to predict great things for his nascent Norwegian team.
"I think it's just a matter of time before we do even better," he explains at the finish of stage three of the Saudi Tour. "I think we just have to continue what we're doing as we know that it works.
"We just have to get the details correct, like when we did everything right in the final today."
For the last couple of years the squad has been a favourite of peloton watchers, always trying something, highly visible in the yellow and red kits, keen to not just sit back, or simply be there, as so many Pro Teams have done in the past.
This is something that Wærenskjold's directeur sportif, Leonard Snoeks, is keen to stress.
"Now, stepping up on the biggest stage, we're not just here to show up," he says, hours before his rider proved his point. "We want to look good, but we also want to win. We brought some new riders in, some new riders came up from the development team, and it's all part of the plan of getting closer towards our goal."
2023 is a big year from the Norwegian squad, which is made up of Norwegians and Danes, the news broke in January that Uno-X were one of the recipients of two wildcard spots for the Tour de France, the team's first Grand Tour, and the biggest one of all at that.
"Every race we go to we're aiming for a win, here, or even the Tour de France. We're not going on holiday," Snoeks explains. "I think we have a really good shot with some of our top class riders, and of course, they need backup from the other guys. It is a good journey from the development team to the top. We have many riders who are capable of winning."
Wednesday proved that Uno-X can mix it with the best teams, carry out a plan, and challenge at the sharp end of races. Saudi Arabia is rather different from Norway in January, but the squad showed their spirit and togetherness, and Wærenskjold was there to finish it off.
"I just knew that it was a bit of a steep climb," the man from southern Norway says. "It was steep at the end before it went downhill again. I surfed a little bit to get back into the peloton to save myself for the sprint. I knew when the guys went really hard at the bottom I couldn't follow, so we did it perfectly. Today we took the right side, so we finally got the wind from the left. We did really badly at the end yesterday, and we learned from that, so today we did it.
"We have two fourths in the first stages, so it's been really good, creating good morale for the team. We try to continue to do well, and tomorrow it's Jacob's [Hindsgaul] turn, so I think he can do well in that climb. Today he was one of the leadout men. It's going to be exciting for the rest of this week now."
The results have been coming. It is clearly a close knit bunch, helped by the shared Norse heritage of all the riders; if the Vikings ever got into cycling, it would be Uno-X.
"It's a really good atmosphere in the team, and since we are all Norwegian and Danish, we come from the same cultures, and we're quite the same," Wærenskjold says. "We have fun on travel and training camps, and then we have a good time on the road.
"Hopefully there are some young guys watching that will get inspired, and considering cycling."
The 22-year-old is one of 12 riders aged 23 or younger on the team, and won the under-23 time trial world championships last year in Australia, at the same time as his compatriot Tobias Foss won the elite title. He was also third in the U23 road race, a hint of his talent to come. However, this was his first pro win.
"It's fantastic," he says. "I waited for this for some time, and I haven't been so close. I've been good at under-23 level, but haven't managed to take a pro win, so this is really fantastic."
He is not alone. Tobias Halland Johannessen won the Tour de l'Avenir, the race which so often predicts future talent, in 2021, and the team has signed Alexander Kristoff for 2023 to help push onto the next level.
This is the start of the biggest season in Uno-X history, and Wærenskjold has proved that he is an integral part of it, next he just needs to prove that he can keep this form up, and get into that Tour de France team.
"I think I can be a good leadout man for Kristoff in the sprints, but I have to prove that I can do longer stage races," he explains. "I have to do well in the Spring, and then we will see if the management tells me I'm strong enough. Hopefully, but we will see."
Winning a first professional race is a solid first step.
Thank you for reading 20 articles this month* Join now for unlimited access
Enjoy your first month for just £1 / $1 / €1
*Read 5 free articles per month without a subscription
Join now for unlimited access
Try first month for just £1 / $1 / €1