Netflix working on Mark Cavendish documentary
Film about the Manxman's life is already in production according to a report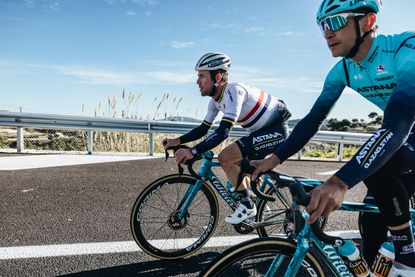 (Image credit: Wilier)
Netflix are working on a documentary following the life and career of Mark Cavendish.
The streaming giant is reported to have a movie in the works, the latest in a long line of sports documentaries on the channel, including the hit Formula 1 series Drive to Survive.
In an interview with Cavendish Matt Dickinson at the The Times reports that film is already in production.
When asked if the opening scene of that film could be Cavendish winning a 35th Tour de France stage to make himself the lone record holder for Tour stage wins ( a record he currently shares with eddy Merckx), he told Dickinson: "The goal is winning. Not one particular win, it's winning.
"The Tour de France is what I've always set my career around, and from outside I'm well aware [what people will say]. We are at that point I can stand alone [from Merckx]. Another win at the Tour is everything to people but, for me, it's not one win, it's two or three, whatever I can do.
"For me it is quite simple. I can continue riding my bike, I can continue winning, so why not do it? I love it. I love racing. It's changed. The racing is not as enjoyable but I still love it."
Cavendish signed with Astana Qazaqstan in January this year following a period of uncertainty after he committed to the evolution of the B&B Hotels team only to see it fall to pieces as finances never turned up.
A documentary about his life will likely cover those events in more detail.
It comes as a raft of streaming services are jumping on the documentary bandwagon following the success of drive to survive.
Movistar's The Least Expected Day series is now in its third season on Netflix. Further series following Jumbo-Visma and Soudal - Quick Step are in the works at Amazon Prime and a highly anticipated Netflix series following the 2022 Tour de France, made by the same company as Drive to Survive, is set to be aired later this year.
Many within cycling hope that programme and perhaps these others will help to boost the sport in the lucrative US market, something Drive to Survive has been credited with doing for F1. The US has seen interest in cycling cool since the heyday of Lance Armstrong and his subsequent downfall has not helped the image of the sport.
Cavendish will likely be happy if his film does a good job of cementing his legacy and status in the eyes of the global audience outside of current cycling fans too.
The Manxman is due to race for his new team for the first time at the five-day Tour of Oman on 11 February before starting the UAE Tour on 20 February.
Thank you for reading 20 articles this month* Join now for unlimited access
Enjoy your first month for just £1 / $1 / €1
*Read 5 free articles per month without a subscription
Join now for unlimited access
Try first month for just £1 / $1 / €1