Saint Piran DS set to move up pyramid after stunning 2023 campaign
Steve Lampier leaves Cornwall-based UCI Continental team after most successful year to date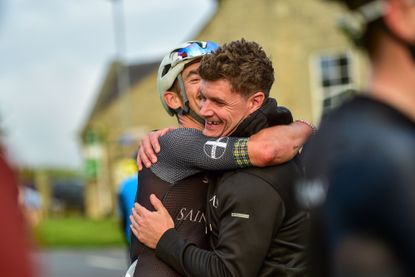 (Image credit: SWpix.com)
Saint Piran sports director Steve Lampier is set to depart the Cornwall-based UCI Continental team for pastures new in 2024.

Lampier has been largely behind the team's scintillating 2023 campaign which has seen Saint Piran dominate the National Series races in Britain and achieve wins at various races in Europe.

Under the ex-pros management the team won a variety of major races in Britain including the Lancaster Grand Prix through Zeb Kyffin.

Kyffin was one of the standout performers for the team this season and rounded off the campaign with sixth overall at the Tour of Britain.

Lampier has been at the core of the team's development since its early days starting out in a Cornish bike shop eight years ago.

The 39-year-old's next destination has currently not been made public but Cycling Weekly understands he is set to move to a team higher up the cycling pyramid.

Reflecting on his time at Saint Piran, Lampier said it had been a privilege to play a significant part in helping various riders progress in the sport.

"The end of a chapter and what a chapter it has been," he said. "My time at Saint Piran has officially come to an end. From joining at the end of 2017 to become a rider/manager of a then really small Cornish team. To leaving six years later as a sports director of the UK's number 1 team.

"From the early planning in Ricci Pascoe's kitchen, the first wins, winning the Tour series Sprints jersey, leading the Premier Calendar, getting the UCI licence, the Tour of Britain on my home roads of Cornwall, retirement from racing, my first race as DS, the six straight premier calendar wins, the UCI wins.

"It's been so much fun and rewarding working with staff and riders. Helping them achieve their dreams.

"I want to thank everyone that's played a part in this journey. Especially Ricci Pascoe for enabling me to pursue my dreams."

It was recently announced that Saint Piran rider Jack Rootkin-Gray will move to cycling's highest level next year and make his WorldTour debut for EF Education-EasyPost.

Rootkin-Gray previously told Cycling Weekly that Lampier had played a huge part in his success which led to his move to the top level.

On Friday afternoon it was announced that Kyffin would also progress next year and move to the ProTeam level with TDT-Unibet.

Kyffin echoed Rootkin-Gray in his praise for Lampier's management.

On Lampier's departure from Saint Piran team owner Ricci Pascoe said: "Steve has been a fantastic colleague and driving force on Saint Piran's eight year journey. His talent, insight and ability have transformed so many riders to be the best that they can be and he has made a lasting impact on our project.... it has been an incredible time together.

"The elite road cycling scene in the UK is under a lot of pressure and it is easy to forget that teams like Trinity, Wahoo and ourselves at Saint Piran are creating diamonds that grace the highest levels of our sport and represent the UK.

"For us, Jack and Zeb have moved up levels and we hope Steve continues to grow as a leading DS to the very top of the sport."
Thank you for reading 20 articles this month* Join now for unlimited access
Enjoy your first month for just £1 / $1 / €1
*Read 5 free articles per month without a subscription
Join now for unlimited access
Try first month for just £1 / $1 / €1