Shirin van Anrooij wins Zonhoven round of the Cyclocross World Cup
Shirin van Anrooij was simply the best rider on the day as she coped best with the sandy course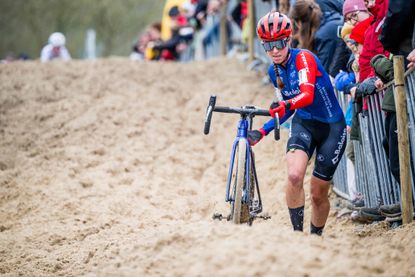 (Image credit: Photo by JASPER JACOBS/BELGA/AFP via Getty Images)
Shirin van Anrooij won round 12 of the Cyclocross World Cup, conquering the sandpit in Zonhoven to take the victory. The race opened with plenty of thrills and spills, and it was Van Anrooij who was best able to cope with the course and capitalise on the errors of her rivals.
The main contenders for the overall World Cup win, Puck Pieterse and Fem van Empel, completed an all Dutch podium.
Women's Cyclocross World Cup, Round 12: How it happened
Drama from the start as Fem van Empel and Zoe Backstedt both took a tumble on the first time down De Kuil. Puck Pieterse capitalised to get ahead, despite having her own slight tumble soon after.
World Cup leader Van Empel went down again after getting stuck in the deep sandy rut near to where Pieterse had been forced to dismount and run not long before.
Running became a theme, as you might expect in a cyclocross race, but perhaps more time off the bike than the racers would have expected.
The next time round, Pieterse thundered down the sandpit to gain yet more time on all those behind her. Van Empel also had a much better time on the downhill as she appeared to be getting herself together after the early setbacks, although the 30+ second gap to the front of the race was staying stubbornly static.
After ceding the lead to Shirin van Anrooij, Pieterse went flying over the handlebars into the soft embrace of Zonhoven's sand. The gap between the lead pair quickly went out to 15 seconds and grew from there.
While struggling to make a dent in the time deficit to the front of the race, Van Empel was gaining places on the course, working her way towards the top five – important for her overall series points tally.
Pieterse showed her skill by riding a technical uphill section that all other riders were forced to run.
Over the six-lap race, Van Empel had a very good race for all but the first one to one-and-a-half laps. She recovered to ensure her poor start wasn't terminal, but she could not cancel out the mistakes and bad luck of the opening circuits to get back to the front of the race.
All the while, Van Anrooij was doing her own thing at the front. Gritting her teeth with the effort, showing she wasn't easing up in the later laps despite the advantage she had over the chasers, she rode on to show that she was the best on the day.
Thank you for reading 10 articles this month* Join now for unlimited access
Enjoy your first month for just £1 / $1 / €1
*Read 5 free articles per month without a subscription
Join now for unlimited access
Try first month for just £1 / $1 / €1
Jack Elton-Walters hails from the Isle of Wight, and would be quick to tell anyone that it's his favourite place to ride. He has covered a varied range of topics for Cycling Weekly, producing articles focusing on tech, professional racing and cycling culture. He moved on to work for Cyclist Magazine in 2017 where he stayed for four years until going freelance. He now returns to Cycling Weekly from time-to-time to cover racing, review cycling gear and write longer features for print and online. He is not responsible for misspelled titles on box outs, and he lost the argument about using UK spellings