Easton EC90 Aero Bar review
The EC90 moniker is reserved for Easton's top-of-the-range carbon products, from wheels to stems and everything in between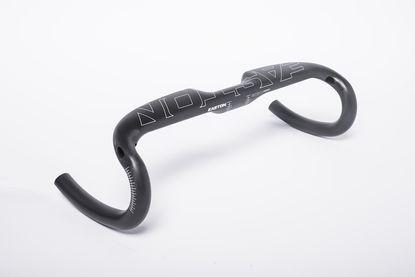 With the Easton EC90 Aero bar, Easton has done a great job of producing a good-looking, stiff and aerodynamic handlebar. We would like more features for internal Di2 cable routing, but the traditional cable routing that's present is practical and well done. We're not sure the price difference between it and the EC70 bar is justified as there don't seem to be many actual differences between the two bars.
Reasons to buy
+

Stiff

+

Good quality

+

Easy to route traditional cables

+

Looks cool

+

Aero
Reasons to avoid
-

Not compatible with the latest Di2 cables

-

Expensive
The Easton EC90 Aero Bar is a bladed handlebar designed to reduce drag and it certainly looks great with an aggressive shape and smart styling. The bars tipped our scales at 243g rather than the 230g claimed weight – this is still in the same ballpark as other carbon aero handlebars. The claimed weight for the 42cm width is 25g lighter than that of its lower-ranked EC70 cousin but both have the same shape and dimensions.
>>> Would you benefit from narrower handlebars?
The only obvious difference between the EC90 and the EC70 is a white decal rather than black, but for £259.99 rather than £179.99 that's a very expensive sticker. For the weight weenies it may well be worth the extra grams saved, but as the EC90 hit our scales at 13g above the claimed weight I'd want to weigh the EC70 to see the true difference before committing the extra cash.
Upon fitting the bars we found the cables easy to route compared to most aero handlebars. The job did require an old spoke being poked around inside to hook the cables but it wasn't so bad. We'd say it was a DIY home job for the more adventurous, but a qualified mechanic would find it easy.
A big worry when choosing an aero handlebar is that you sacrifice some stiffness, feel and handling in favour of those ever more important aero gains. We found the EC90 surprisingly stiff for a bar this aggressively bladed.
If you're in search of the ultimate aero front end to your bike and you plan to run Shimano Di2 cables internally be warned. Due to an internal completely solid section where the gear shifter clamps to the bar it is impossible to run a bar end plug Di2 junction box. The absence of a drilled hole in the centre of the bars also indicates that they were not designed with internally routed Shimano electronic gearing in mind and your junction box will have to go elsewhere.
Considering this, the Easton EC90 Aero Bar would not be compatible with an S-Works Venge Vias or Trek Madone. From the look of the carbon finish, there are several sections of the bar that have been bonded together, which would explain the solid section.
Another small oversight by Easton is the lack of 31.8mm round clamping section either side of the stem to run an out-front Garmin mount. I was just about able to attach an out-front K-Edge Garmin mount but I had to run the bars 3mm off centre in order to accomplish this. This was a problem we also encountered on the ENVE SES aero bar.
The EC90 Aero Bar is a compact shape, with 80mm reach and 125mm drop. When wrapping the Eastons I chose not to place bar tape across the top section so that the fancy decal could be shown off! This looked great but I found the top section slippery in wet and sweaty conditions.
Thank you for reading 10 articles this month* Join now for unlimited access
Enjoy your first month for just £1 / $1 / €1
*Read 5 free articles per month without a subscription
Join now for unlimited access
Try first month for just £1 / $1 / €1
Oliver Bridgewood - no, Doctor Oliver Bridgewood - is a PhD Chemist who discovered a love of cycling. He enjoys racing time trials, hill climbs, road races and criteriums. During his time at Cycling Weekly, he worked predominantly within the tech team, also utilising his science background to produce insightful fitness articles, before moving to an entirely video-focused role heading up the Cycling Weekly YouTube channel, where his feature-length documentary 'Project 49' was his crowning glory.