Rotor 2INpower power meter review
The Rotor 2INpower power meter is a bottom bracket and crank arm based power meter that measures independent right/left leg power. Here is our review.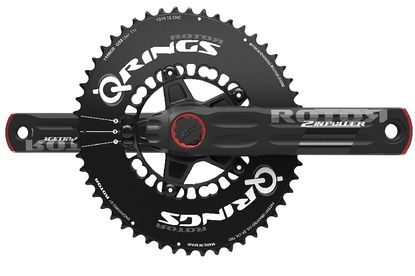 The Rotor 2INpower is a big improvement over the previous, single sided INpower unit. If you are after a dual sided power meter for a single bike with a compatible bb, this is a good option and is competitively priced for what it offers.
Reasons to buy
+

Double sided measurement

+

USB Rechargeable

+

Can support non round rings

+

Bluetooth and ANT+ connectivity
Reasons to avoid
-

Difficult to swap between bikes

-

You probably have to run a mixed groupset

-

Not compatible on all bikes

-

USB Recharge cover could be better designed
Prounounced 'Twin Power', the Rotor 2INpower is a chainset based power meter that can measure independent left and right leg power. It is Rotor's top of the range power meter and is used by Dimension Data amongst others.
>>> For more information on power meters click here
Features
The Rotor 2INpower uses four pairs of opposed strain gauges in its power meter, which it says cancels the effect of temperature changes, so that there's no need to calibrate after the initial set-up.
There are four strain gauges placed in the axle to measure left leg power output and four in the right crank for the right leg.
Rotor 2INpower measures angular velocity around 500 times per rotation using an accelerometer, unlike some of its competitors which only measure at one or two points in the cranks' rotation. This allows a much more detailed analysis of pedalling dynamics – particularly important if using its Q-rings.
You can also connect the meter via BlueTooth smart to a tablet, which will allow you to analyse your pedal stroke. Something Rotor suggests is useful for working on technique and eliminating deadspots. In our experience, independent right/left leg power can be especially useful for riders with a history of single leg injuries.
Which tyre system is the fastest? Tubeless vs Tubular vs Clinchers
It can also demonstrate where maximum power output occurs during a pedal rotation and the ratio of average power to maximum power, indicating pedalling smoothness. Naturally, it is compatible with non round rings and Rotor's software can process ride data to identify the best position to place Q-rings relative to the cranks.
>>> How to ride with a power meter
The Rotor 2INpower battery is in-built in to the spindle, is rechargeable via a magnetic connector in the crank end and gives around 250 hours battery life.
Regarding weight, it's around 160g heavier than the equivalent 3D crankset without a power meter and weighs 645g (175mm cranks).
How well does it perform?
Regarding fitting, I made life easy for myself by fitting it to a bike that already had a Rotor 3D chainset. It was simply a case of popping one out and sliding the Rotor 2INpower spindle in. Rotor has designed 2INpower to be compatible with almost all known bottom bracket standards, with the exception of BB90.
Installation isn't too difficult, but it does need to be correctly torqued and is not practical if you want to swap between bikes on regular basis. The below picture shows the Rotor 2INpower fitted to our Merida Scultura test bike.
http://www.instagram.com/p/BI3QX4Kh-OB/?taken-by=dr_oliverb
While testing I initially had a problem with the 2INpower not going to sleep, meaning the battery was draining fast, something solved with a firmware update. That said, keep on top of firmware if you buy one. Fortunately this is easily done through the smart phone app, thanks to the Bluetooth Smart connectivity.
The battery life is as stated and the magnetic USB recharging is very convenient. The cap that covers the recharge port could be better designed though - It isn't very robust.
While testing, I also simultaneously rode with PowerTap P1 pedals and a PowerTap G3 Hub to compare the power reading. Initially everything worked well and was consistent, including the right/left balance reading.
However, after around 1500km and a couple of months heavy use, I encountered a problem with the meter massively under reading by about 40 watts. I was able to solve this by removing and refitting the Rotor 2INpower, but does lead me to question durability.
I am not sure exactly what caused it, but it was a little concerning as most people don't have additional power meters to check against. Apart from this blip, the Rotor 2INpower has performed well, with no spikes and consistent measurement.
I will continue using the product and will update this page if I encounter further reliability issues.
Thank you for reading 10 articles this month* Join now for unlimited access
Enjoy your first month for just £1 / $1 / €1
*Read 5 free articles per month without a subscription
Join now for unlimited access
Try first month for just £1 / $1 / €1
Oliver Bridgewood - no, Doctor Oliver Bridgewood - is a PhD Chemist who discovered a love of cycling. He enjoys racing time trials, hill climbs, road races and criteriums. During his time at Cycling Weekly, he worked predominantly within the tech team, also utilising his science background to produce insightful fitness articles, before moving to an entirely video-focused role heading up the Cycling Weekly YouTube channel, where his feature-length documentary 'Project 49' was his crowning glory.