Abus 6206K Goose Lock review - exceptionally easy to transport and use
Not the most secure lock but certainly one of the easiest to transport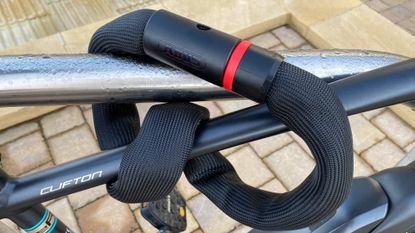 (Image credit: Emma Silversides)
Abus' latest, innovative lock is exceptionally easy to transport, relatively lightweight, and acts as a decent deterrent to opportunist thieves. It's certainly not the most secure option, and Abus don't market it as being so. Therefore, if you are in a high risk area or need something that's rock solid, you'll need to look elsewhere. Our tester made good use of it on its own in a low risk area, deeming it a sufficient option for short trips away from the bike. It would be ideal as a secondary lock for anyone who likes to double-up.
Reasons to buy
+

Easy to transport

+

No rattling or rubbing against frame

+

Robust

+

Four color choices
Reasons to avoid
-

Pricey for the level of security it offers
You can trust Cycling Weekly. Our team of experts put in hard miles testing cycling tech and will always share honest, unbiased advice to help you choose. Find out more about how we test.
Most locks we test have been rated by an independent company, Sold Secure. Sold Secure award one of four levels: Bronze, Silver, Gold and Diamond. A bronze rated lock 'typically offers defence against the opportunist thief'. At the other end of the spectrum, a diamond rated lock is judged to offer the highest level of security. If you're looking for the best bike lock, the latter might be most people's desire… but functionality, practicality and cost inevitably influence any purchase.
Abus has not sent the Goose Lock to Sold Secure for rating, suggesting that it is at the lower end of the spectrum. However, it's usability is its biggest selling point. With a rating from Abus of 7/15, it's best suited to low risk areas, or employed as a secondary lock. It's worth checking your bike insurance, if you have one, to ensure your choice of lock complies with your cover.
Abus 6206K Goose Lock: construction
At the heart of the Goose Lock is a 6mm steel chain. Just like the housing and structural parts of the locking mechanism, it's manufactured from specially hardened steel. Two metal spiral springs (wound together) effectuate the lock's characteristic Goose Neck - they allow it to flex but not flop! A layer of foam cocoons these hard elements, with a final, flexible layer of plastic fibers. These latter elements are designed to eliminate rattle and protect surfaces (that the lock comes into contact with) from abrasion and scratches. They certainly add plenty of bulk, making the Goose look rather more beefy than other 6mm cable locks.
The Goose Lock is supplied with two keys. Abus offer a key service, so it's possible to replace them if you happen to lose one (or both). This particular key will set you back $12.99 / £14.95. The fact that it's a key lock, rather than combination, naturally boosts Abus's security rating of the Goose.
There are two different lengths available: 85cm and 110cm. Claimed weights are 920g and 1,120g respectively. However, the 85cm lock I've been testing tips my scales at 1,120g and actually measures 91cm - perhaps best to take measurements with a pinch of salt! The hardened lock casing has a diameter of 4cm. The flexible plastic outer is approximately 5cm in diameter, though naturally there's flex here, so it can vary.
If matching gear to your bike matters to you, you'll be pleased to read that the Goose lock is available in black, light green, blue and pink.
Abus 6206K Goose Lock: in use
Undoubtedly, the Goose Lock is very easy to transport. Flexing it round the bike frame is effortless. I kept it on the top tube while riding. The internal coils do a great job of permitting flex, then retaining their shape once in place - the lock could just as easily have been named after a snake rather than a goose. The padding and synthetic coating do just what they are designed to - there was zero rattling and the frame is showing absolutely no signs of having had the Goose wrapped snugly around it. It can even act as a 'cushion' between your frame and a bike rack (though you may need to forfeit locking wheels).
While I personally didn't suffer from thigh rub, this could be an issue (depending upon your frame geometry) if you keep it on the top tube. Other mounting options include the seat post or, depending on clearance, a pannier rack. Be wary of obscuring your bike lights if you opt to mount in either of these positions.
Since the lock bends in all directions, getting it around a frame, wheel and bike rack (or other fixed point) is pretty painless. That said, I'd personally advise the longer length of lock, so that it can cover all those difficult-to-reach-rails and wide-lamppost situations. The locking mechanism is smooth and easy to locate. There's no cover or cap to protect it from water ingress, though.
I've been using the lock for just over four weeks and it's handled the elements well. The synthetic outer is certainly robust. It cleverly adds bulk to the lock, belying the fact that there's actually only 6mm of steel between your two-wheeled transport and a bike thief - a less beefy lock would certainly be more tempting for anyone hoping for a quick steal (using bolt croppers). I've used it in heavy rain and it seemingly dried out rather rapidly. Unsure as to whether or not water was penetrating the synthetic casing (Abus claim it's 'weatherproof'), I decided to let the Goose soak in a sink for an hour or so (lock casing excluded)! After a couple of minutes on a draining board post-soak, the lock weighed only 10 grams more than it did pre-soak. It had returned to its normal weight the following day - encouraging. To be fair, an hour's bath is a little extreme anyway. My only concern with the plastic fiber casing relates to environmental impact - will plastic micro-fibers be coming away over time?
Abus 6206K Goose Lock: value and conclusion
The shorter Goose Lock that I've been testing has a suggested retail price of $79.99 / £69.99 (the longer lock has a SRP of $89.99 / £79.99) - not insignificant, considering the average security rating. Hiplok's Original Lock, reputed for ease of transportation, has a Sold Secure Silver rating and a $99.99 / £74.99 RRP. Kryptonite's Evolution 1090 Chain is Gold rated and is easy to find on-line for between $90 / £70 and $100 / £80. Admittedly, the Kryptonite will weigh you down somewhat (90cm, 2.77 kgs) by comparison to both Abus' Goose and Hiplok's Original (85cm, 1.95kg).
The Goose's appeal is undoubtedly its usability - it's not trying to compete with the top rated locked. It's a well-made, robust option for anyone who needs a medium-secure lock that's exceptionally easy to transport, easy to use and not too heavy. All of these properties also make it a great option as a secondary lock. It's certainly not something I'd be using on its own if I wanted to leave my bike for a significant period of time. That said, it does a good job of looking rather more secure than it actually is, so might ward off opportunist thieves more effectively than other locks with comparable security ratings.
Thank you for reading 20 articles this month* Join now for unlimited access
Enjoy your first month for just £1 / $1 / €1
*Read 5 free articles per month without a subscription
Join now for unlimited access
Try first month for just £1 / $1 / €1