Fizik R4B Donna road cycling shoes review
The Fizik R4Bs – available in men's and women's ('Donna') fit – sit at the lower end of the premium brand's line-up: do they make performance more accessible?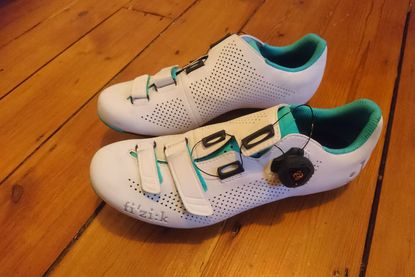 (Image credit: Picasa)
Comfortable enough for day-to-day wear with a sole that still offers a reassuring degree of power transfer. The fit was a bit tricky to dial in but this will always come down to personal preference.
Reasons to buy
+

Stiff sole for the price

+

Wipeable and durable upper
Reasons to avoid
-

Adjustments had to be pulled very tight for correct fit

-

Aqua blue accents are a bit marmite
Why you can trust Cycling Weekly Our expert reviewers spend hours testing and comparing products and services so you can choose the best for you. Find out more about how we test.
Fizik is a brand that generally dwells at the top end of the spectrum. Most renowned for its saddles, the shoes aren't far off, and they're worn by pros on Movistar men's and women's squads.
The brand's top-end choice is the R1B Infinito, but a couple of rungs down, you'll find the Fizik R4B – available in men's and 'Donna' women's fit, with the same features and specification across the gendered options.
Specification of the Fizik R4B shoes
At the soul of a cycling shoe is the sole. On the R4B, Fizik has opted for a vented 'injected carbon' construction. Injected carbon means it features carbon, but it's not all carbon – and this could have implications on stiffness and weight.
I remember returning to a pair of Nylon-soled cycling shoes, having upgraded to my first pair of carbon soles (the upgrade pair was wet or needed new cleats or some other reason). It was at this point that I made a decision never to go back to the subpar material.
Wearing noodly Nylon-soled shoes, having stepped down from carbon, you can almost feel the indent of the cleat when climbing and the power transfer just doesn't match the premium option.
I was concerned the Fizik R4B shoes might reveal a similar level of non-performance. Not so. Though these don't yield the most thoroughbred, ready-to-smash-it power stroke, they're miles away from floppy.
Stiffness was more than adequate for me, and I'd be hard pushed to tell the difference between power transfer wearing these vs my regular shoes. For a lot of riders, these would represent a more sensible choice – they're stiff, but you could ride in them all day without foot fatigue.
The upper is a microtex laser-perforated fabric: this is lighter than leather, but apparently more durable and better at coping with the wet as well as wiping clean easily.
Indeed, being white, I did manage to get a few marks on them (fitting cleats on bright white shoes having swapped greasy pedals is always a bit of a questionable order of service, to be fair) but a tiny squirt of WD-40 revived them back to brilliance.
The Fizik R4B closure system uses a Boa IP1-A, with Micro Straps at the front.
The Boa IP1-A tightens to give a secure fit and you can get it exceptionally snug, while still being able to make micro adjustments both ways – which is important as lower-spec options will only micro-adjust to tighten.
The Velcro Micro Strap at the front is an area where you lose out compared to the range topping R1B, which uses two IP1-B dials - one creating a good fit at the ankle and another at the mid foot and toes.
Fizik supplies its own insoles, that, when removed, are clearly shaped to provide arch support though don't come in differing degrees of shape or with personalisation available.
On the bottom, you'll find a scale for cleat fitting (three bolt), ventilation holes and a toe and heel rubber – though these are not replaceable.
My size 40s weighed in at 255g (minus cleats) - compared to 244g for the R1B's – so the weight penalty is pretty minor at 22g per set of feet.
The overall look is smart, stylish and pretty much the essence of the stylish dancing shoes you want on the bike. The added aqua isn't really to my taste, but ask the entire female riding population and you'll likely get a different answer – so I'm sure it's up someone's street.
Fit
I should probably confess, at this point, to being a bit of a Cinderella when it comes to shoes.
According to the nice people at Clarks (basing this on school-shoe fittings of days gone by), the front of my foot is fairly wide and my heel fairly narrow. As a result, my preference is generally laces but I can deal with Boa dials if I have to.
The Fizik R4B Donna shoes, for me, were wide enough at the front – not something I can say of the unisex R1Bs, which seemed to have a proper vendetta against my little toes. It's hard to say if the difference in fit was down to the gendered approach (women's shoes usually use a women's last based on average measurements) or due to the lower-end nature of the shoe. The length was about right.
However, I found I really had to force the closure system to its max to prevent my feet from moving around during sprint efforts. This could be down to the Velcro closure at the front - it's never going to be as effective as laces or a dial. If the front closure system isn't working, you've got to force the Boa at the top to the max, which creates an uneven fit.
I have tried Fizik shoes in a 39, and these were too small at the front. Fizik does have half sizes available, but I think my problem was more with fit than sizing.
Fit is pretty personal. However, of the shoe brands, Fizik is the one that seems to present the most issues within the Cycling Weekly office, so it's well worth exercising caution and trying before you buy.
Value
Generally, full-carbon soles will set you back over £200 (though there's some exceptions around). Composite versions can be found for quite a bit cheaper – say £150, or even £80 of you look hard enough (see: B'Twin).
The £189.99 price tag dangling from these shoes, then, is a bit steep - but the sole is stiff and they look fairly high end.
Thank you for reading 5 articles this month* Join now for unlimited access
Enjoy your first month for just £1 / $1 / €1
*Read 5 free articles per month without a subscription
Join now for unlimited access
Try first month for just £1 / $1 / €1