Mavic Ksyrium Pro Thermo shoes review
Warm and comfortable? Yes. Waterproof? Ermm...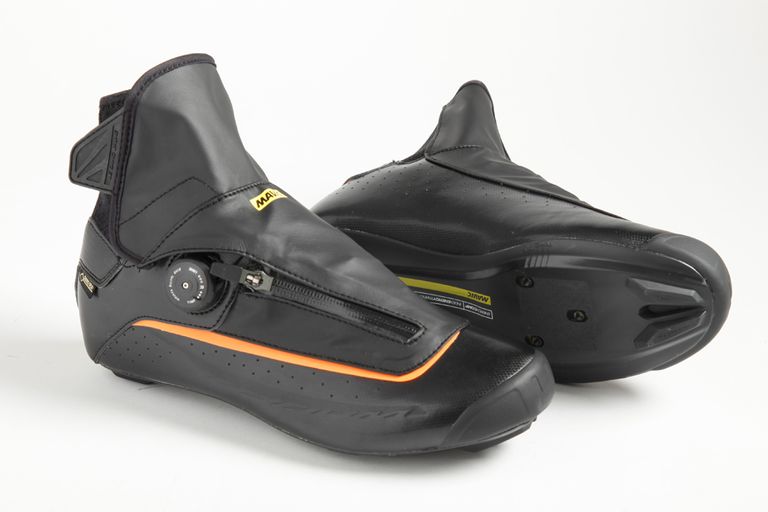 Cycling Weekly Verdict
The Mavic Ksyrium Pro Thermo shoes are warm winter shoes that are comfortable to wear, but won't keep your feet dry when the rain starts to fall.
Reasons to avoid
-

Not waterproof

-

Could hold foot better
On paper, there should be a lot to like about the Mavic Ksyrium Pro Thermo shoes. Inspired by cross country skiing boots, the Gore-Tex outer is designed to be windproof, waterproof, and breathable, while beneath this there is a dial for adjustment, a composite sole, and plenty of insulation for even more warmth.
>>> Buyer's guide to cycling shoes
And on a few of these points at least, the Mavic's Ksyrium Pro Thermo shoes fulfil their brief superbly.
The outer really is the highlight of the package. It ticks all the boxes, protecting you from the wind and rain and keeping your feet nice and toasty when combined with the layer of insulation that lies beneath.
>>> How to dress for wet weather cycling
The composite sole of the Mavic Ksyrium Pro Thermo shoes is also pretty good. Ok, so you're not going to be racing in these shoes any time soon, but you don't feel like too many watts are being wasted through the sole, and the bit of flex on offer does mean added comfort during the course of long winter rides.
Watch our complete guide to winter cycling clothing
In wet conditions, however, comfort is not the first word that springs to mind when talking about the Mavic Ksyrium Pro Thermo shoes. Although the outer is completely waterproof, it is undermined by the ankle gusset, which is nowhere near tight enough, particularly if, like me, you suffer from skinny leg syndrome.
>>> Buyer's guide to the best cycling overshoes (video)
Just riding along in the saddle it sits snug against your leg, doing a good of keeping your feet dry, but as soon as you point your toes downwards while riding out of the saddle a gap appears at the front of your leg, allowing water to run down into the shoes.
And just to make matters worse, because the shoes are designed to be waterproof, there's nowhere for the water to escape, meaning that it will just slosh around at the bottom of your shoes for the rest of the ride.
>>> Buyer's guide to the best winter cycling clothing (video)
The other problem I found with the Mavic Ksyrium Pro Thermo shoes is that the single dial was not enough to keep my feet securely in place. This meant that I found my feet moving around inside the shoes, meaning a loss of power. These shoes would be vastly improved by the addition of a second dial or a Velcro strap in the next generation.
To end on the a positive note the Mavic Ksyrium Pro Thermo are available in a wide range of sizes (from 36 to 48.5) and are relatively inexpensive compared to other winter shoes on the market. Ok, £135 is still a lot of money to be spending on a pair of cycling shoes, but seeing as most other winter shoes are £30-40 more expensive, the Mavics offer half-decent value if it's warmth that you're after.
For more details visit the Mavic website.