Boardman CX Team: First ride review
Ten years ago, the phrase 'cyclo-cross' conjured up a single scenario: a bunch of grim-faced men covered in filth, legging it round the perimeter of a playing field desperately trying to outrun the onset of hypothermia. Words: James Shrubsall | Photos: Daniel Gould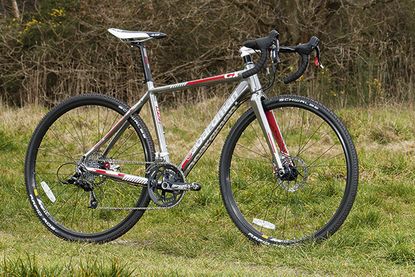 But things have moved on. These days owning a cyclocross bike no longer has to involve turning out in the dead of winter to see how much mud you can eat without vomiting. (It should be noted of course, that simplistic comedy vehicles aside, cyclocross is a friendly, accessible way to start bike racing and is loads of fun).
No, you can do all sorts of the 'usual' things on a cyclocross bike. Commuting is a favourite, while exploring off-road paths, winter riding and even sportives all feature on the agenda.
Even the name has been changed to protect the innocent, with 'cyclocross' having morphed into the far more hip and less lexically challenging 'CX'.
Which brings this piece, kicking and screaming, to the bicycle in question, Boardman's CX Team. It's a fully UCI-legal cyclocross race bike, Boardman says. But the bumf is also careful to point out that it's "equally at home on the daily commute, super-hilly sportive and light touring as it is blasting around off-road trails."
At 10.4 kilos, you wouldn't find me riding a super-hilly sportive on this bike unless a) it was less than 20 miles long and b) there was some sort of five-figure sum involved, but the commuting, the touring, the off-road blasting and, yes, even the cyclo-cross racing, you can sign me up for.
In fairness 10.4kg (22.9lb) isn't terribly heavy. For a CX bike at this price it's about the going rate. Dig out another 900 smackers and buy a fancy CX racer and you'll get it down by a couple of kilos, but that would be missing the point. In any case, a simple and relatively cheap tyre upgrade when the time comes should see off half a kilo or so by itself.
Boardman bikes: the range explained
Let's backpedal slightly from the CX Team's average weight, to initial appearances. These are anything but average, and there were certainly plenty of approving murmurs when the bike was first unboxed at CA Towers. That polished metal shine with its striking graphics makes for one handsome machine.
Tastefully attired
The frame is hung with quality components, including a 10-speed SRAM Apex groupset and Avid cable-operated disc brakes (as opposed to hydraulic, which generally only come on flat-bar bikes) on Mavic rims. It's a worthy ensemble, full of names you can trust.
Finishing kit (that's bar, stem, saddle and seatpost) is all Boardman's in-house E4P brand. It might lack a certain cachet, but it's all tried and tested stuff. In fact the wet-look white stem looks kind of nifty, if arguably slightly out of place among the predominantly black componentry.
But let's not trifle over stem colours when there's still the small matter of how the bike rides to be addressed. My maiden voyage on the CX Team was a fairly predictable affair, which, in many ways, is exactly what you want as a bicycle owner. On the road it wound up to speed quickly enough, and the Schwalbe Rapid Rob tyres, with their small knobbles, hum along on the tarmac nicely.
Find a 'cross bike that suits you
All-season appeal
The dependable Avid BB5 brakes also did their job well. They're amply powerful, although the rather spongy lever feel does betray their budget provenance. The bar-top levers are a nice extra, especially useful in traffic.
SRAM's Apex drivetrain (infused in this case with a touch of Microshift in the form of the front mech), is relatively lightweight and features a nice, positive upshift. The levers are comfortable too. It'd be nice if the downshift (small to larger sprockets) wasn't quite so laboured though. It's a SRAM trait, though it's less apparent as you scale the groupset ladder.
Our test bike was a size small, which felt fine everywhere except in the cockpit, where I felt more like Brian Blessed in a Formula One car. Narrower bars may be all the rage these days, thanks to their superior aerodynamics, but the 40cm wide bars were just too much of a squeeze for me. This is one of the drawbacks of falling just between two bike sizes — the medium comes with 42cm bars and would have been spot-on. Shops are often happy enough to swap such things around when you buy the bike though.
Off-road the bike feels right at home on hardpack cyclepaths, towpaths and even dry singletrack. A more aggressive tyre tread would instil a bit more confidence in the dry, and would be nigh-on essential in the wet. The brakes however are more than adequate in all weathers and situations and you can ride through the wettest muck and still be confident that they'll stop you afterwards.
As Chris Boardman himself has said, cross bikes can almost replace mountain bikes for many people — and they can do so much else besides.
If you're in the market for a great looking bike that you can commute, blast some trails at lunch and even race on at the weekend, you could do a lot worse than starting here. After all, how bad can mud really taste?
Thank you for reading 10 articles this month* Join now for unlimited access
Enjoy your first month for just £1 / $1 / €1
*Read 5 free articles per month without a subscription
Join now for unlimited access
Try first month for just £1 / $1 / €1