Cannondale CAADX Tiagra Cyclo cross bike review
Cannondale CAADX Tiagra Cyclo cross bike costing £999 is a great looking do everything bike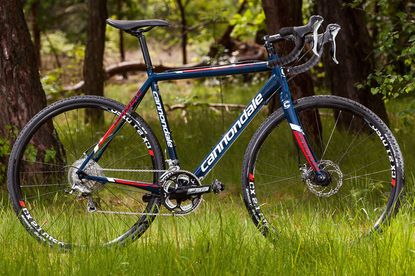 I have to confess to loving this bike from the outset, and by the time I'd finished with it I was hooked. At this price, it's everything a CX bike should be — light, comfortable and capable. The only thing that might sway you is the fact you can buy the Shimano 105 version for only £100 more, which really is brilliant value. You do lose the gorgeous blue colourway in favour of a more standard black, but it still looks great and is arguably more suited to getting covered in mud and grime. Another point worth making in terms of speccing is that the CAADX Tiagra is basically a great frame with a less great groupset hung on it, so you could happily upgrade to a more premium group in a couple of years when the Tiagra wears out. Generally it's very hard to find fault with this bike — if you're in the market for a grand's worth of cross bike, the CAADX Tiagra should definitely be on your shortlist.
Reasons to buy
+

Looks great

+

Rides great
Reasons to avoid
-

Be nice to have mudgaurds eyes on the forks
You can trust Cycling Weekly. Our team of experts put in hard miles testing cycling tech and will always share honest, unbiased advice to help you choose. Find out more about how we test.
What we have here is arguably the best looking cross bike on the market, courtesy of mainstream-but-still-cool US brand Cannondale. Eschewing the shades-of-black finish that is so popular on CX machines of late, the CAADX Tiagra's glossy dark blue with dashes of red sets it apart from the masses, while the bold Cannondale branding on down and seat tubes is confident and stylish.
With the sidewall detailing of the Schwalbe Sammy Slick tyres matched nicely to that of the semi-deep black rims, the whole bike hangs together superbly in one stylish objet d'irt, if you will.
There are actually four iterations of the CAADX for this year — the Tiagra is the second on the ladder, with 105 and Ultegra 11-speed versions also available at a (not a whole lot) higher price. A non-disc Sora version starts the range off.
Frameset
Cannondale does make carbon frames, but underneath the CAADX's pretty paint is a fine example of what the brand is famous for — an oversized aluminium tubeset. Two sets of bottle mounts (not always a given on CX bikes) plus rack and mudguard eyes take care of the practical stuff, at least at the back — there are no mudguard eyes on the fork. You could still fit a clip-on model of course.
As you would expect, the fork is carbon, although it has an aluminium steerer, which is probably no bad thing if you're subjecting the head stack to off-road hits on a regular basis.
Components
The clue's in the name: Shimano Tiagra. It's not the most refined of groupsets, but we all know Shimano rarely makes a dud, and the case is no different here. The bike arrived well set up and the shifting throughout the 20 speeds was accurate, if a little clunky next to the Ultegra 11-speed I've used a lot lately.
Credit should go to Cannondale for speccing a 46/36 cross chainset; the 50t on a standard compact can feel too big off-road, and while the '36' might not be quite as low as the usual '34', it makes for a nice spread of gears and paired with the '28' at the back it's sufficient for most eventualities.
The disc brakes are from US manufacturer Promax, and do a reasonable job with plenty of power, although they are slightly spongy, as lower-end cable disc brakes usually are. Finishing kit is all Cannondale in-house. Dale has plenty of experience producing this stuff, so while it's not particularly sexy, it works fine.
Wheels
Maddux rims and Formula hubs is a Taiwanese pairing that is there to hit a price point and get the job done. Not unlike much of the componentry here they're not fancy or refined, and not particularly light, but for the time we used them they rolled well, stayed in true and didn't suffer any loose spokes.
The Schwalbe Sammy Slicks are a nice touch — a quality tyre with a tread that will roll well on the tarmac while also coping fine with hardpack paths and dry, non-technical trails. If you want to go mud-plugging, something a bit more knobbly would be advised! These are wire-bead tyres, and once worn out swapping over for something similar with a Kevlar bead would save you a good chunk of rotating weight and make the bike feel more sprightly.
Riding
At sub-10 kilos this is a light bike in its class, and that was immediately apparent in the ride. Acceleration and handling was closer to those of a road bike compared with other CX machines I've ridden lately, no doubt helped by the un-knobbliness of the tyres.
The cockpit layout felt well proportioned, and teamed with an uncommonly plush seat and plenty of padding on the bars, I felt confident that a full day in the saddle would present no problems in terms of comfort. It proved a more than capable urban commuter, even with stock tyres, and readily kept pace with the rush hour peloton.
Off-road was where the Dale really shone though, and its well-balanced handling and neutral riding position allowed me to take on the sandy trails of the North Downs with confidence. Equally, its sprightliness meant that hucking out of awkward moments often proved less problematic than on some other machines.
Thank you for reading 20 articles this month* Join now for unlimited access
Enjoy your first month for just £1 / $1 / €1
*Read 5 free articles per month without a subscription
Join now for unlimited access
Try first month for just £1 / $1 / €1