Specialized Vado Turbo 2.0 electric bike review
With power-assisted pedalling, front suspension and large on-board LCD screen to monitor your ride data, the Specialized Vado Turbo 2.0 could be the ideal versatile e-bike.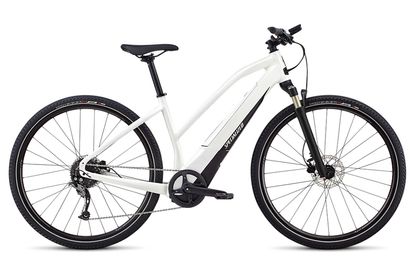 The Specialized Vado Turbo 2.0 is a fantastic and fun ride. The urban bike is more than capable of taking to the slightly rougher stuff and delivers a confidence inspiring ride mile after mile. The weight of the bike does mean that transportation will be an issue when not being ridden, even getting in and out the house might require a second pair of hands, but for a bike that brings such joy to a whole family it'll be more than worth it.
Reasons to buy
+

Versatile

+

Powerful motor

+

Integrated battery

+

Removable and easy-to-charge battery

+

Long battery life
E-bikes are still relatively new to the UK bike-riding market but the Specialized Vado Turbo 2.0 is already a second-generation model. It has had a motor redesign and is now, according to the brand, ready to prove itself as the ultimate city bike. But we've discovered it can do a lot more than that.
Buy now: Specialized Turbo Vado 2.0 at Cyclestore for £2599
>>> Seven of the best electronic bikes for 2018: all you need to know about e-bikes
Specialized Vado electric bike line-up
The Specialized Vado Turbo 2.0 sits fourth in the line-up of five models, the significant difference within the range being motor oomph size. It comes with the 250w Specialized 1.2 battery, 460wh, with a top speed of 15.5mph (the current EU limit)and range of up to 93 miles in Economy mode, 40 miles in Sport mode and 25 miles in Turbo mode based on a total rider/bike weight of around 15.5st, a flat terrain with some inclines, and either no wind or a light breeze. Specialized says it offers the best balance between power and efficiency to ensure maximum range.
All the male and female Specialized Vado Turbos share the same 'Fitness' geometry: expect upright but slightly more sporting angles than a Dutch-style bike.
It's constructed using an alloy frame and is specced with SR Suntour NCX E25 forks with 50mm of travel. The men's Vado uses a straight top tube design and men's Body Geometry Canopy saddle, while the women's gets a step-through frame design and women's-specific Body Geometry Aldia saddle, all equipped with Trigger Sport 47c tyres.
>>> Beginners bike fit: how to set up your bike
Specialized Vado Turbo 2.0 electric bike: ride
I've dabbled with a couple of e-bikes prior to this test but for nothing longer than a few kilometres, so I was excited to hop on the Specialized Vado Turbo for some longer rides. Unboxing the bike, however, the first thing to draw my attention was the weight.
Tipping 23kg on the scales, it's clear that even a modest battery and motor add around 10kg to the weight of a standard bike. Lugging the bike into the house was no mean feat as the weight is concentrated around the bottom bracket and down tube area, making it difficult to lift over any steps. Thankfully, if you're fortunate to own a secure outdoor bike parking space, or a garage, then you'll be pleased to know that the fully integrated battery is easily removed to make charging significantly easier.
Tinkering done and suitable riding position dialled in, I was off for the maiden voyage on the Specialized Vado Turbo 2.0. I was instantly impressed by how easy it was to mount and read the BLOKS LCD screen, which gave me all the real-time data I needed such as the usual ride time and distance, but also the important additional e-bike information such as battery consumption and motor mode.
From the front door, it was clear the Specialized Vado Turbo has been designed to be a fun ride. Despite its weight, even in the unassisted mode it was still a comfortable ride, and one that rolled reasonably swiftly. I suspect this, in part, is down to the location of the weight all around the bottom bracket area, which is closest to the bike's centre of gravity, giving it a very stable and predicable handling quality. It's also thanks to the Trigger Sport tyres with their file-tread centre meaning they weren't too prone to road drag.
With the power on, it was grin inducing. Specialized says the bottom bracket motor amplifies your imput by 320 per cent and it uses custom software that senses the torque you're applying in each pedal stroke so that the more power that you apply, the more power the motor puts out. This not only makes riding fast seem relatively easy, but it also means getting up to speed is a doddle, causing several car drivers' heads to turn on pulling away from lights and junctions.
Fast forward to the bike's biggest outing and the Specialized Vado Turbo 2.0 got somewhat put through its paces. I'd seen the 50mm of travel, felt the pedal-assisted motor power and decided it would be a good idea if I promptly called a family bike ride. I mounted my four year old on a rear bike seat I'd attached to the Vado Turbo, seated my un-riding-fit other half at the cockpit and we took off for what turned out to be a rather epic, very hilly 50km ride of nearly three-and-a-half hours. Following on behind on the mountain bike as we did much of the ride on bridleways and canal towpaths, I swiftly realised just how good the motor was, as even in the ride's early stages I was struggling to hold a wheel on some of the inclines, despite this not even being Specialized's specific climbing motor and on a bike that now weighed somewhere in the region of around 50kg with the bike seat and child on board.
Throughout the ride the Specialized Vado Turbo 2.0 didn't miss a beat, even though we threw some pretty rough terrain at it. The Trigger Sport tyres were totally up to the job – riding on the canal towpaths were exactly what they made for, munching up kilometre after kilometre without revealing a single chink in their armour.
The other half and daughter took great pleasure in racing mumma on the mountain bike, turning the screw of the top speed whenever the whim took them, giving me several Strava PBs and even one fifth place overall trying to chase them down.
Having used all three motor modes for various durations, as well as taking advantage of the nine-speed 11-36 cassette and compact 40t chainring, I was impressed to see that the battery had only just dipped below the half-full level, not bad when you consider a total bike and rider weight of around 118kg and over 500 metres of climbing in the 50km ride.
Buy now: Specialized Turbo Vado 2.0 at Cyclestore for £2599
Value
When it comes to cycling, there's no such thing as a free watt. Whether it's spending hours training to get super fit, splashing out on a super light or aero bike or, in the case of the Specialized Vado Turbo 2.0, attaching a motor to a bike, there is always a cost involved.
£2,600 isn't by any stretch of the imagination small change, but for a ride that brings such genuine joy not only to the rider but to the whole family too, it's well worth it.
Thank you for reading 10 articles this month* Join now for unlimited access
Enjoy your first month for just £1 / $1 / €1
*Read 5 free articles per month without a subscription
Join now for unlimited access
Try first month for just £1 / $1 / €1
Hannah is Cycling Weekly's longest-serving tech writer, having started with the magazine back in 2011. She has covered all things technical for both print and digital over multiple seasons representing CW at spring Classics, and Grand Tours and all races in between.
Hannah was a successful road and track racer herself, competing in UCI races all over Europe as well as in China, Pakistan and New Zealand.
For fun, she's ridden LEJOG unaided, a lap of Majorca in a day, won a 24-hour mountain bike race and tackled famous mountain passes in the French Alps, Pyrenees, Dolomites and Himalayas.
She lives just outside the Peak District National Park near Manchester UK with her partner, daughter and a small but beautifully formed bike collection.