The 36kg Himiway Zebra e-bike is a heavyweight haulage solution
A heavyweight e-bike for hauling loads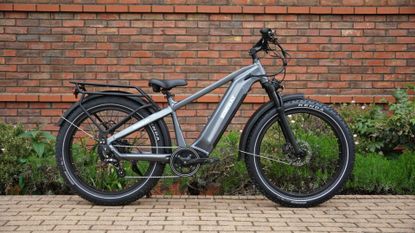 (Image credit: Future)
The Himiway Zebra is a specific tool designed for a specific task - shifting big weights long distances. What it lacks in versatility is made up by its performance at doing what it's designed for. If you're a delivery driver or need a bike to tow a trailer full of kids around, the Himiway Zebra is right up there in terms of value for capacity. At 36 kg, it's tricky to manoeuvre and store, though, so make sure you have space and a means of avoiding carrying it up any steps.
Reasons to buy
+

180kg payload with plenty of opportunities for mounting and attaching trailers

+

Good 60-80 mile range

+

Comfortable ride with suspension and fat-bike tyres

+

Market leading value for money when it comes to payload capacity
Reasons to avoid
-

36 kg weight makes manouvering and cornering difficult

-

If it dies while you're out, the bike is almost unrideable unassisted
You can trust Cycling Weekly. Our team of experts put in hard miles testing cycling tech and will always share honest, unbiased advice to help you choose. Find out more about how we test.
Upon first glance, you might think that the Himiway Zebra is a motorbike or perhaps even a campervan but no, this behemoth of a machine is, in fact, a bicycle. Described by Himiway as an "All Terrain Fat Ebike" with a 400lb (roughly 180kg) payload capacity and huge 4 inch tyres they certainly have created a beast. This does beg the question of who this bike is actually for - perhaps the army could find a use?
If you want to carry heavy things a long way, this bike is for you. If you're looking for something to cart kids around on or handle a weekly supermarket shop - this might be a good option, provided you have good bike handling skills and ground-level storage.
It is a viable replacement for a car in many circumstances, with the ability to comfortably handle large loads. That said, the haulage capacity comes with a tradeoff - the bike weighs just south of 36 kg and isn't particularly easy to ride at first. You get used to it, though, and once you do, it's great fun and useful.
Let's dig into the details and how it stacks up against the best e-bikes we've tested.
Himiway Zebra: construction
The Zebra is an updated version of Himiway's cruiser, with the brand saying it's for people who want to "go further than ever". Its 80 mile claimed range is impressive - although this is dependent on the terrain and loads you're carrying. The bike is available in both step-over and step-through downtube options.
The frame is constructed from 6061 aluminium, designed specifically with the goal of handling as much weight and pressure as possible. Up front, it has an alloy suspension fork which is adjustable and can be locked out. The combination of the large tyres, frame and suspension fork make all but the biggest holes in the road almost imperceptible.
The bike is designed to carry up to 180 kg and the frame meets this requirement. Attached to the frame is a heavy-duty aluminium kickstand - which is handy, as finding something sturdy enough to lean the bike against isn't always easy.
The Himiway Zebra comes equipped with 7-speed Shimano gearing and hydraulic disc brakes with 180mm rotors from Tektro - with the extra stopping power coming much appreciated. One of my favourite features of this bike is the integrated tail-light, which is both large and bright.
The LCD screen mounted on the handlebars tells you how much of the 60-80 mile (depending on usage) range is left and how much of the 250W motor is currently powering you on a rating of 1 to 5. The battery is fully integrated into the frame, which Himiway claims removes 98% of possible mechanical failures. During the testing there were no mechanical failures. Charging the bike was easy, with a full charge taking a shade under 7 hours.
Himiway Zebra: the ride
At first, the Himiway Zebra is a little tough to handle. The bike is heavy, weighing in at 36 kg, and you feel this weight when you ride. The bike does not corner well and it's difficult to manoeuvre and push around when you're not riding it. Take care with the charge levels, because if you run out, riding without the motor is excruciatingly difficult.
The weight is to blame for all of this. If you live somewhere where you'll need to take this bike up any stairs, then it's absolutely not one for you. There are obvious limitations to this bike which are all due to its weight, but that said, the bike isn't designed to be light and its heft is a necessary feature of its ability to handle heavy loads.
Once you do get used to how it rides, the motor is smooth and the range is impressive. The fat-bike tyres, suspension and SR saddle make for a smooth and comfortable ride. This bike is Himiway's answer to a comfortable saloon car or a well kitted out canal boat providing a pleasant soft, squishy ride.
The 250W motor flattened west Berkshire's steepest bergs without issue. It's fair to say descending on this monster of a bicycle is a scary experience as one essentially carries around 30% more momentum than you would on a normally weighted bicycle. The Tektro brakes provide good stopping power, but on longer descents I was far from comfortable.
The bike comes fitted with a Himiway rear rack which is sturdy, secure and didn't rattle in any testing. It's solid enough to take a passenger or fit any number of load carrying accessories - a number of which you can purchase specifically for this bike. It also comes with comprehensive mudguards that feel substantial and are well fitted. Charging was as simple as plugging it into a normal power outlet though I had to get the Zebra in and out of my house to do this which wasn't easy.
Himiway Zebra: value and conclusion
At $1,999.00 / £2,299.99, the Himiway Zebra starts at the lower end of the e-cargo bike pricing spectrum, but trailers and the various carrying contraptions don't come as standard with the Himiway. This said, if payload capacity for a low price is what you're after, this bike is one of the best options on the market.
Other urban e-bikes such as the Ridley RES U400 Deore are only a couple of hundred pounds cheaper, coming in at £1,798.99 with a shorter range and a lower payload capacity. Equivalently designed bikes, like the RadWagon 4 cost £1,999.99 but have a lower payload capacity and a shorter range. In terms of value for money, the Himiway Zebra is a great bike for its specific purpose but lacks versatility to be used as much more than a cargo bike.
Thank you for reading 20 articles this month* Join now for unlimited access
Enjoy your first month for just £1 / $1 / €1
*Read 5 free articles per month without a subscription
Join now for unlimited access
Try first month for just £1 / $1 / €1