Beet It Pro Elite Shot review
More and more cyclists are taking nitrate in a bid to boost performance. Beet It shots aim to provide a concentrated and reliable source of nitrate.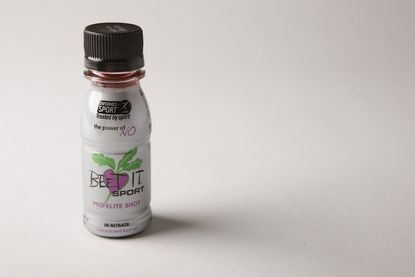 (Image credit: Andrew Sydenham)
A compact, convenient and reliable source of nitrate. Owing to the acquired taste, we suggest buying a single shot and trying it before committing to a whole box.
Reasons to buy
+

A reliable and convenient source of nitrate

+

Small size, easily consumed
Reasons to avoid
-

Acquired taste

-

Expensive
Why you can trust Cycling Weekly Our expert reviewers spend hours testing and comparing products and services so you can choose the best for you. Find out more about how we test.
There are an increasing number of peer reviewed publications in respectable journals that describe the beneficial effects of nitrate supplementation. For those unfamiliar, nitrates are believed to increase the blood's ability to carry oxygen, meaning you can perform at a higher intensity for longer, which is ideal for endurance athletes. One study by Professor Andrew Jones at Exeter University looked at the effect of nitrate on time trial performance. Over a 10 mile time trial, it was found that nitrate improved power output by 2.7% compared to the placebo conditions. In a world of marginal gains, that is significant. It has been reported that beetroot juice is a staple at the Team Sky breakfast table and part of the nutrition plans of many other top athletes.
Nitrate, the new super source?
Foods such as beetroot, spinach, kale and broccoli are typically high in nitrates, although concentrations can vary. For this reason, Beet It aim to offer products that contain consistent levels of nitrate. The Beet It Pro Elite Shot reportedly contains 400 mg of dietary nitrate per 70 mL bottle. Based upon clinical studies, the makers suggest consuming 400 mg of nitrate daily for 4 days before an event and on the day of the event itself.
Our verdict? The taste of beetroot juice is acquired. Some of our testers liked the earthy after-taste and others found the challenge of consuming soil flavoured liquid greater than the endurance event they were about to undertake. That considered, the Beet It Shot is an attractive option, as it can be downed in one gulp. It is important to consider that cooking nitrate rich foods diminishes the nitrate content, so although these shots are expensive at £1.89 each, they are arguably more convenient and reliable than preparing a beetroot, kale and spinach salad.
Caffeine can make you ride faster
For more information, head over to James White
Thank you for reading 5 articles this month* Join now for unlimited access
Enjoy your first month for just £1 / $1 / €1
*Read 5 free articles per month without a subscription
Join now for unlimited access
Try first month for just £1 / $1 / €1
Oliver Bridgewood - no, Doctor Oliver Bridgewood - is a PhD Chemist who discovered a love of cycling. He enjoys racing time trials, hill climbs, road races and criteriums. During his time at Cycling Weekly, he worked predominantly within the tech team, also utilising his science background to produce insightful fitness articles, before moving to an entirely video-focused role heading up the Cycling Weekly YouTube channel, where his feature-length documentary 'Project 49' was his crowning glory.