Hövding Cycling Air Bag (video) review
Here is our review of the Hövding, an alternative to a conventional bike helmet which is worn around the neck. In the event of a crash, it deploys an airbag. We've been wearing it on our rides to see what it is like.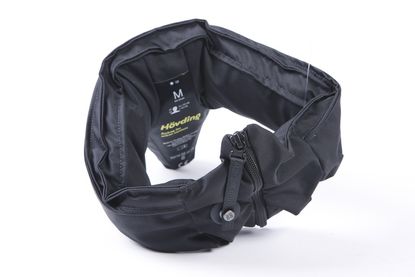 (Image credit: mike prior)
Hövding is cool gadget that offers in some ways a better solution to protection than a conventional cycling helmet. However, I found it to be not especially comfortable and rather heavy. I wouldn't recommend it for roadies and it is best suited to more urban/commuter riding.
Reasons to buy
+

Innovative new tech

+

Impressive protection
Reasons to avoid
-

Heavy

-

One use only (after deploying)

-

Not especially comfortable

-

Expensive

-

Can go off when you don't want it to
You can trust Cycling Weekly. Our team of experts put in hard miles testing cycling tech and will always share honest, unbiased advice to help you choose. Find out more about how we test.
The Hövding is an interesting product – it's worn round the neck and is intended to replace a conventional bike helmet. Should you crash, the Hövding activates an airbag that encapsulates and protects your head. Having seen it go off multiple times, the technology is impressive and certainly works.
Hailing from Malmo, Sweden, the makers claim that the Hövding offers superior protection to a standard helmet. Researches from Stanford University have been impressed with the shock absorption of the product too, suggesting there is an eightfold reduction in the risk of concussion compared with using a traditional helmet. The reason for this is that the Hövding air bag does a great job of encapsulating your head and surrounding it with a large amount of cushioning. Furthermore, it immobilises the neck – which a conventional helmet doesn't do at all.
>>> Buyer's guide to road bike helmets (video)
The Hövding works by way of sensors which take measurements 200 times a second to make a decision as to whether it should inflate or not. There is no danger of it going off when not in use either. To 'arm' the air bag, you need to close a popper button near the zip after you have put it on (see video).
Similar to a car airbag the product is single-use, but there is a crash-replacement programme. Should you be unfortunate enough to be in an accident, and the Hövding does its job, then you can get a new one for £99. Similar to the recommended lifespan of a traditional polystyrene lid, the airbag helmet is expected to last 5-6 years. It is available in three sizes, (small, medium, large) and comes as standard in black, with custom colour options available for the fashion conscious.
When it goes off, there is loud bang and milliseconds later the air bag has encapsulated the wearer's head. I should point out that the video attached to this review was made before I had tried the product out for myself.
So how well does it perform in day to day use and is it a good alternative to a conventional helmet? I was keen to try it and excited to not wear a traditional helmet for a change.
From time time we all have an 'off' that damages our pride and nothing else. In the event of crash like this, it is likely that the Hövding will activate. The Hövding is likely to go off whenever you fall off your bike, whether you need it to or not. Often when you fall off your bike, you don't bang your head. To be clear, I am not suggesting this is a reason not to wear a helmet or the Hövding, but a conventional helmet has a clear advantage in this regard.
If you are wearing a normal helmet you can pick yourself up, dust yourself down and carry on, continuing to be protected albeit with pride dented and usually a hole in the bibshorts. With the Hövding, once it has gone off, you no longer have protection for the rest of your ride. Furthermore, it's going to cost you £99 regardless of whether you needed it or not.
It is possible for it go off when you don't want it too. I heard a story of a woman who claimed when bending over to quickly tie a shoe lace, she unintentionally set off the device. It is important to point out that the makers have refined and continue to refine the firmware that tells the Hövding to activate.
Another issue is weight – at 645g the Hövding is about three times heavier than a premium road helmet such as the Giro Synthe and is unlikely to appeal to the weight-conscious cyclist. The weight is noticeable when riding too. Kit should offer zero distraction – you should forget about it instantly – like a good pair of bib shorts.
I was never able to forget I was wearing the Hövding. It is uncomfortable, heavy and gets rather warm if you are working hard. When heading up a long climb or riding in sweltering summer weather, the last thing you are going to want to wear is what is in essence a chunky scarf.
As an avid road cyclist I will be sticking to my conventional helmet but really the target market for the Hövding is the urban commuter. To put it to the test in this regard, I wore the Hövding while commuting. It is fair to assume that many urban riders will use a backpack, but in my experience the Hövding is even more uncomfortable when worn with a backpack because the back of the device extends down you back and digs in. You can see this in the photo below.
For those who don't want to wear a conventional helmet, this is a cool gadget that works well and offers impressive protection. Just remember to keep it hidden at house parties, as some people may feel compelled to try and set it off! The technology is impressive, but I feel the ergonomics could be refined to make Hövding more comfortable and at present it isn't economically viable for most cyclists. I suspect by slightly adapting this product other applications could be found for it such as horse riding, where immobilising the neck during a fall could also make a big difference.
For more information head over to Hövding's website.
Thank you for reading 10 articles this month* Join now for unlimited access
Enjoy your first month for just £1 / $1 / €1
*Read 5 free articles per month without a subscription
Join now for unlimited access
Try first month for just £1 / $1 / €1
Oliver Bridgewood - no, Doctor Oliver Bridgewood - is a PhD Chemist who discovered a love of cycling. He enjoys racing time trials, hill climbs, road races and criteriums. During his time at Cycling Weekly, he worked predominantly within the tech team, also utilising his science background to produce insightful fitness articles, before moving to an entirely video-focused role heading up the Cycling Weekly YouTube channel, where his feature-length documentary 'Project 49' was his crowning glory.