Giro Synthe cycling helmet review
The Synthe ticks off the ABC of helmets: aero, breathable and comfortable - and it looks good too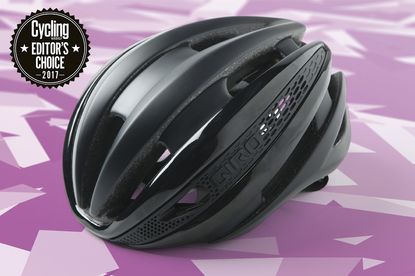 First launched in 2014, the Giro Synthe has become a firm favourite amongst road cyclists across the country, and the riders at Cycling Weekly are no exception.
The Synthe offers what seems to be the impossible mix elsewhere: aerodynamics, breathability and style - and it's this very special feat which earns it a place in our 2017 Editor's Choice.
There are very few 'perfect products', items that have it all - even more so when it comes to cycling helmets which come down a lot to personal preference. However, if there is one that can do it, it's the Synthe.
Seen atop of pro heads in the peloton, the Synthe is lightweight (234g in a size Medium), with Slimline Buckle and an internal Roll Cage reinforcement.
Designed to be wind cheating, it's an aero lid which out-performs the old favourite, Giro Air Attack Shield.
Giro promise thorough testing shows that the helmet slips through the air at multiple yaw and head angles.
Aero but still breezy
Despite the claim to speed, the Giro Synthe isn't cut off from air supply as some aero helmets are - in fact it's got 26 wind tunnel vents, with internal channeling designed to boost their efficiency. It's more breathable than Giro's own Aeon.
Whilst it wasn't possible for us to wind tunnel test the Synthe, we did put it through its paces under the 25°C rays of Majorca sun, and even when gassing it to the top of Sa Calobra we felt no overheating or discomfort (aside from in the legs).
The retention dial in use is the Roc Lock Air fit system. We found this to be excellent, allowing for easy one handed adjustment and when wearing gloves.
The internal shape was very comfortable and peer review suggests it suits a wide array of different head shapes.
Attractive as well as aero
Many of the newer aero road lids on the market have divided opinion when it coms to aesthetics. However, despite resembling a clutch of bananas, the Synthe is a great-looking helmet that seems to suit anyone who wears it.
As is the case with most aero helmets, Giro makes big claims with regard to aerodynamic credentials of the Synthe, citing that "our extensive testing reveals that the Synthe is nearly as efficient as the fastest time trial helmets". In the absence of a wind tunnel, we cannot verify the aero claims, but this helmet certainly doesn't feel like it slows you down. The Giro Synthe scores high marks for looks, comfort, quality, weight, venting and it's available in a huge range of colours - so it's well worth checking out.
The price of the Synthe - £224.99 without MIPS and £249.99 with the addition of the extra protection against rotational forces - can put people off. However, if it's a figure you're willing to pay you will get a feature laden lid in return.
Thank you for reading 10 articles this month* Join now for unlimited access
Enjoy your first month for just £1 / $1 / €1
*Read 5 free articles per month without a subscription
Join now for unlimited access
Try first month for just £1 / $1 / €1
Oliver Bridgewood - no, Doctor Oliver Bridgewood - is a PhD Chemist who discovered a love of cycling. He enjoys racing time trials, hill climbs, road races and criteriums. During his time at Cycling Weekly, he worked predominantly within the tech team, also utilising his science background to produce insightful fitness articles, before moving to an entirely video-focused role heading up the Cycling Weekly YouTube channel, where his feature-length documentary 'Project 49' was his crowning glory.