Giro Air Attack Shield helmet review
The Giro Air Attack Shield is an aero road helmet designed to offer plenty of ventilation in a lightweight package - does it succeed?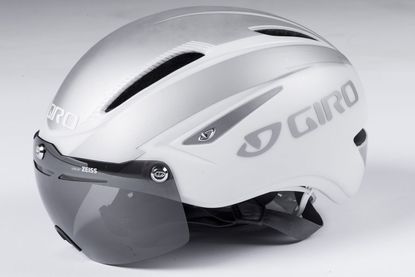 A quality construction that fits comfortably and provides adequate ventilation in a lightweight package. If you want the ultimate aero gains, look for a long tail helmet - but if you can only make room for one helmet, and need one that can give you an aero edge when you race whilst being practical elsewhere, this could be for you.
Reasons to buy
+

Lightweight

+

Provides ventilation when moving
Giro Air Attack construction
The Giro Air Attack Shield is a lightweight, aero helmet designed to save you a few watts whilst still offering enough ventilation so that you can get to the sprint with a fresh head.
>>> The best bike helmets: a buyer's guide
It's a helmet for road racing, crit races, track, trialthlon or maybe time trialling – but that doesn't stop it being pretty popular amongst your average weekend warrior keen to utilise marginal gains.
Giro say the helmet is aerodynamic, and it certainly looks it- but we've not got any wattage savings to back that up which is a bit of a shame. It is fair to say that since the Air Attack's first arrival on the scene in 2012, aero tech has seen a fair amount of evolution.
Aero items often carry with them a weight penalty – but the Air Attack tips the scales at 270g (in the size small tested), and 305g with the visor. It's created using an in-mold polycarbonate shell, which is fused to the interior EPS (Expanded Polystyrene) layer – keeping the weight to a minimum.
Air flow is taken care of thanks to what Giro calls their 'Wind Tunnel Ventilation' system. The six vents in the helmet's shell work alongside exhaust channels inside the helmet – so cool air is sucked in and circulated around your head.
On top of this, it's designed to sit just a little bit off the top of your skull, held in place with a Roc Loc Air retention system. The idea then is that once in, air can move around the helmet.
The system uses a flexible inside shell, which tightens with a retention dial and you can select one of three different heights to further tune the fit.
The inside padding features X-Static technology – which entails the weaving of pure silver fibres into the fabric. This has an anti-microbial effect, which keeps whiffs at bay.
The 'shied' element refers to Giro's party trick – a 'Zeiss' visor fastened via magnets to the top of the helmet. When in use, it provides shelter for your peepers, and when out of use, you can flip it so that it sticks to the front of the helmet out of harms way.
The ride
We don't have a Cycling Weekly wind tunnel capable of measuring the aero claims, and any time trial attempts we made would be let down by changing weather conditions (and form...), so we've not tried that one and will have to take Giro's aero claims as truth.
In terms of temperature regulation: it did the job when moving. I wore the helmet for a few crit races where I knew I'd expect to get hot, and during more causal rides. But when I stopped, I could feel the heat, and the same when I slowed down significantly on longer climbs.
>>> Hot weather cycling: five tips to help you keep your cool
The overall fit was good – the helmet hugged my head and felt comfortable. It's quite a lot wider than most of my other helmets, so from a purely aesthetic point of view I felt it looked a bit bulky.
The visor does a good job of staying fog clear and offers an aero advantage whilst also protecting your eyes from grit, gravel, and any errant flies that might be on the loose.
I could feel the bottom of the visor coming into contact with my nose from time to time, but it was nice to have uniform eye coverage with no disruption from the frame, as would be the case with standard glasses.
If you can sense a criticism: it's coming.
The Giro Air Attack Shield carries limited appeal. For a time trial, I want the fastest helmet I can get, and that's generally considered to be a long tail lid.
>>> Time trial helmet vs road helmet: which is faster? (video)
During a road race, I'd feel a bit of a mug wearing a helmet with a full-on visor – in fact it makes you a bit of a target if anything. On a casual ride, I'd be about as inclined to wear an aero lid as I would to ride with a pair of Zipp 808's (not very).
The only real use for this helmet is in filling the hole for a rider who only has cash, or space, for one helmet. The Giro Air Attack Shield is ok for racing, and ok for general riding - so if you have to share one helmet across both uses, it'll do the job. But it wouldn't win a competition for 'most aero' and really you'd want something more breathable for long days in the saddle.
Value
At £209.99, this isn't an entry level or budget helmet. However, there are a fair few reductions around now.
It's far from a case of saving money on an aero helmet by buying this - you can find long tail aero helmets for just over £100 - but if you need to, you could fill the gap of an aero helmet and a road helmet with this one.
Thank you for reading 5 articles this month* Join now for unlimited access
Enjoy your first month for just £1 / $1 / €1
*Read 5 free articles per month without a subscription
Join now for unlimited access
Try first month for just £1 / $1 / €1