Get prepared before you go racing
Racing brings many rewards, and we're not just talking about if you manage to finish on the podium. Simon Schofield looks at how you being preparing for a race, and what you need to do to confidently reach the start line.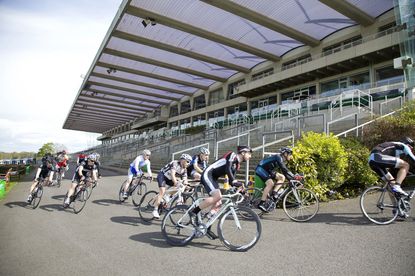 When the godlike genius that is Jarvis Cocker asked, "Do you remember the first time?" he wasn't singing about bike racing. But it's a fair bet that if you've ever pinned a number on your jersey, you will have a laser-like recall of the day you popped your racing cherry.
Jamie Kirk does: "As I lined up at the start I just kept repeating to myself what the more experienced racers in my club had told me: 'Don't get dropped, don't get dropped, don't get dropped.'"
The mantra worked for Kirk, 43, a member with Ilkley CC. He finished in the bunch and found his expectations of a crash-ridden smash-fest confounded.
"It was a bit easier than I thought it would be," he says. "It is amazing how much shelter you get in the middle of a bunch. Freewheeling at 27mph on the flat was a new experience for me."
Kirk had carefully planned his strategy for losing his racing virginity, and chose a criterium for his first time. A flat circuit race is a good choice. Crits are often run on traffic-free short courses. Airfields, motor or kart-racing circuits or closed-off town and city centres are all popular venues.
The leaders will kick hard out of corners, meaning that the occasional excursion into your red zone is inevitable, but at fourth-cat level, where everyone starts, it's highly likely the bunch will stay together until the final sprint.
And that can provide a massive morale boost for any first-time racer, because getting dropped in a race tends to be a terminal setback, unless you're a very strong rider.
Don't be intimidated
That's what happened to Lindsay Atkinson-Wright. She chose to make her debut in a road race and suffered like a dog for it.
"I was clueless — completely unprepared," she says. "I'd competed at a reasonable level in triathlon racing and made the fundamental mistake of thinking a road race would be just like the bike leg of a tri event.
"It wasn't. I got dropped literally in the first minute. I just wasn't prepared for the pace," adds Atkinson-Wright, 44, and a member of albaRosa CC. "But I have never not finished a race, so I rode round on my own for 38 miles — closely followed by the broomwagon!
"I was despondent at the end but determined. I figured out pretty quickly I'd just gone in at too high a level. It was too hardcore and I needed to pick races appropriate to my ability."
Those are wise words for cyclists considering the step up to racing. It's easy to think that all races are the same — full of poker-faced pedal bots who will destroy the debutants and grind their sorry noses into the dust. But they're not.
The first thing to realise is that helmets and shades are an effective mask. Throw in shaved legs, a nice bike and all the right gear, and it's not too difficult for the first-timer to feel intimidated as the British Cycling commissaire delivers the pre-race briefing.
But behind the mask and the poised demeanour much of the field will be wracked with the same self-doubt as the newbie. In fact, much of the field might well be newbies themselves, if not to racing then at least to the course.
Fourth-category races are competitive. You will ride at pace, at close quarters and, at times, on the edge of your physical limits. You will be partly dependent on the skill, nerve and ability of your fellow riders to stay upright, and it's right to recognise that the risk of a crash is ever present.
But it's the same for every rider, and with the right preparation, the first-time racer can feel confident lining up waiting for the whistle.
Picking the right event is vital. The experiences of Kirk and Atkinson-Wright are typical — road races are a tough gig to cut your racing teeth on — hillier, harder, and far fewer fourth cat only opportunities. But crits are a great place to start, and there's a gold-plated method of preparing.
"Ride with your local chain gang. It's really as simple as that," says Joe Wilkinson, race captain at fast-growing Leeds club, albaRosa CC. "Going out with a quick-ish group teaches many of the basic skills you need to start off in fourth-cat crits.
"You're riding close and fast, you quickly learn just how important drafting is, you learn not to touch the brakes unless it's essential and if the chaingang has a competitive finale, you are picking up some basic elements of race-craft — like not going off the front on suicide missions and learning to time a sprint."
Increasing use of social media by cycling clubs makes finding chaingangs much easier than it was once. You don't have to be a fully paid-up member of the local cycling cabal to find one, and most forward-thinking clubs will welcome riders for a try-out session or two.
Chain reaction
If there's a social media cycling blackspot in your particular part of the forest, then a local bike shop will know of chaingangs or, failing that, contact clubs without a social media presence directly — you can find their details on the British Cycling website, if they're both affiliated.
If you can't find a chaingang, then try to get a small bunch of like-minded mates together and practise group riding in a pace-line, fast and close in single file, swapping taking the wind on the front. It's best to do this on quiet roads to gain confidence. Once the unblooded racer has chosen their event and prepared with group work, the next big worry will be an understandable one: am I fit enough?
My personal experience might be a useful benchmark if you are wondering what kind of shape you need to be in to race.
I took up racing for the first time at the age of 53 last year. I'd been a lifelong cyclist, but a commuter rather than committed. In 2005 I got serious and started training properly for l'Etape du Tour in 2006. I shed a bunch of weight, and I now make an 80kg dent on the planet.
In season, I will train at least 10 hours a week, with peaks of 15 hours if things fall right. That's split between solo rides, chaingang bashes, and only recently, some hard training rides with my club's race team.
I ride sportives, hilly ones in Yorkshire mainly, and unless I'm having a really bad day I'd expect to finish toward the top of the silver medal times with one solitary gold medal finish time in my, ahem, palmarès.
Because I work at it — and like many cyclists, have become somewhat obsessed with it — I'd describe myself as an average to strong rider, but nothing special.
Given that, I favour crits for racing, although I have chanced my arm in road races. And you know what? In a crit I can hold my own. I rarely, if ever, trouble the podium, but I have a reasonable expectation forcing my way into the top 10, and therefore points, in a fourth-cat only race. In a 3/4 event, depending on the strength of the field, I would be very pleased to get top 10, but realistically would finish in the pack.
Enjoy the feeling
Over a 45-50 minute crit, my average heart rate will be 85 per cent of max overall. There will be a few brief respite periods when it dips to around 80 per cent and sudden accelerations will take it up beyond 90 per cent, but not for long. If you choose to compete on the final sprint, expect to hit, momentarily, 100 per cent of max. It's a tough ride and a good workout, but with a reasonable level of fitness it's achievable.
If you're benchmarking yourself against these stats, consider that the heat of battle is a brilliant motivator, and sustaining that kind of average heart rate happens as a matter of course. You don't necessarily need to think that if you're not hitting those kinds of workloads in training, you wouldn't when you race. Because you will.
The best summary I can give on racing is that it is enormous fun. It's thrilling, it's a fraction dangerous and it reminds you that you're alive. It's a good feeling to wake up and think: it's race day.
As first-time racer last season, Russell Ellis, says: "I know it's a bit of a ridiculous comparison, but when I was a kid I used to watch the FA Cup final and then go out and kick a ball around and let my imagination run riot.
"Before I started racing I used to watch the final sprints in the Tour de France and there wasn't the same kind of opportunity. Now that I race, I can watch a stage and get inspired to race. It sounds a bit silly, but it's that same kind of feeling I got when I was a kid."
The Dos and don'ts of racing
Etiquette and good conduct
What are the rules for racing? There are some that are written down and then there are those that aren't — they're the more tricky ones.
For the formal rules of racing, the British Cycling website is encyclopaedic and a brilliant one-stop shop for the first-time racer. Lots of answers about the need for licences and the types of races can be found there. You'll also be advised on clothing — essentially, at fourth cat, any plain kit is fine, as is club kit.
The BC site is also the go-to tool for finding races in your area. Any race that's got a 4 in it, under the category section, is fine for first timers, but it can be a good plan to start off in a fourth cat only, rather than, say, a 2/3/4 where the pace will be much higher and the race will be packed with experienced riders.
The unwritten rules? Well, for reasons nobody really knows, it's best not to rock up to a race with your lower limbs festooned in hair. Nobody says you can't, but the chances are you will feel out of place if you haven't had the razor out.
There will be shouting — sometimes it will be encouraging, more often it will be old hands dispensing what they consider to be sound advice. If it's your first race, try to avoid any kind of confrontational response. Give the shouter a friendly smile, keep your head down and ride your own race.
Some of the shouting will be beseeching you to, "hold your line!" This can often be a generic shout, and may just mean, "get out of my way!" But it's usually interpreted as advice not to suddenly change direction, especially when cornering, or to cut up another rider. Again, best not to get into extended breathless debates about the wisdom and/or applicability of the advice if it's your first race.
Ride competitively by all means but don't be reckless or endanger others, and definitely don't overtake on the inside through corners, and you will soon earn respect from fellow competitors.
Never argue with a commissaire. They've seen and heard it all before. More importantly they're volunteers, giving up their time to help keep racing alive. Smile and say thanks.
What the pro's did
Andy Schleck - Trek Factory Racing
"My first race, I was about 13 years old. There were four guys at the start and I finished third. It was great, I was on the podium, but then again I also finished second last! It was in Luxembourg, not far from my house. It was one lap, 10km, that was it. It was my own bike.
It was all the pieces we could find at home, my dad [Johny Schleck] put it together. When you are young it doesn't make sense to buy a brand new bike, so I was racing with what I had.
"It was fun. Until I was 16 I was playing football in the morning, going home for lunch and then going to bike races in the afternoon, every Sunday was the same. When I was young I was really nervous before a race, even during the races that weren't important. I'm much more calm today before the start of a race. In juniors, and even U23, you can survive when you're not super fit. Today is different. There are no small races. You need to be well trained everywhere you go.
"I was racing in Luxembourg and the level was not so high when I was a junior, or even before. If you race in Germany the level is much higher. I was winning more or less every race I started. In Luxembourg I would start a race and I was sure that I would win."
Eddy Merckx - Five-time Tour de France champion
"My first race was in July 1961. It was in Laeken, just outside the [Belgian] royal palace. The finish was just on the road behind the gardens, with some cobbles along the finish line.
"I'd never ridden a race before; it was the holidays and my mum and dad had gone away, so I took a taxi to go the race. It was a race for 'debutants' but run by the Belgian federation. I had done a lot of sport but I hadn't done a lot of training for it — I rode my bike, but I didn't train specifically for it.
"I rode the race; got dropped, chased back on, got dropped, chased back on, and the last lap I just got back on. It was raining a little bit, and everyone crashed in front of me on the cobbles and I got sixth!
"I was nervous before, of course. I was young and the race was a hard one. I was 16, I was quite skinny, and I was dropped so many times. I'd never raced, I'd trained about three times in the week leading up to it, never for more than 30km. The race was 60km. "I started to get some good results and the third race I did, in October that year, I won."
Chris Froome - Tour de France champion
"My first race was when I was about 13. I'd found out about this road race which at the time was probably one of the only road races in Kenya, in Nairobi. It was sponsored by Trust condoms, so it was called the Trust Race. I remember getting my big brother Jonathan's old racing bike out of the garage and putting new tyres on it. I entered what they called the junior category, whatever it was.
"It was chaos. We were told, 'This where the race goes,' but the roads were still open to traffic and we were dodging traffic. After five minutes I'd lost everyone and I was basically riding on my own from the junior category.
"I was definitely nervous, not knowing what to expect from my first race ever. I did win my lower category, it was only about 40-50km or so. There was no sprint — I didn't even see where the other guys were!"
Fabian Cancellara - Trek Factory Racing
"I would have been 15 or 16 for my first race. I don't really remember where it was, it's a long time ago. I raced at the level before a junior. You had the three categories together. I didn't ride too many race in my first year.
We had regional races, canton races and then national races. For the first year I just did regional races around my city and races in the canton.
"I was nervous about everything. I think I had sneakers and flat pedals, cables on the down tube and all that."
Thank you for reading 10 articles this month* Join now for unlimited access
Enjoy your first month for just £1 / $1 / €1
*Read 5 free articles per month without a subscription
Join now for unlimited access
Try first month for just £1 / $1 / €1
Founded in 1891, Cycling Weekly and its team of expert journalists brings cyclists in-depth reviews, extensive coverage of both professional and domestic racing, as well as fitness advice and 'brew a cuppa and put your feet up' features. Cycling Weekly serves its audience across a range of platforms, from good old-fashioned print to online journalism, and video.