Met Manta MIPS helmet review - low profile and price for an aero lid
This lid received an aero redesign, MIPS liner for added safety protection, and is still remains a great value option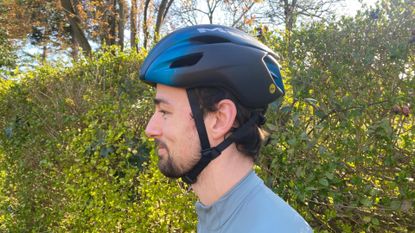 (Image credit: Future)
The MET Manta MIPS is a great value aero helmet, representing a solid improvement over the last iteration. It's slightly heavier but that's because MET has added in MIPS safety tech, which we like to see! As well as offering greater levels of protection against rotational impacts, it's also faster than before (according to MET's testing) - but details on its aero performance against competitors are sparse. The low-profile compared to other aero lids is a particular plus, not to mention the (relatively) low price. Ventilation is good, but not standout.
Reasons to buy
+

Great value

+

Low profile look when worn

+

Tasteful colour options

+

MIPS C2 safety tech added

+

Ventilation is good at speed
Reasons to avoid
-

Tests against competitors have little detail revealed about speed or which competitors

-

Minimal front venting means warmer forehead

-

No Virginia tech helmet safety rating
The Manta has long been one of the most recognisable aero helmets in the pro peloton. It was debuted by Mark Cadendish in 2015 and has now undergone redesigns to make it both faster and safer.
Does it drop weight? No. In fact the opposite is true: this new lid is slightly heavier due to the inclusion of MIPS safety tech, which is designed to provide protection against rotational impacts. Added safety is a big plus, and not many grams have been added in the grand scheme of things.
Helmet on, we put the MET Manta MIPS to the test to see how it compares to the best cycling helmets we've reviewed and highly rated.
MET Manta MIPS: construction
The MET Manta MIPS builds upon the brand's already successful aero Manta design. MET claims it has improved the aerodynamic performance of the previous Manta thanks to the lower and tube-shaped profile at the rear.
The Manta MIPS has been designed using wind tunnel testing using speeds of 33, 50 and 88kph to simulate group riding speed, race pace efforts, and full on sprints. MET used both a 77 and 65 degree head angle to see the results for those in a regular riding position as well as a more head down tuck when sprinting.
The brand's testing concluded that the Manta MIPS was 4 watts faster in the regular riding position and 3 watts faster in the sprint position compared to the old Manta. However it's not specified what speed this saving was at and the Manta MIPS is also claimed to be 4 watts faster than leading competitors, again unspecified.
One of the key design features behind these watt savings is the use of an NACA Venturi tunnel and diffuser system, whereby air is channelled over the top of the helmet and out of an exhaust array to accelerate the air and give it a linear flow. This also promises to remove warm air from inside the helmet to aid cooling.
Although MET states that there are 15 vents in the helmet, 8 of those can be found in the diffuser complex at the back. Venting looks fairly minimal at the front but this is a common trend in aero helmets now. When riding at speed, the system does work well at dissipating heat.
The MIPS system used is the most up to date C2 lining which offers improved impact protection compared to previous iterations.
MET's Safe-T orbital retention system is used to keep the helmet securely on the rider's head. Before putting the helmet on, you can make several adjustments. There's the choice of four positions for vertical adjustments, as well as the choice of two positions for occipital (side to side) adjustment. For the chin strap, a magnetic buckle is used.
MET Manta MIPS: the ride
When I first put on the MET Manta MIPS, I found it was a bit tight and there was a pressure point at the back of the helmet. Fortunately, after adjusting the occipital pads, both the pressure and sizing of the helmet on my head seemed to be remedied.
Buckle adjustment was easy and another nice feature was that the sunglasses I use fitted nicely in the vents (they normally don't due to a very curved arm design). The MET Manta MIPS sat quite small on my head - which personally I'm a fan of - and likely contributes to its aero qualities, especially when riding with a head up position. It looks a lot smaller on my head than pretty much any other helmet I've used or tried on. It also doesn't feel at all heavy on the head, as the MET Manta MIPS is still fairly lightweight compared to most helmets I've used.
Out on the road, the helmet was very comfortable even with the minimal padding inside. Airflow seemed good, but it was hard to tell exactly as the weather was only around 10 degrees. The front of my head did feel a little warmer than other aero helmets with front vents that I've used, such as the Lazer Vento KinetiCore.
That said, my overall head temperature was genrally fine - probably in part due to the large exhaust at the back. At the end of the day, the most important region to keep cool is towards the rear of the head, where the hypothalamus is, as that helps regulate body temperature.
Another nice feature was that sweat didn't drop down into my glasses. This is often a problem I experience, even in lower temperatures and especially when overdressing, which I did several times over the testing period.
Crash protection is supplied by MIPS C2 liner. It doesn't have the same crash protection ratings as the Lazer Vento or the brand new Giro Aries though (top scorers on the Virginia tech helmet safety rating). Another small downside is the fact that the hardshell doesn't extend all the way over the EPS foam inner, meaning that it may be prone to denting over the long term.
MET Manta MIPS: value and conclusion
At $260/ £220 and 249g, the MET Manta MIPS is very good value for an aero helmet. Other aero helmets include the Lazer Vento KinetiCore ($299.99 / £259.99), Specialized Evade 3 ($300.00 / £275.00) and Giro Eclipse ($250.00 / £240.00). While the HJC Ibex and Abus GameChanger are a bit cheaper, they lack any rotational impact protection system. The MET Manta MIPS also comes in at a bit lighter than the competitor helmets, at 249g, 1g less than advertised. The combination of proven safety tech, low weight, perceivable aero performance, and lower than average price for an aero road helmet, makes this helmet exceptionally good value!
Thank you for reading 10 articles this month* Join now for unlimited access
Enjoy your first month for just £1 / $1 / €1
*Read 5 free articles per month without a subscription
Join now for unlimited access
Try first month for just £1 / $1 / €1
Andy is a Sport & Exercise Scientist, fully qualified and experienced cycling coach, personal trainer and gym instructor. He spent 3 years on the road riding for a UCI cycling team and 7 years as a BC Elite rider.
After graduating in 2020 with first-class honours in his Sport & Exercise Sciences BSc, he continued to pursue his interest in research in the field of sport science alongside setting up his coaching business, ATP Performance, and working for USA-based firm, Wahoo Sports Science. He balanced this with racing at international level, competing in prestigious events such as the Tour of Britain and the Volta a Portugal.