POC Ventral Tempus MIPS Review - A helmet for riding in the rain, and being seen
Bright, light and comfortable, but not cheap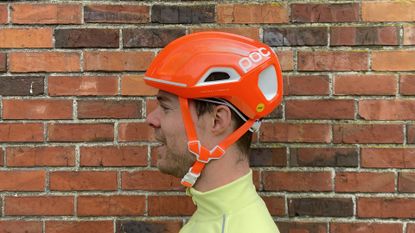 (Image credit: Tyler Boucher)
A well-thought out helmet specifically designed for inclement conditions that brings visibility to new heights.
Reasons to buy
+

Excellent visibility

+

Good protection from the elements

+

Compact shape
Reasons to avoid
-

Expensive compared to many rival helmets

-

Fit may not be for everyone
You can trust Cycling Weekly. Our team of experts put in hard miles testing cycling tech and will always share honest, unbiased advice to help you choose. Find out more about how we test.
Get The Leadout Newsletter
The latest race content, interviews, features, reviews and expert buying guides, direct to your inbox!
Thank you for signing up to The Pick. You will receive a verification email shortly.
There was a problem. Please refresh the page and try again.
Most global sports have defined constants: a field, pitch, or court is a standard size wherever you go. Things are even more homogenous for sports played indoors, where the weather is less of a factor. Cycling isn't like that. Topography and climate play outsized roles in where and how people ride bicycles; this is one of the things that makes the sport interesting and dynamic.
While the bikes may largely be the same around the world (with the possible exception of fat bikes) the other equipment needed is very different. Clothing and gear that works in the heat of Australia isn't going to cut it in the winter in northern Sweden, for example. Hence the need for gear that caters to temperature extremes. POC's Ventral Tempus MIPS is one such piece: a helmet made for wet and cold winter conditions, where being visible is absolutely critical in the low light of high latitudes. We take a look at how it stacks up against the best cycling helmets...
POC Ventral Tempus MIPS - the construction
The POC Ventral Tempus MIPS takes the same platform as the race-tested Ventral Air helmet and adds in a fully covered shell to make a lightweight helmet with solid weather protection. In addition, POC has added reflective striping visible from 360 degrees and designed colors that are visible in low light conditions. The shell prevents wind and rain/snow from reaching your head, which helps a great deal in staying warm on cold days. Though speed is not the primary aim, there is some aerodynamic benefit as well.
The Tempus portion of the name refers to the latin term for time, seasons, and weather, a nod to the winter-specific application here.
The helmet features Mips' latest iteration, called Integra, which works a bit like POC's previous rotational safety technology termed 'Spin.' The new Mips setup allows the head to rotate independently of the helmet but does away with the hair-net-style plastic harness harness layer that was present in previous Mips helmets which could easily get caught in long hair or create uncomfortable hotspots.
This new system is vastly improved from a comfort standpoint, and reduces bulk as well as weight. I don't know how it stacks up, safety-wise, with the previous version, and hopefully won't have a chance to test it first hand.
The helmet is also specifically designed to work with POC's range of sunglasses - including the Propel - for maximum integration, though it works fine with other sunglasses as well.
POC Ventral Tempus MIPS - the ride
On the road the Ventral Tempus MIPS is comfortable and unobtrusive, as the best bike helmets should be. It's also noticeably more compact in shape than the old Octal, and even the Omne Air model. The updated Mips protection is just much more comfortable than the old version. The outer shell does a good job keeping wind and rain out, but without causing overheating. I'll need to wait a couple of months to test it out and see how it fares when worn in warmer temperatures.
As for its aerodynamic capabilities, it does have a sort of dimpled aspect which I would guess performs better at high speeds than a standard vented helmet. However, unlike the best aero helmets, reducing drag isn't the primary objective here. The external shell also adds structural stability which could be advantageous in the event of a crash. Supposedly the angle of the trailing edge "reduces turbulence," though I couldn't discern anything unusual going on.
POC has done a fair amount of research into the safety of being visible on the road, which was the impetus behind the AVIP line. AVIP stands for Attention, Visibility, Interaction and Protection and these design tenets inform several aspects of POC's product line through color (bright orange), finishes and reflectivity for optimal visibility on the road. This is even more critical for a specialized winter helmet like this one, where low-light conditions are the norm. My test helmet is certainly very bright, and I hope this helps me stay safer around oft-distracted motorists on the roads.
Helmets, like shoes, are very fit dependent and there's really no way to find what works best for you without trying out several different options. I usually get on quite well with POC helmets, and found that this one works well for me. I did notice some pressure from the foam structure on the back quadrants of my head, but it wasn't uncomfortable.
Value and conclusions
In terms of safety, all helmets need to meet the same safety regulations in the US, so they should theoretically all be equally as safe. There's a bit more nuance to it though.
Virginia Tech, a state university, has started doing independent helmet testing for a number of different sports, which has been hugely helpful to consumers looking to differentiate between different models on the market. They use a rating system to ascertain relative safety based on impact testing including both linear acceleration and rotational velocity. It does take them a little time to keep up with all of the helmets on the market, however, so not all new models have been tested yet. Previous POC models have received 4 and 5 star ratings.
As for weight and aerodynamics, more expensive helmets are usually lighter and more aerodynamic, so it's a case of paying more for less, but less should mean more speed. Ergo, more expensive should mean faster!
There aren't very many other winter-specific helmets available, which makes this one somewhat unique. At $280 / £240, there are going to be lots of lighter and speedier helmets out there, but maybe none with the same combination of weather protection and visibility, which is the raison d'etre for the POC Ventral Tempus MIPS. If those are your primary needs, then this helmet is a great option.
Specs
Price: $280
Colors: Cerussite Kashima Metallic, Fluorescent Orange AVIP
Sizes: Small (50-56cm), Medium (54-59cm, Large (56-61cm)
Weight: 312 grams, size small
Website: pocsports.com
Thank you for reading 20 articles this month* Join now for unlimited access
Enjoy your first month for just £1 / $1 / €1
*Read 5 free articles per month without a subscription
Join now for unlimited access
Try first month for just £1 / $1 / €1
Get The Leadout Newsletter
The latest race content, interviews, features, reviews and expert buying guides, direct to your inbox!