Boardman MX Sport Fi review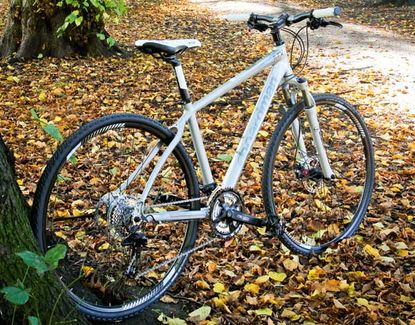 Why you can trust Cycling Weekly Our expert reviewers spend hours testing and comparing products and services so you can choose the best for you. Find out more about how we test.
Words Maria David | Photos Aodan Higgins
As it had been a while since I'd ridden a hybrid bike, I was keen to try out the women's-specific Boardman MX Sport Fi. Having enjoyed my experience of riding other bikes in the Boardman bikes range, I was looking forward to getting in some miles on the MX Sport Fi, which has the added dimension of being a performance bike.
What, no pink? Even at first sight this bike wants to show it means business. Its metallic silver frame with charcoal, cool blue and white inscriptions and stripes on the tubes, give the MX Sport Fi a serious 'go faster' look.
I almost wondered if I'd picked up the men's bike by mistake! But the subtle difference in geometry when sitting on it, and the letters Fi (female informed) on the tube, are the giveaway. It's a women's bike, but with a less girly edge.
The smooth welds on the double-butted alloy frame, the tapered form of the top tubes plus matching handlebar grips and saddle give the MX Sport Fi an overall slick finish.
Substance over style
Despite the stylish flourishes on the MX Sport Fi, this is still a bicycle that favours the qualities of practicality and performance over prettiness.
There are mounts for two bottle cages for those more challenging rides, plus mounts for a rack and mudguards for longer excursions.
I used the MX Sport Fi for commuting and leisure rides. Riding was enjoyable thanks to the comfortable women's-specific Boardman E4P saddle, and the suitably adapted reach to the handlebars. I particularly appreciated the optimal width of the handlebars, since in the past I have found some hybrids to be a little too wide for my narrow shoulders.
Rolling along was exceptionally smooth with nary a bump felt and pedalling was easy with the SRAM chainset and gears. These change up and down a little bit differently from the Shimano system that many of us may be more accustomed to, but they are easy to get used to.
Lady Gogo
Whether speeding through town traffic or training on forest fire roads, the Tyrago tyres hold the surface firmly. They strike an optimal balance between not putting up too much resistance when on tarmac, while providing substantial and reliable grip on rough surfaces.
A triple chainset means that there's a great range of gears for getting up steep gradients. Changing gear with the SRAM system is smooth, even forgiving for those hills that suddenly appear when rounding a corner!
As for safely getting down steep gradients, the Avid BB5 disc brakes are another useful addition, especially if hurtling full-tilt down wet roads or riding off-road in mud and grass.
On the rough stuff, the front suspension, once unlocked, does its work efficiently. The Suntour suspension forks tackle off-road bumps with an ample 63mm of travel.
So how fast can the MX Sport Fi go? As fast as you want! Speeding through the empty streets of London one night, it wolfed down the miles.
Obviously, its speed is no match for a sports bike, but the MX Sport Fi is fast by hybrid standards when on the road. And this bike is perfectly equipped for excursions on local trails and forest roads, as I found when riding it in Macclesfield Forest.
The MX Sport Fi is crafted with as much care and attention to detail as her siblings in the Boardman Performance stable. It's a good all-rounder, with performance on and off-road when you need it, without losing its feminine touch.
Specification
Boardman MX Sport Fi £499.99
Frameset Triple-butted 7005 alloy with 63mm Suntour suspension fork
Gears SRAM X5
Chainset E450 48/36/26t
Brakes Avid BB5 mechanical disc brakes
Wheels Boardman E4P 32-hole rims on QR hubs
Tyres Tyrago Kevlar Guard 700c x 37c
Bars Boardman E4P
Stem Boardman E4P
Saddle Boardman E4P
Seat post Boardman E4P
Size range 40,45,48cm
Weight 13.7kg
www.halfords.com (opens in new tab)
Alternative
Boardman Hybrid Comp £499.99
If you like your bike rides purely on the smooth stuff, the Boardman Hybrid Comp is a good alternative. It looks like the Boardman MX Sport Fi, but with specifications that have been tweaked to make this a performance road bike with straight handlebars. Gone is the suspension fork, the triple chainset and the wider tyres. Instead, the Hybrid Comp is kitted with straight alloy bladed forks, a compact chainset, and smooth tyres. All this adds up to make a faster steed that is perfect for commuting and going out on a training ride.
Thank you for reading 5 articles this month* Join now for unlimited access
Enjoy your first month for just £1 / $1 / €1
*Read 5 free articles per month without a subscription
Join now for unlimited access
Try first month for just £1 / $1 / €1