B'Twin Triban 520 flat bar review
The B'Twin Triban 520 flat bar is B'Twin's second tier commuter offering, and it does a great job of increasing comfort and enjoyment when out on the road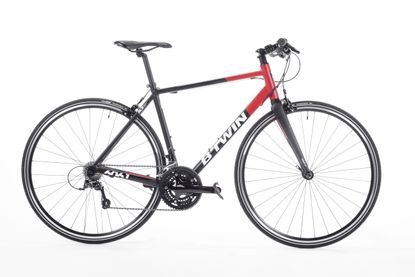 A great commuter bike or entry level road bike which is comfortable, nippy and confidence inspiring thanks to its flat bar.
Reasons to buy
+

Comfortable

+

Carbon fork

+

Good spread of gears

+

Mudguard/pannier mounts

+
We've been singing the praises of B'Twin's drop bar, and flat bar packages for a while now because they offer outstanding ride quality, for ridiculous prices and the B'Twin Triban 520 flat bar is no different.
It's a step up from the Triban Flat Bar 500 that we've reviewed previously, and despite coming in at almost double the price it's still superb value.
Buy now: B'Twin Triban 520 flat bar at Decathlon for £449.99
Read more: B'Twin Triban 520 drop bar
Frame
The frame is undeniably B'Twin in its looks, something that people are beginning to recognise more and more thanks to their popularity and success on the streets of the UK.
It's made out of 6061 Aluminium, which grants the best of both worlds in terms of comfort, stiffness and weight when it comes to ride quality. The front end has those square tubes that slim towards the bottom bracket while out back, the frame has some boxy, short chain stays which helps nip the bike around urban furniture found on your commutes.
>>> The best cheap road bikes: a buyer's guide
Obviously, it's not built as a dedicated performance machine, and there's no beefy bottom bracket or overbuilt headtubes on show. Despite this, it's still a nippy bike, probably to do with the fact it weighs just over 10kg, which isn't that weighty considering its price and dedicate use. Its carbon front end definitely helps keep the weight down – a feature that also helps take the pain out of the road surface, but more on that later.
>>> B'Twin Aerofit shorts review
Specification
The Triban 520 is undeniably specced as an entry-level machine, but that's all for the better. Those who are new to the sport, or don't ride regularly, will definitely benefit from the Shimano Sora triple chainset.
It sports nine gears on the back in a 12-25 spread, which might not sound high, but with the triple you'll winch yourself up anything.
Shimano Sora is also bombproof and a solid performer, meaning it should shift reliably every time you hop on the bike. Elsewhere, the threaded bottom bracket is a welcome addition, making working on the bike far more pleasant. Especially if you intend to be commuting well into winter.
As we've mentioned, the carbon fork is great, and it's something B'Twin has done well across its range of entry-level pieces. It can make the difference between a sluggish ride, and one with zip, which ultimately decides whether a ride is fun or a chore.
As you might expect, the rest of the bike is made up of a smorgasbord of B'twin parts, including wheels, stem and bars as well as seat post and saddle – but it all does the trick. Especially the 28mm Vittoria tyres that really take the sting out of the road.
B'twin has also specced its own brand brakes, albeit with Shimano Tektro levers. Performance is there or thereabouts, but as ever, upgrading them would definitely make a massive difference in both stopping power and quality.
It's also well equipped for lugging your luggage. The frame has mounts bored into it, allowing you to rack up some panniers and mudguards, both of which are vital additions for any bike being used on a commute.
Watch: Hybrid bike buyer's guide
Ride
Despite it's flat bar, the Triban 520 rides a lot like a thoroughbred road bike. It doesn't feel slow and lumbering like commuter bikes can. Sure, the bars cause control to be a tad twitchy but the ride is assured and controlled.
It doesn't feel too heavy, the aluminium frame and carbon forks work in partnership to stop the bike feeling overly bulky, which, admittedly, it looks like it should be.
Instead, it's comfortable, and as we mentioned earlier, the carbon fork helps tackle any uncomfortable road buzz that the UK's predictably unpredictable roads manage to throw up.
Buy now: B'Twin Triban 520 flat bar at Decathlon for £429
It feels quite efficient, too and commuting well over 10km to work isn't a chore in the slightest. In fact, this bike can punch well above its weight in terms of rideable distance, and couple this with a great spread of gears and the reasonable weight and it becomes a great choice should you want to start striking out a little further.
Thank you for reading 10 articles this month* Join now for unlimited access
Enjoy your first month for just £1 / $1 / €1
*Read 5 free articles per month without a subscription
Join now for unlimited access
Try first month for just £1 / $1 / €1