Blackburn Piston 4 track pump review
If you're looking for a track pump to last you for ever, the Blackburn Piston 4 could be the one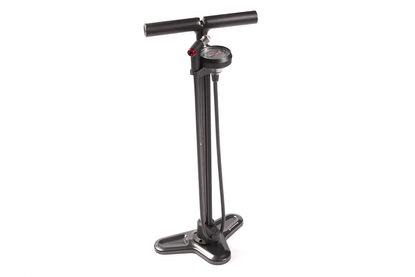 (Image credit: Cycling Studio)
A quality pump with great features, that's easy to use and will fulfil all your future pumping needs.
Reasons to buy
+

Rock solid build

+

Steel barrel and base

+

Lifetime warranty

+
Reasons to avoid
-

Slightly difficult to engage the head on presta valves

-

Expensive
The new Blackburn Piston 4 track pump does everything you'd want a top notch pump to do. That starts with a large, easy-to-read gauge. Too often pumps' gauges are small and somewhere down near your feet. But the Piston 4's is right up there at the top of the barrel, clearly marked in psi and bar and around 7.5cm across. So it's dead easy to see what pressure you've reached.
The Piston 4 stands just under 68cm tall, so its steel barrel is long and there's plenty of length to the pump stroke, making for easy inflation to high pressure.
The barrel is securely bolted to a large steel baseplate too, so the pump is stable even on uneven ground. You get a wide cylindrical plastic handle, which also makes for comfortable, easy pumping. Blackburn quotes a maximum pressure of 220psi/15 bar if you like a firm ride.
>>> The best track pumps for 2017
I like the way that the metre-long long hose loops around a peg at the base of the pump and into a clip at the top, for easy stowage. There's also a groove in the handle you can use if you want to keep the hose tidy without stowing it away completely. Being top mounted the hose is easy to attach to a valve on a bike in a workstand too.
Blackburn's pump head is substantial and has a robust metal locking lever. It works with both presta and schrader valves and includes a pressure release button. But I did find that it needed a firm push to get it fully engaged on presta valves, so that it worked effectively.
>>> Five best mini pumps
Although it's pricy, the Blackburn Piston 4 feels like a pump that will last forever and that's backed up by Blackburn's lifetime warranty.
Thank you for reading 5 articles this month* Join now for unlimited access
Enjoy your first month for just £1 / $1 / €1
*Read 5 free articles per month without a subscription
Join now for unlimited access
Try first month for just £1 / $1 / €1