Topeak JoeBlow Sport II track pump review
The Topeak JoeBlow Sport II is a good quality pump at a good price from Topeak's extensive JoeBlow track pump range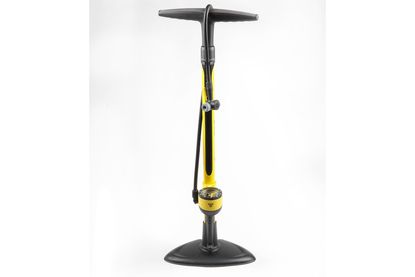 A solidly built track pump with a stable base and good ergonomics which should last for ever
Reasons to buy
+

All metal barrel and base

+

Comfortable handle

+

Stable

+
Reasons to avoid
-

Shortish hose

-

Quite small gauge

-

Heavy

-
Topeak's JoeBlow is one of those track pumps which everyone seems to use, but Topeak actually makes a bewildering array of Joe Blows, with the Sport II being near the bottom end of the 20 pump range (only 14 of which make it to the UK).
Nevertheless it's a meaty pump, starting with its weight, which is heading towards 2kg. It has a steel barrel and a large steel base, which both makes it very stable and easy to get a foot on to start pumping.
Although it's got a shortish hose and small gauge, they are placed around a quarter of the way up the barrel, so they're easy to get at and the gauge is easy to read, with a quality look to it. It's also got a moveable yellow indicator so you can see at a distance when you are up to your desired pressure. You might have difficulty getting at the valves if you've got your bike in a stand though.
>>> Buyer's guide to minipumps
There's a two-head adapter for presta and schrader vlaves with a two-way locking lever which engages with a solid-feeling click and there's no loss of air when pumping once it's attached and locked.
Watch: bike pump buyer's guide
The pump's handle is wide, well shaped and comfortable too, so that although there's a bit of wobble when fully extended it never feels flimsy. At 29 strokes, it doesn't take too much effort to get to 100psi and you could go a lot further if you wanted to.
>>> Topeak SmartGauge D2 digital pressure gauge review
Topeak sells the parts you are most likely to need to replace separately too: valves, gauges, seals, heads, so if something goes wrong you probably won't have to throw the pump away and start again. It also comes with the usual airbed and football adapters if you expect to venture away from the bike. So this is a great pump at a keen price which should keep going for ages.
Thank you for reading 5 articles this month* Join now for unlimited access
Enjoy your first month for just £1 / $1 / €1
*Read 5 free articles per month without a subscription
Join now for unlimited access
Try first month for just £1 / $1 / €1