Rapha Women's Pro Team Gore-Tex Insulated Rain Jacket review
Outstanding performance that's limited to cold, foul-weather training, and a cut that won't be for everyone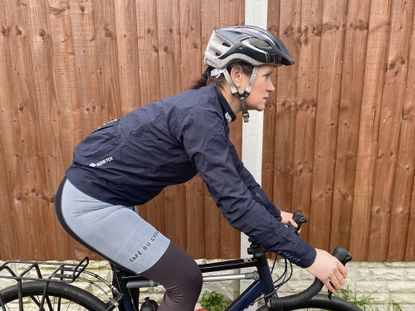 (Image credit: Emma Silversides)
The Rapha Women's Pro Team Gore-Tex Insulated Rain Jacket offers excellent protection for rides that promise the worst of British weather from the moment you roll out until the minute you return. The cut is tailored to a racing position; you'll want to be hunkered down for it to feel 'right'. The cuff design and pocket placement let the jacket down somewhat. This, coupled with the fact that it has a narrow window of performance, makes it difficult to justify the £310 price tag.
Reasons to buy
+

Good protection against wind, rain and cold

+

Breathable

+

Reflective detailing

+

Well-made

+
Reasons to avoid
-

Cut optimised for a 'racing' position won't suit all

-

Sleeve ends very narrow

-

High pocket placement
Why you can trust Cycling Weekly Our expert reviewers spend hours testing and comparing products and services so you can choose the best for you. Find out more about how we test.
If you are one for training outdoors, regardless of the weather, the Rapha Pro Team Gore-Tex Insulated Jacket - available as a waterproof cycling jacket in men's and women's fit - might make a good addition to your cycling wardrobe, providing the cut suits. It offers good protection against the elements with a cosy, insulating layer to trap and manage warm air.
Construction and Fit
The Pro Team Insulated Rain Jacket pairs Gore-Tex's Paclite Plus membrane with an insulated liner. The recycled, two-layer Paclite shell provides durable waterproof protection, certified to Gore's Black Diamond standard, with an abrasion resistant outer. Inside, the 65gsm synthetic insulation is designed to help with temperature regulation.
There's a wide elasticated gripper at the rear hem, zipped cuffs and a fully lined, raised collar. The main zip is two-way, convenient for accessing pockets in a mid-layer, or just getting a bit of airflow to the torso. The toggles are easy to locate and grip, even with gloved hands.
Reflective Pro Team bars on the sleeves, as well as a larger reflective tab between the pockets, help make the jacket stand out in low light conditions. It's great that the jacket is also available in a much bolder blue too; the navy version I tested could be considered too dark for its intended conditions by some.
The medium Rapha Shakedry I own is a brilliant fit, I was optimistic about getting the same from the Pro Team Jacket; the linked size chart linked still places me in medium. However, I've not been as happy with the fit, for several reasons.
The cut of the Pro Team Jacket is very much designed for a road racing position. In a normal stance, there's a pull across the chest and plenty of space around the back. Get onto a road bike - which is in the intended use - on the hoods or drops, and everything fits a dream… well, almost everything.
Image 1 of 4
The fit around the upper body, while on the bike, is great. There's plenty of space around the torso too, so packing out pockets sitting under the jacket is not a problem. Length, both body and sleeve, is well judged.
The sleeves taper sharply towards a zipped closure. Even with the zips open, I found it impossible to get the sleeve cuffs over a substantial winter cycling glove, for example, Dexshell's Winter Gloves. Something like Castelli's Prefetto fitted, but 'gloves first' was a must. With the zip open, you only gain an extra centimetre in girth at the sleeve end, this tapers down to nothing at the zips source. With a chunky smart watch on, there was no way I could zip the cuff up. The whole set-up is cumbersome and since the fabric under the zip has no give, there is very little to be gained from having the zip in my opinion. Getting the jacket off is a faff as a result of this tightness - it's most definitely a sleeve-inside-out affair.
Despite my reservations with the off-the-bike fit and sleeve tapering, I can't knock the jacket for quality; there's nothing to fault in the construction and finishing whatsoever.
It zips up smoothly (without interference from the guard) and has withstood brambles, some rather hasty 'removals' and consistently weighed-down pockets.
You can see from the photos that I'm probably what might be called an 'average' build. Rapha make the jacket in sizes XXS to XL. Given the sleeve issue, I'd say this is definitely a 'try-before-you-buy' garment and it certainly lives up its 'pro' label with regards to fit; I would want to be wearing this on anything other than a racing bike. Interestingly, tester Hannah Bussey had similar issues with Castelli's women's waterproof, though the primary area for concern there was the upper arm.
The Ride
While I've grumbled somewhat about the sleeves, I really can't do the same about performance; it ticks a lot of boxes when it comes to protecting you when riding in the rain in dismal conditions.
Out on the bike, the Gore-Tex layer reliably forces water, from heavy rain to road spray, to bead and roll even after several hours. While this has been the case throughout testing, I can't predict if it will be the case in year or so. In my experience, only Shakedry delivers year after year of reliable waterproofing. A tell-tale sign is how a jacket dries out after a drenching. Hanging it up without ensuring that all surfaces are exposed (to dry out) can lead to dampness on the inner-side (after several hours) with many waterproof garments - these tend to be the ones with a limited performance lifetime. Sadly, this was the case with the Pro Team Jacket, so, in a couple of years, it may not be protecting as well as it did when you first bought it. It is always a good idea to check care instructions and re-waterproof your protective kit if necessary.
Windproofing is impressive. We've had some pretty brutal conditions in the last 6 weeks, including bitter winds and snow showers, and I've always felt warm enough, even with just a base underneath. A thick jersey was uncomfortable for me due to the narrow forearms.
In colder conditions, overheating was never a problem; breathability is good and temperature regulation is definitely helped by the lofted layers, which seen to be help with heat dissipation and as well as insulation.
In milder conditions, you certainly start to feel warmer than you would without any kind of waterproof shell. It's still pretty breathable in comparison to many waterproofs I've experienced; I wasn't racing to remove the jacket as soon as the rain stopped. This is a good thing; I'd frequently only combined it with a base layer and removal wasn't even an option. It offers so much protection that, certainly in milder conditions, anything more (under it) would be stifling. The two-way zip was appreciated in these situations, particularly on climbs, to help increase airflow.
The jacket is surprisingly light (240g) for the protection it offers. However, the insulating layer and wrist zips limit packability. You'll need some generous pockets (or a team car to hand) if you want to remove the jacket mid-ride. Very few jerseys I own (that's a lot, given what I do) offer the pocket capacity to accommodate it. I've tried to convey the packed-down size here...
Image 1 of 2
Without a jersey underneath you're forced to make use of the jacket's pockets, this was a faff for me; I found the openings sat very high up the back. Normally, if placement is high, sitting up in the saddle makes it easier to reach round and access contents. However, due to the cut of the jacket, this isn't the case with the Pro Team. It's actually counter-productive as the jacket becomes tight across the front when you straighten up.
The chest pocket is a useful addition. The overall fit of the jacket is snug enough to keep pocket contents close to the chest, rather than pulling the jacket forward. It's pretty small, ideal for a small wallet, card or keys - a modern smart phone is a no-go.
Image 1 of 3
Value
At £310 / $420, it's a hefty investment. There aren't a huge number of alternatives offering the same combination of insulation and waterproofing. You may end up looking at jackets with some kind of waterproof treatment in the quest for warmth and rain protection. Something such as Pearl Izumi's £199 Women's Pro Amfib Jacket (opens in new tab) might be a reasonable alternative with a less restrictive fit, and it goes up to XXL.
Rapha's Pro Team isn't the first female specific waterproof I've had 'sleeve-issues' with recently. Castelli's latest Idro Jacket very tight around the arms for me, Hannah agreed with this when she tested (opens in new tab) it. Given this seeming propensity to restrict the sleeve width in women's kit, it could even be worth considering a men's jacket. Gore's Shakedry Insulated jacket might be an option. For an extra tenner on top of Rapha's RRP, you get the longevity of Shakedry.
For me, due to the issues I had with the sleeves and the pocket placement, the expense of the Pro Team Insulated Jacket can never be justified. However, even if these hadn't been a problem, I'm not sure I'd opt for the jacket over a layering set-up. It's not really packable, unless you have some kind of handlebar bag or frame pack, and it's unlikely to get enough use to justify the expense.
Specifications
Fully lined raised collar for maximum protection
Internal hanger loop
Durable construction for extended use in harsh conditions
Extra-wide waistband for stable fit
Two large rear pockets for easy access when wearing gloves
Hidden chest pocket to store winter essentials
GORE-TEX Black Diamond certification
Two-way Aquaguard zip
Zipped cuffs for use with winter gloves
Outer shell: 100% Recycled Nylon
Insulation: 100% Polyester
Thank you for reading 10 articles this month* Join now for unlimited access
Enjoy your first month for just £1 / $1 / €1
*Read 5 free articles per month without a subscription
Join now for unlimited access
Try first month for just £1 / $1 / €1