Boardman Team Carbon review
Boardman Team Carbon is bang on the money for a £1000, it's a great carbon frame, though Boardman has had to scrimp on the components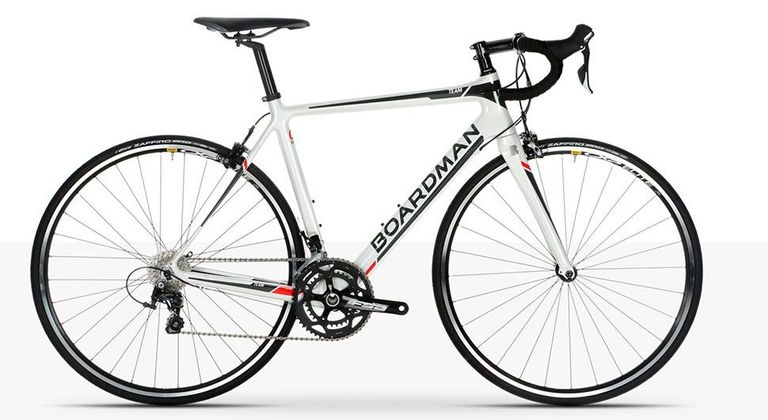 Boardman know how to make great entry level bikes and this is not an exception to that rule. It feels balanced, is light enough and looks quality. The down side is the groupset and it is clear this is where Boardman has made a saving.
Against
-

Lower spec groupset than others at this price point
Boardman has already scored well with its lower level aluminium Road Sport with us here at Cycling Weekly and the Boardman Team Carbon is no exception - an amazing frame set at a brilliant price.
It is a great bike for a £1000, allowing buyers to get a decent carbon frame instead of opting for the sea of aluminium on offer around this price point. That is not to say that alloy isn't a good option though - Specialized Allez Elite for example is a solid bike for the money.
Frame: Boardman Team Carbon
The frame is Boardman's C7 carbon - Boardman's lowest carbon offering - with a geometry based on the top of the range SLR Endurance bike. However, compared with the Endurance SLR, Boardman uses something c8 carbon, its middle of the road carbon. It comes with a full carbon fork with tapered steerer too.
The C7 frame consists of Toray T700 fibres and is layered up to strike the right balance. Boardman say that this frame provides 'unparalleled power transfer, comfort and handling' and for the most part I agree with that statement (for the price).
Although in the endurance category, the Boardman Team Carbon isn't exactly a sit-up-and-beg, the headtube is only 15mm taller than its out-and-out SLR race bike, with the stack less than 10mm difference.
This'll please those who are put off by the endurance tag and means you should be able to find a good riding position if you want to go low or chuck in a few spacers to get a little higher at the front.
Boardman has played it clever with certain aspects of the frame, like external gear cabling. Although not the prettiest, especially pitched next to internally routed gearing, it makes service life much easier and keeps costs down.
Specification
The spec is of a lower standard than we've found on other bikes around this price point. However, they are aluminium frame sets compared to the carbon of the Boardman Team Carbon here.
The best part of the spec by far are the Mavic CXP-Elite wheels, which feel solid, roll wheel and seem to have limited flex. They certainly don't let the frame set down but of course an update here could improve the bikes ride 10 fold.
although, the real let down here are the Tektro R540 Dual Pivot calliper brakes. They just don't work very well. At the very least the brakes are consistent just consistently poor. I often hope that companies spend a little extra on the brakes to give a little more confidence in that area.
As I say the group set is a little lower than expected at this price point, Shimano 105 over the Shimano Tiagra would have been preferred but I understand that to get the bike at this price point savings needed to be made somewhere. The gearing works, if a little less refined, and the gearing was spot on for this model. 50/34 x 11/28 was plenty for the type of undulating terrain around south east and south west London riding.
Ride
The Boardman Team Carbon is a lovely ride, even with the cheaper Mavic CXP-Elite wheels. It handles its 8.56kg weight well and managed not to feel like a lump up climbs.
I'd say that this proves that Boardman has done a great job with its C7 carbon, which has managed to get enough stiffness in the frame where it matters.
There is enough of a zip so the bike is enjoyable when you and your mates want to press on. Of course there are limitations with the wheelset but I have been pleasantly surprised.
The advice I have been shouting for years has always been 'don't buy cheap carbon, buy good aluminium' but I think Boardman is the exception to this rule. It rides comfortably too.
You'll likely spend a long time in the saddle on the Boardman Team Carbon, it is an 'endurance' bike after all. It doesn't beat you up, limits road buzz but the entry level saddle could do with a swop out if you have particular requirements in that department. It's a little harsh and could do with a bit more cushioning.
Boardman has restricted its size range from a small to extra-large. This'll cover most riders needs but a compromise is inevitable. Also is you're smaller than a 5'8/9 you might struggle to swing a leg over this bike.
Frustratingly a lot of my early rides spent with this bike was slightly hampered by a gear cable stretch, which is to no fault of the bikes, Boardman's or anyone else - but something to watch out for. A simple adjustment of the barrel on the rear mech sorted the click and skip of the gears on the first few rides.
Value
The frameset is great. For the £1000 to get a decent carbon frame is unheard of and Boardman has done an amazing job at providing it at that price. They've cleverly made the choice to go external with the gear cables, it reduces costs without effecting the bikes characteristics and makes servicing easier.
However, the Shimano Tiagra groupset (levers and rear mech) is a disappointment, the brakes even more so! However, the wheels did a good enough job and it feels like Boardman has thought about where to save the money and where is the best place performance.