Cervélo S2 review
The Cervélo S2 is an out-and-out race bike, which costs a little over £2000. Worth it? If you're a racer it certainly is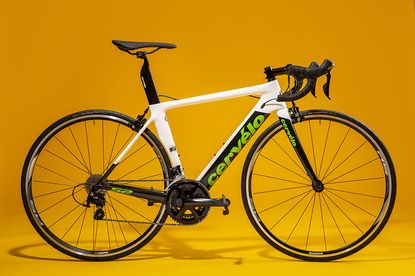 If you're after a racing machine for around £2000, then the Cervélo S2 is definitely a great option. Handling is very sharp and will take some getting used to. It was a very stark contrast to all the endurance style bikes I've been riding recently. It's a top bike but won't be for everyone.
Reasons to avoid
-

Seatpost will need to be chopped (if not done so by the shop)

-

Isn't the most comfortable bike

-

Weight
I'll be honest, I wasn't totally thrilled at the prospect of the Cervélo S2. An aerodynamic, stiff racer that is dressed in Shimano 105 and nondescript Shimano RS010 wheelset isn't exactly screaming 'race me', although that is its primary use in my mind.
However, during testing and after some criterium races around the likes of Hillingdon, I was pleasantly surprised at its ability to race hard, feel fast and with a quick swap for deep carbon wheels to look as classy as some bikes costing twice as much.
It has actually been around for a fair few years now and has changed subtly in that time.
Looking at the geometry you can see why this is a race bike. If you compare to the likes of Pinarello F10, Specialized Tarmac and Cannondale SuperSix you have similar headtube lengths and angles along with front centre and rear centre too - give or take a few millimetres or so.
So that means a racier feel and sharper handling that is great for racing, especially in crits, but not exactly confidence inspiring out on the road.
Handling works for racing, Hillingdon isn't exactly a technical circuit but moving around the bunch, pressing on in one one large hairpin and general racing demands were met with no issues at all. In fact the bike is pretty exciting to ride.
The problem with that is on the road it can be viewed as a bit twitchy, a little too lively for everyday riding.
With rutted and potholed roads it can become a little unpredictable and often worrying. So often that sensation is fine when racing as you are on edge the whole time anyway and concentrating. Though losing yourself on your ride is another great aspect of bike riding, I felt I needed to remain vigilant of the road surface and traffic around me more so than usual on this bike.
Crosswinds with deeper wheels are an issue too, although not with all sets of wheels I tested with the frame. Borg 50 C wheels for example tended to offer a bit of crosswind buffeting whereas the Hunt equivlents seemed to deal with those forces better.
This was all at a slight detriment to comfort but considering how aggressive the bike rides, it wasn't all bad. I got numb hands on the odd road ride but the rear end isn't that uncomfortable and dampens road buzz well. I never felt I needed a break from sitting in the saddle.
Specification wise you get Shimano 105, which works very well and is a good groupset. The Shimano RS010 wheels are a little lacklustre and do not go with the frame well what so ever. I don't think they help its looks either.
The wheels work, don't cause rub out of the saddle whilst climbing and are completely non-offensive, just not worth the money in my eyes at this price point.
Other than that you get Cervélo components in the stem, bar, seatpost and saddle. All of which are decent and work as they should. You will need to chop the seatpost, however. I had to as the saddle was one centimetre or so too high as stock.
Chatting with a local mechanic, a shop will usually chop the seatpost before sale, so you shouldn't have to worry about this too much but if you do need to, don't panic as it can be done! Just for reference this was for a size 51cm and my saddle height is 73cm.
Value definitely needs to be considered here. For over £2000 you are getting a bike with a pretty low level groupset - not that there is anything wrong with Shimano 105, but there is at this price point.
You don't have too look very far to see bikes that are more wallet friendly; Giant TCR Advanced and Cannondale CAAD12 - albeit the CAAD is aluminium - that are shod with Shimano Ultegra.
I like the Cervélo S2 and if you race, in whatever category, it'll give you a racy edge. You'll just have to pay a little more.
Thank you for reading 10 articles this month* Join now for unlimited access
Enjoy your first month for just £1 / $1 / €1
*Read 5 free articles per month without a subscription
Join now for unlimited access
Try first month for just £1 / $1 / €1
Symon Lewis joined Cycling Weekly as an Editorial Assistant in 2010, he went on to become a Tech Writer in 2014 before being promoted to Tech Editor in 2015 before taking on a role managing Video and Tech in 2019. Lewis discovered cycling via Herne Hill Velodrome, where he was renowned for his prolific performances, and spent two years as a coach at the South London velodrome.