Cipollini NK1K review
The Cipollini NK1K is an Italian-made premium aero road bike from the brand of the flamboyant sprinter Mario Cipollini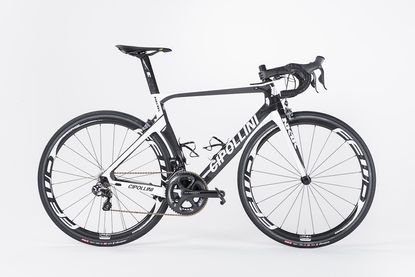 (Image credit: Cycling Studio)
If you could somehow distil Mario Cipollini down into bike form, it would probably result in the NK1K. It's Italian, very stiff, aggressive, attention-seeking, not particularly suited to climbs, but excels on descents and sprints. Hand crafted in Italy, the Cipollini NK1K is beautifully made. There are lighter bikes, there are more aerodynamic bikes, but if you want a bike that combines Italian flair, aggressive geometry, high stiffness and is simply cool, the NK1K is certainly worth consideration.
Reasons to buy
+

Italian prestige

+

Very stiff

+

Aggressive geometry

+

Variable top caps

+

Choose your spec

+

Direct-mount brakes

+

Great handling

+
Reasons to avoid
-

Seatpost clamp cover is fussy

-

Expensive

-

Not as aero as a Trek Madone or Venge ViAS
As well as having 190 professional victories and a World Championship to his name, Mario Cipollini is one of the most flamboyant and outrageous characters cycling has ever seen. His bikes are an extension of both his career and his personality: aerodynamics and stiffness made for his sprinting power with looks and paint jobs that reflect his passion for fashion.
Frame
The Cipollini NK1K is a race machine with geometry that has clearly had the input of a world-class sprinter. The stack is low, 554mm in our 56cm frame, which is about a centimetre lower than most 56cm race bikes.
>>> Click here for our guide to the best aerobikes of 2017
A nice feature is a choice of different headset covers that allow you to still achieve the appearance of a slammed stem even if you want to effectively run spacers and raise the stack by a couple of centimetres. Conventional spacers can then be used on top of the inetgrated spacers should you want to raise the stem further. Just remember that with every spacer added Mario Cipollini dies a little bit inside.
The frame utilises T1000 Toray fibres, the same carbon used by Pinarello and Colnago in their top-end frames. The carbon layup is visible through the laquer in several places and quality is exquisite – it really does look superb. The Cipollini NK1K is designed for direct-mount brakes and there's a disc-brake version too.
The integrated seatpost clamp has a cover held in place with a Torx bolt. This cover is a fiddle and feels unnecessary – I would like to see a neater, less fussy solution on what is otherwise a beautifully made frame.
Wheel clearance is great, with space for 28mm tyres should you require it. The bottom bracket is a BB386 Evo, which as a standard was introduced in 2011. It is designed for a 30mm spindle but can accommodate 24mm with the use of inserts and actually uses the same bearing standard as found in BBright bottom brackets. The key idea behind BB386 Evo is that it has wider bearing spacing than most other press fit standards, which mechanical engineering suggests should result in a stiffer platform.
Watch - which aerobike is actually the fastest?
The Cipollini NK1K is not the lightest frameset available for the price. The priorities here are stiffness and aerodynamics, with the frame hitting the scales at 1,120g for a size medium. Many framesets in this price bracket weigh under a kilo.
Specification
Cipollini bikes are primarily sold as framesets, allowing you to choose your components. Our test bike was fitted with Ultegra Di2, Fast Forward F4R clinchers and Ritchey finishing kit. There are multiple paint schemes available and even an option to customise the paint, too. The quality of finish is top notch on all the NK1Ks I have seen and my personal favourite has been black and gold.
http://www.instagram.com/p/BTmfyfGgCDj/?taken-by=dr_oliverb
The components all suit the frame well and result in a package with no deficiencies. The girthy Superlogic stem and aero bar contribute well with regard to aerodynamics and stiffness. The total weight for this build without pedals is 7.60 kgs. Commendable, but by no means a featherweight.
The ride
The NK1K feels like an out-and-out race machine. It's uncompromisingly stiff around the bottom bracket and head tube, which translates into laser-guided handling when you bank it hard into tight corners at speed. The rigidity, combinded with the excellent direct-mount brakes and long, low front end results in a machine that excels on descents. The high stiffness makes the NK1K an ideal choice for sprinters and riders who like to drop big watt bombs.
http://www.instagram.com/p/BTg25vAAqYB/?taken-by=dr_oliverb
With significantly less integration and angular, edged tube sections rather than Kamm-tailed aerofoils, on paper the Cipollini NK1K does not appear to be as aerodynamically optimised as the likes of the Trek Madone and S-Works Venge ViAS. Out on the road this is confirmed, with the NK1K not feeling as fast when time trialling along. If you want outright performance there are faster bikes. However, the NK1K does posses something the American superbikes don't: undiluted, testosterone-fuelled Italian excitement. Much like a Lamborghini, the NK1K combines just the right amount of outrageousness and performance.
Whether having its top tube nonchalantly sat on at a race start line or parked up at a cafe stop, the Cipollini NK1K draws admiring stares. It doesn't feel as sprightly on the uphills as a dedicated climbing bike, but the supreme stiffness of the frame does translate to excellent power transfer when you are gassing it out the saddle.
Value
The typical Cipollini NK1K buyer is not preoccupied with value for money. The price of £4,400 quoted here is for the frameset only and without question for the same price there are lighter bikes out there with more expensive components. However, they aren't a Cipo. The layup of the carbon is visible through the laquer on several parts of the frame and the quality of 'made in Italy' construction arguably helps justify the high price to a degree.
Thank you for reading 10 articles this month* Join now for unlimited access
Enjoy your first month for just £1 / $1 / €1
*Read 5 free articles per month without a subscription
Join now for unlimited access
Try first month for just £1 / $1 / €1
Oliver Bridgewood - no, Doctor Oliver Bridgewood - is a PhD Chemist who discovered a love of cycling. He enjoys racing time trials, hill climbs, road races and criteriums. During his time at Cycling Weekly, he worked predominantly within the tech team, also utilising his science background to produce insightful fitness articles, before moving to an entirely video-focused role heading up the Cycling Weekly YouTube channel, where his feature-length documentary 'Project 49' was his crowning glory.