Colnago AC-R 105 road bike review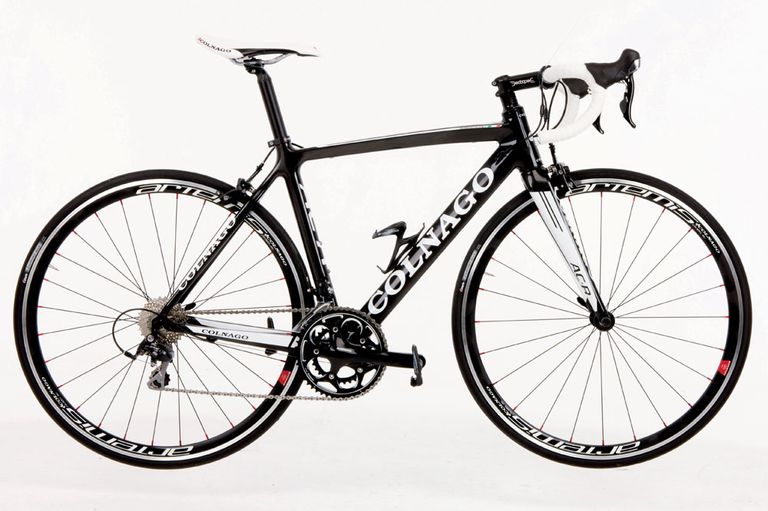 If you're looking for a race bike, then look elsewhere — there are plenty of lighter, faster, more competitive bikes out there for the thick end of two grand. If, on the other hand, you're after a bike that will stand out in a sportive crowd and stand the test of time, the well-built, well-mannered AC-R can be forgiven its few shortcomings — it is, after all, devilishly handsome and has the right name on the down tube.
Against
-

Not full Shimano Groupset
When you're good-looking, you can get away with a lot.
Not that I'm speaking from personal experience, but whether it's rudeness on the road, surliness in the supermarket or whingeing in the workplace, we've all seen the difference in response that a little bit of beauty can bring.
Colnago simply doesn't do ugly bikes, so it comes as no surprise that the Italian company's latest bid to tempt potential buyers oozes style. It also shares its frame design and paintjob with the mouth-watering M10, a pro-level, carbon-fibre monocoque frameset that costs a cool £2,499.
At a glance, the 'affordable' AC-R could be mistaken for a bike costing more than twice as much. But a deeper look reveals the truth behind the carefully applied make-up. The 105 groupset does not extend to the chainset, cassette and brakes, where lower-spec parts have been used to cut costs.
The scales don't lie, either. At only a shade under nine kilos for a size 50cm, this is not a particularly light bike. We've recently seen bikes costing half as much tip the scales at close to 8.5kg, so this is certainly no bargain when it comes weight.
Much of this heft lies in the wheels. The Artemis R32 rims, on Colnago's own hubs, roll well enough once up to speed on the flat but lack the acceleration desired for crit racing. They make the bike feel lethargic on steep climbs too.
Devilishly handsome
But this bike is not all style over substance. There's a feeling of quality that runs right through the AC-R. The ride is taut yet compliant. The steering is fast, almost race bike-sharp, without compromising stability. Even the accountant-pleasing, own-brand brakes work flawlessly and give a high level of feel.
"This is not a light bike. We've seen bikes costing half as much that weigh half a kilo less"
It's almost a contradiction in terms: an overweight lookalike that, for the vast majority, will provide just as much entertainment and draw almost as many admiring glances as the far more talented original.
Specification
Manufacturer: Colnago
Price: £1,995
Frame: AC-R Carbon
Fork: AC-R Carbon
Size Range: 42, 45, 48, 50, 52, 54, 56, 58
Weight: 8.77kg
Groupset: Shimano 105