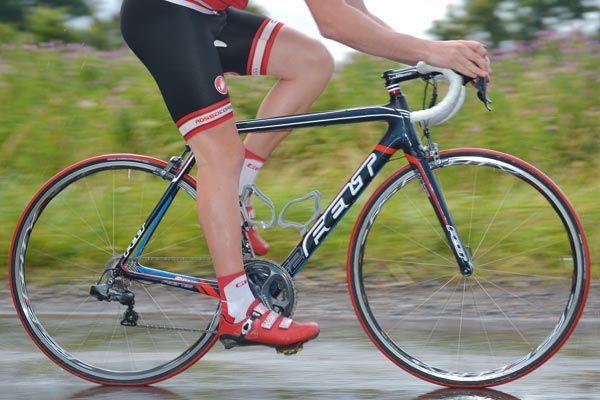 As a package, the F2 performs far better than its price tag suggests it should. There are still plenty of these 2012 bikes around in stores, and even without season-end discounts, if you are on the lookout for a new ride, you owe it to yourself to check one out - it really is that good.
For
+

Good finishing kit spec

+

Great ride quality

+

Shimano Ultegra Di2 works brilliantly

+

Light
Sitting below the F1, the Felt F2 utilises much of the technology seen in the range-topper, only losing out on the nano-particles in the resin.
Testament to that is the all-up weight of a sub-£3k bike with a relatively weighty electronic groupset: below 6.9kg proves there's little excess baggage along for the ride.
Alongside the full electronic Ultegra Di2 groupset spins Shimano's RS80 CL-24 wheelset. By eschewing glitzy deep sections for these shallow-section carbon-laminated alloy rims, Felt has created an incredibly lively ride.
Stiff and with low mass, the Shimano wheels are a real highlight. Special mention must go to the bars though. Own brand they might be, but they neither flex nor batter, and the compact shape is very comfy.
Its roots in the F1 race bike soon become clear when you take the F2 out: this bike rockets when you put the power down. A stiff front end means it also rails corners well.
The fact that the electronic shifting missed not a single shift should no longer surprise either. Without putting many miles on the F2, it's clear that Felt has got a lot right with this bike.